It's a new year, and that means an enhanced Sonlight Christian-based homeschool experience for your family. Which of these opportunities will you take advantage of in 2018?
All New History / Bible / Literature and Language Arts J!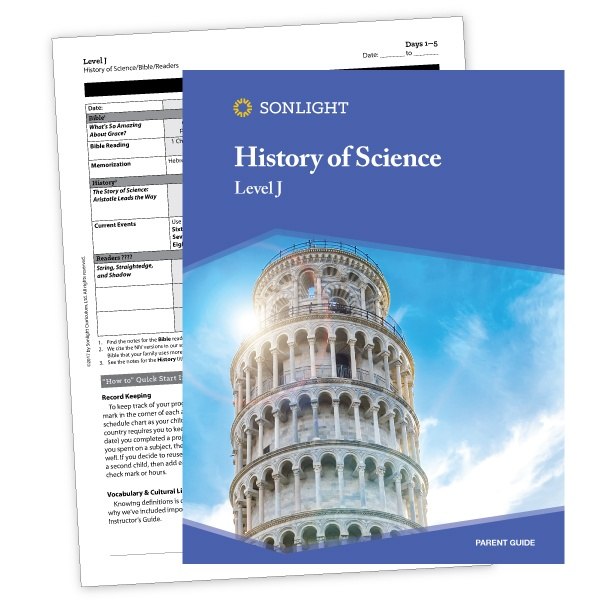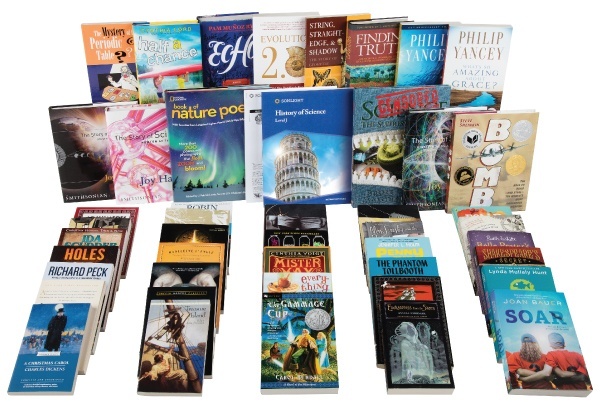 Sonlight's newest HBL, designed for students ages 13-15 (but still fascinating for interested parents) uses a gorgeous three-volume set by master storyteller Joy Hakim to tell the story of the advances of scientific thought over the last 4000 years.
New Hands-On Options for Sonlight Elementary Programs
To complement Sonlight level A, a new history project kit that can be used either as stand-alone study or as a supplement to your curriculum. Level A hands-on is not scheduled in the IG.
To complement Sonlight levels D and E, Sonlight's new lap books are scheduled as optional activities each week. All the materials you need come pre-printed so you can open, cut and-go. Hands-on is scheduled in the IG for levels D and E.
Learn more about Hands-On
Additional 4-Day Program Options
Sonlight's fully-optimized 4-Day programs will soon be available for History / Bible/ Literature and Science G and H, as well as Language Arts H. 4-Day programs are available in most History / Bible / Literature, Language Arts and Science levels.
Accent Colors Expand to More IGs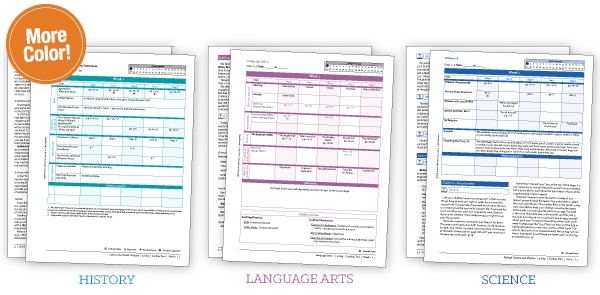 The beautiful colors available in a few Instructor's Guides in 2017 have expanded to more Guides in 2018. Accent colors are available in HBL, Language Arts and Science levels A-E and Science F. Enjoy!
New Science Program: Science H - Technology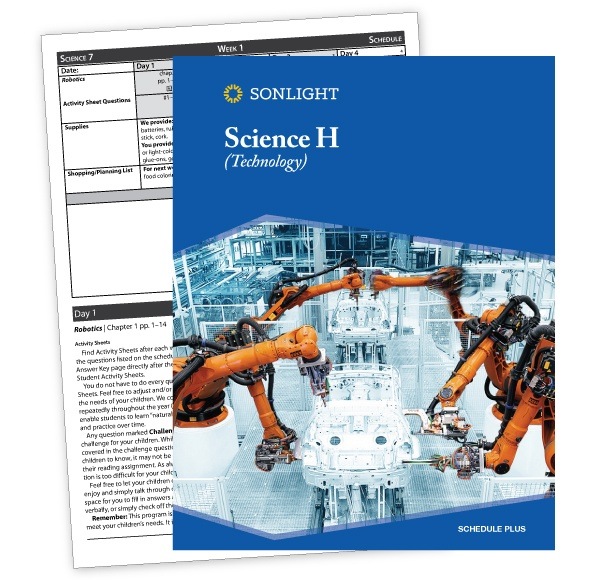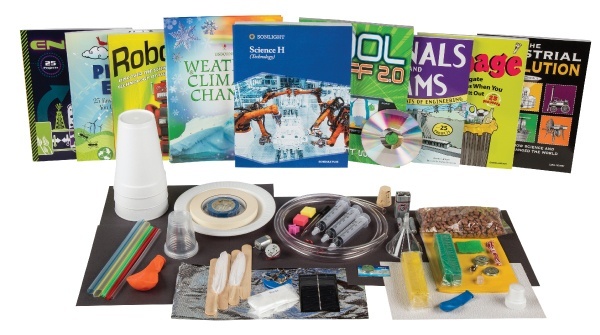 Enjoy this all-new 4-Day Science program, where you'll learn about energy, conservation, robotics, canals, dams and technology. Your students will enjoy learning about an array of real-world, practical questions, from bridge construction to trash disposal. (4-Day option only.)
Science Activity Sheets: Levels A-F in Full-Color!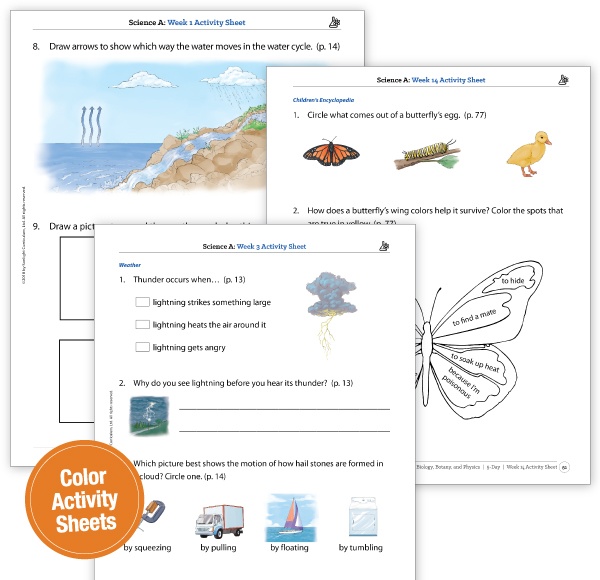 The re-illustrated, colorful Activity Sheets that were so well-received in Science A will now be available in all Science programs A-F.
Language Arts Updates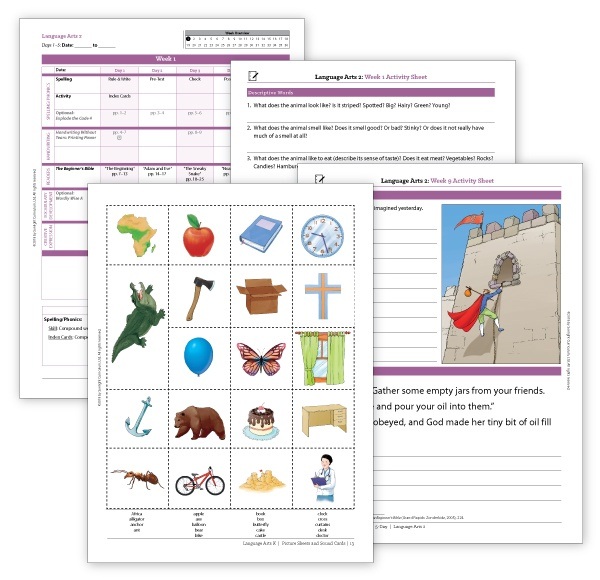 The 2017 Language Arts IGs included many well-received upgrades, including rubrics to help you evaluate how your children are performing, teaching scripts you can read to your children as you introduce new ideas, concepts or assignments, big picture explanations and overview summaries for each week. With these added resources and assistance, you'll teach Language Arts with confidence.
In 2018, the Language Arts IGs are even better. K-E now have full-color story starters.
And the Kindergarten IG has more than just story starters—it also includes activity sheets and letter cards in full color. And new, full-color characters on the copywork activity pages demonstrate the sentences.
Eastern Hemisphere Notebook Pages Redone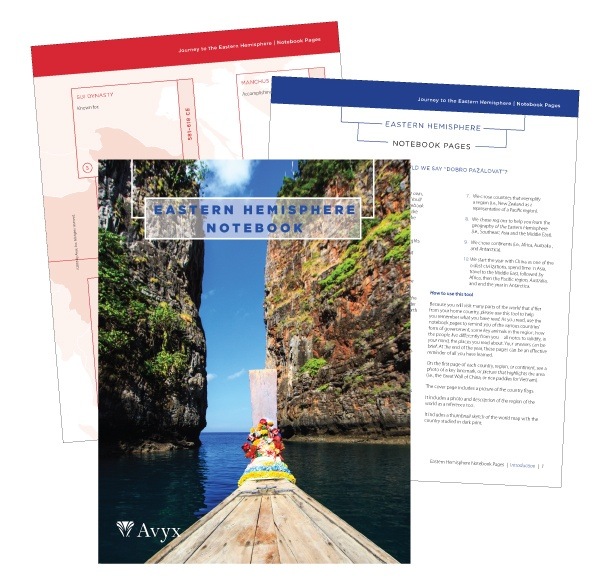 The popular Eastern Hemisphere Notebook pages will now be in full-color, and will come as a separate, standalone item in History / Bible /Literature F. The schedule and answers for the Notebook Pages are still in the level F Instructor's Guide.
Updated College and Career Planning
Have you met someone who went to school to be a lawyer, and started practice only to realize that they hated law—or someone who became a pastor only to realize that they weren't really pastoral?
Don't let this happen to your children! If you have children who are starting high school, the updated College and Career Planning program is designed to help lead your students with confidence through high school and beyond.
Sing the Word Albums
These popular Scripture-memory albums in Sonlight A-G are available as either CD or digital download. As part of your HBL or ASP package purchase, you get both the digital download and the physical product.
4-Day Bonus Book Collections
Love the 4-Day schedule, but want the 5-Day books? We feel you you! The 5-Day only books are available in easy-order collections for all Readers and Read-Alouds for Sonlight levels A-H. Enjoy your 4-Day schedule and never miss another great book!
Just Book Collections
If you enjoy Sonlight's book selections, but don't need a full program, we have a new, easy-order option for you. No more typing in your order title- by-title—now you can get all the Readers in an HBL or all the Read-Alouds, with a single click!
---
Learn more about all the new products of 2018.
Choose your curriculum now