Homeschool Handwriting Curriculum
Sonlight offers several different options for handwriting curriculum. Read the descriptions below and pick the one that is the best fit for your family.
Don't be overwhelmed! Any one of the brands below is a good option that has helped thousands of students develop excellent handwriting. Which program appeals to you the most? Choose that. And if at some point, you decide it doesn't work well for your family, you can always make a change.

Homeschool Handwriting Programs
Beginning in Kindergarten and continuing through 4th, 5th, or 6th grade, we encourage you to instruct your children in the skills of handwriting through one of three prize-winning programs.
Once they've mastered handwriting basics, usually by 3rd grade, then students should practice handwriting in the process of writing. Sonlight Language Arts programs follow this model and students receive further handwriting practice in their dictation and creative expression assignments. We also offer separate handwriting curriculum materials and provide optional handwriting schedules, so you have these tools when your students need them.

Developed by an occupational therapist, this program is innovative and developmentally-oriented. It pays particular attention to the needs of children who are learning to write.
This homeschool handwriting curriculum program also works well with left-handed students and students facing learning challenges and physical limitations. Plus, it's easy to teach!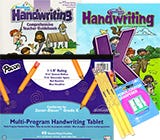 This traditional, scripture-focused program uses Bible verses as daily practice drills. The fancy borders on practice sheets encourage students to do their best and make each assignment a work of art.
You'll recognize the standard print and cursive styles taught in this program. However, the traditional learning style may not fit all students.

This self-assessing, comprehensive program has won its share of accolades. The text looks beautiful, and many say it reminds them of simple calligraphy.
The transition between print and cursive is simple because of the similarities in the characters. Since italic handwriting is not standard, children may struggle with the "normal" cursive they encounter in other settings.
Choosing the best homeschool handwriting curriculum
We have heard no real complaints about A Reason for Handwriting. Many people have told us they had good success with Getty-Dubay Italic Handwriting. So why did we add Handwriting Without Tears?
Primarily because we have never before heard the kind of positive passion about a program that we have heard from users of Handwriting Without Tears.
Our thought: if you've been using one of the other two handwriting programs successfully, you should stick with it. Otherwise—if you have been using another handwriting program but not had success, or if you haven't started yet—we think you might want to seriously consider using Handwriting Without Tears.
Regardless of which homeschool handwriting curriculum program you choose, you can take advantage of our optional handwriting schedules for a little more structure in your handwriting assignments.
Samples of the
Three Handwriting Styles
Handwriting Without Tears
A Reason for Handwriting
Getty-Dubay
Samples of the
Two Writing Papers
2-Line Paper: (Handwriting Without Tears)
3-Line Paper: (A Reason for Handwriting & Getty-Dubay