11th Grade Math: Curriculum, Worksheets, Lessons & More
Eleventh grade … you're nearing the finish line of high school! This is the year to make sure your teen is on track to complete all the required math for your state's high school graduation requirements. If your junior is college bound, you'll want to keep an eye towards college math prerequisites, too. If you need to take a math course over the summer or add remediation for math gaps, now is the year to make up for lost time!
Keep reading for 11th grade math curriculum, a sample lesson, what 11th grade math looks like, and the best ways to teach it.
Eleventh Grade Math Curriculum
For 11th grade math, we recommend Saxon Math or Math-U-See, both excellent programs that can carry your child from K all the way to high school graduation. If you're unsure about choosing an eleventh grade math curriculum even after browsing this page, don't hesitate to contact an Advisor for one-on-one help. It's a good idea to use the placement tests prior to reaching out though as it will give the Advisor needed information to help you make your choice.
Saxon Math
If your student is a longtime user of Saxon Math, completing one level each year, by 11th grade they will have completed all levels of Saxon that Sonlight carries. See the progression on the Scope & Sequence page here.
However, since it's not uncommon for a student to take longer than a school year to complete the higher levels of Saxon, your high school junior may still be working through either the Algebra 2 or the Advanced Math Programs. The goal in 11th grade math is for your student to gain fluency with higher math concepts, so feel free to spend extra time on a particular level of Saxon Math.
Math-U-See
If your student has always used Math-U-See and completed one level each year, they will be ready for Math-U-See PreCalculus this year. It is not unusual for some of the higher levels to take more than a school year to complete, so don't be concerned if your student is still working on Geometry or Algebra 2 in the 11th grade. Making sure that your student has a firm understanding of the concepts covered will lead to much less frustration as they move forward to precalculus.

Eleventh Grade Math Worksheets
Eleventh Grade Math Lessons
By the time your student reaches 11th grade, they should have mastered basic algebraic concepts. As they study precalculus, they will use algebraic knowledge as they study trigonometric ratios, apply trigonometric laws, vectors, series and sequences, and work on other higher math topics.
Eleventh Grade Math Formulas/Charts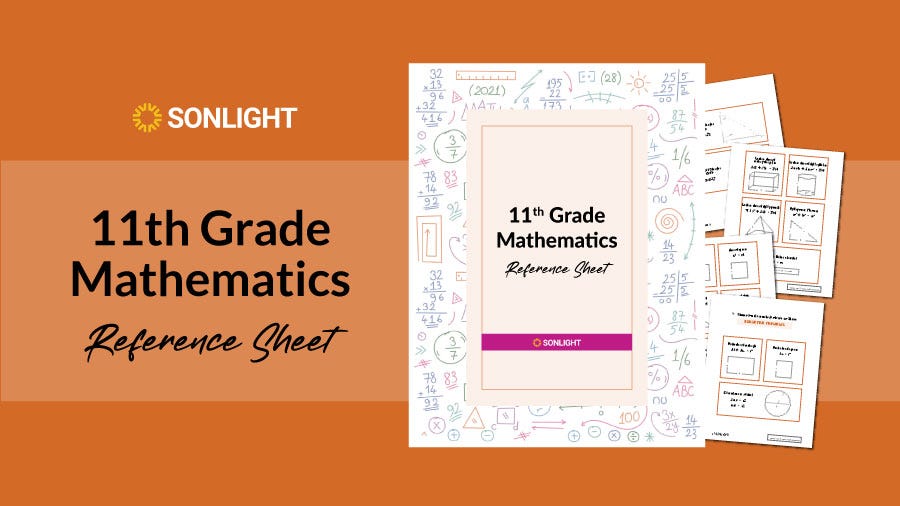 Eleventh Grade Math Problems & Equations
Eleventh graders continue to practice algebraic concepts including linear equations, quadratic equations, and graphing. They will also be explore new concepts including:
Trigonomic ratios

Trigonomic identities

Polar and rectangular coordinates

Composition functions including domain and range

Graphing trigonomic functions

Arithmetic and geometric sequences and series

Solving special right triangles
Eleventh Grade Math Numbers & Operations
In eleventh grade your student will solve problems including
Angles of elevation and depression

Verifying trigonometric identities

Graphing basic and translated trigonometric curves

Logarithms and natural logs

Sequences and series
Eleventh Grade Math Pre-algebra & Algebra
To be successful in 11th grade math, your student will need all of the algebraic knowledge they have studied in the past. They will continue to solve linear and quadratic equations and systems using graphing, factoring, and the quadratic formula. Allow your student to review these concepts when needed.
Confidence will help eliminate feelings of not being good at or hating math. These attitudes are often the result of not having grasped the material in the past. Don't be afraid to pull out the earlier textbooks to review. Remember that mastery of the concept is better than pushing through just for the sake of completion.
Eleventh Grade Math Standards
According to Common Core, the math focus for high school years moves from grade-specific to topic-specific. That is, there are not specific topics assigned to a particular grade but instead a list of concepts to master over the course of a 4-year high school experience. You can see the common core standards by topic here.
You can also check with your state Department of Education to see if there are specific standards your student must meet. The main consideration besides any state requirements for graduation are college admissions requirements. Check with your teen's colleges of choice to see what kinds of math credits are prerequisites for acceptance.
Eleventh Grade Math State Tests
By the time your student is in eleventh grade, they are typically finished with standardized state testing in math. Instead, they are taking college entrance exams such as the SAT or ACT. Since these scores are usually tied to college scholarship money, it's not unusual for a student to take these tests several times in an attempt to earn a higher score. Working on practice tests before the real thing can help put your 11th grader at ease and minimize test anxiety.
To qualify for National Merit Scholarships, your eleventh grader will need to take the PSAT when it is given on the second Tuesday in October. Check with your local public school or a private school to register your student.
Eleventh Grade Math Vocabulary
If your eleventh grader is taking precalculus, they should be familiar with the following terms:
Common logarithms

Natural logarithms

Component form of a vector

Composite functions

Terminal side of an angle

Coterminal angles

Dot product of vectors

Inverse and reciprocal functions

Magnitude of a vector

Polar coordinates
If your student isn't yet in precalculus, check the 10th grade math page for other vocabulary terms used in high school math.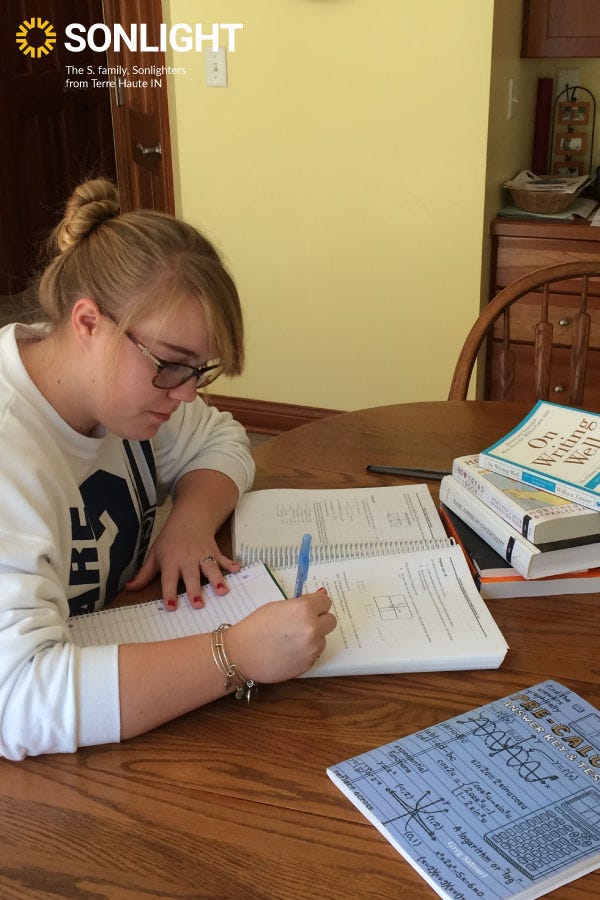 Eleventh Grade Math Materials, Supplements & Manipulatives
If your eleventh grader has gaps in their math knowledge, they might enjoy reviewing with Life Of Fred. Or if your 11th grader is a math nerd who just can't get enough math, this series will be a hit, too!
This quirky series uses story to introduce and illustrate math concepts. Your student follows Fred through daily encounters which require him to use math skills. Besides the math, this unique series incorporates science and even life skills. These are the volumes from the series that would best fit an 11th grader:
Eleventh Grade Math FAQ
What do you learn in 11th grade math? What is taught?
How to do/learn 11th grade math?
What is 11th grade math called?
What does 11th grade math look like?
What's the best way to prepare for 11th grade math?
What is the average math MAP score for 11th grade?