You're here because you love your children and value their education. You've already taught your children naturally since birth! You can certainly continue to teach them throughout the next stages in life.
Unsure about homeschooling? You're not alone! When Sonlight's founder, Sarita Holzmann, first realized she needed to homeschool, she was not thrilled. She found herself overwhelmed, uncertain, and reluctant. After starting, she found that, with her literature-based method, she actually loved this new dimension of her life.
At that time, there were no complete curriculum programs available; moms had to assemble products piecemeal. She started Sonlight because she found that homeschooling was such a blessing to her and her family, and she wanted to make that blessing available to others ... like you.
As Sonlight celebrates 30 years of connecting families and helping kids love to learn, hear Sarita powerful story and be encouraged by her amassed homeschool advice.
Let Sonlight Help You Get Started—Easy Peasy!
Switch to Homeschooling Pros and Cons Free Resources Homeschool Checklist
Sonlight is an all-in-one homeschool curriculum that has guided thousands of families to start (and continue) homeschooling their children with ease and confidence. Once you're ready, see how you can personalize a homeschool experience for your kids with this easy peasy way of choosing your Sonlight curriculum.
If at any point in the process you need one-on-one assistance, reach out to an Advisor for help.
Swap Backpacks for Bookstacks with Sonlight Curriculum
Thinking about homeschooling? Now is the perfect time to swap backpacks for bookstacks and switch to homeschooling. You CAN teach your kids at home! A well-planned curriculum makes it so easy, and you can trust that you are giving your kids all the academics they need.
Learn more and schedule a conversation with one of Sonlight's homeschool advisors today.
---
Pros and Cons of Homeschooling
Homeschooling is a great option, but it's not the only educational choice. And it's not for every family, every year.
Some families use a mix of homeschooling, private education, and public schools for their children, choosing different options year by year as needs change. When you choose to homeschool, remember that it can be on a trial basis for just one year. Then you can revisit the decision, weighing your kids' needs and your current family situation. You are never locked into a choice, so don't be intimidated about exploring all your options—including homeschooling.
Pros of Home Education
You are the central influence in your children's lives and have more opportunities to build meaningful relationships with them.
You get to see the lightbulb moments when they learn to read, when multiplication finally clicks, and when the science experiment works exactly as expected.
You can tailor your children's education according to their specific gifts, interests, special needs, and learning styles.
You can share your values and beliefs with your children and guide them as difficult questions surface.
Home education shields your children from certain negative influences they may encounter at school.
Your family can experience a lifestyle of freedom outside the constraints of a school year calendar.
Your kids have more time for adequate sleep and play.
Cons of Homeschooling
If your family and friends disagree with your choice, you may feel the need to justify your decision to homeschool.
Your children are home with you day after day, so you will spend more time with them than you may be accustomed to.
You may have to readjust your lifestyle as you live on a single income or find ways to work from home.
You may sense a feeling of isolation depending on the number of like minded homeschoolers in your local community.
Homeschooling requires flexibility. You may have to manage feelings of being behind or not accomplishing everything you had in mind.
You may have to get out of your comfort zone as you learn how to homeschool effectively.
See more on the pros and cons of homeschooling in this free digital guide—our gift to you.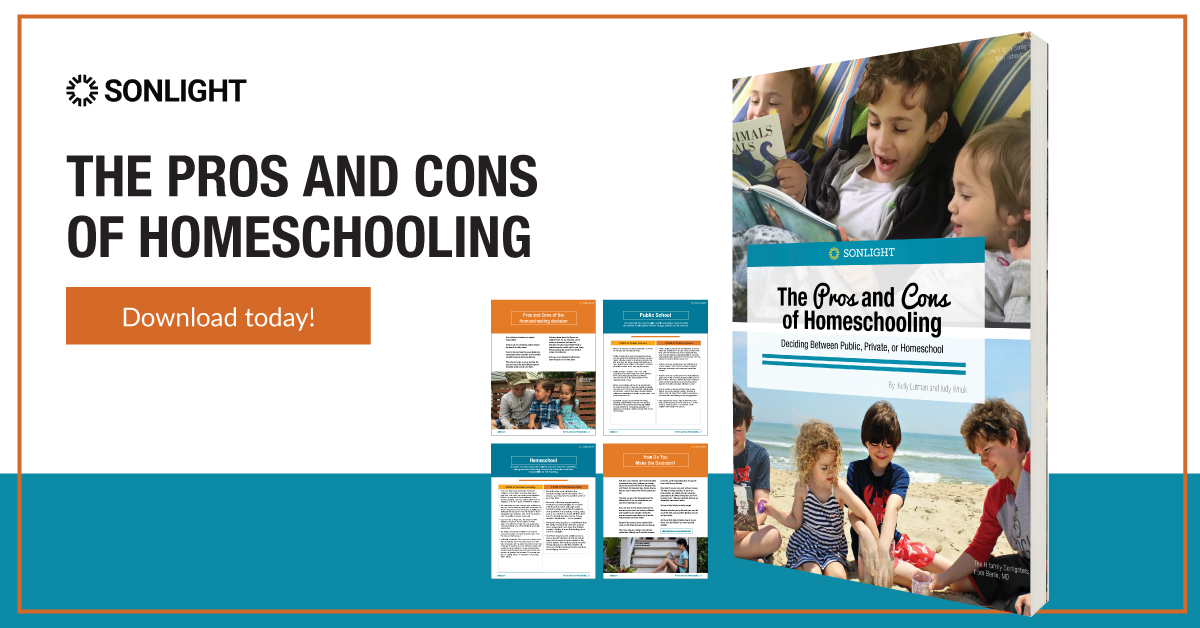 ---
Free Resources for Homeschooling
Kicking off your homeschool adventure doesn't have to be a struggle; there are thousands of parents who have gone before you and documented their journey. Here are FREE resources to ease your homeschool fears and equip you to educate your children.
Things to Read
Things to Research
About Sonlight
Things to Request (Free)
Get answers to your homeschool questions by scheduling an appointment with a Sonlight Advisor.
---
Free Printable Homeschool Checklist