The S Family, Medford, WI
Kindergarten Homeschool Overview
Explore American History
With Sonlight, at the Kindergarten level you'll give your students their first taste of American History. Sonlight's K program shares the stories of key events and important people in American History. This is going to be a great year. You can do this. Whether you plan to just test homeschooling out, or are hoping to homeschool for years, starting in Kindergarten is a great choice.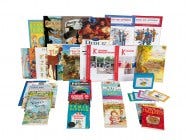 Kindergarten History
Kindergarten History
Sonlight always starts with History. In the case of Kindergarten, you'll be using carefully chosen books to give your students their first taste of American history.
You'll spend time reading an age-appropriate story Bible, and you'll have the opportunity to read some of the best stories out there together.
---

Kindergarten Lesson Plans
Kindergarten Lesson Plans
Sonlight is much more than just great books, to make your days go smoothly we include our Instructor's Guides so you are able to:
Open and go. You can simply look at the schedule each day to pursue the next lesson.
Teach with confidence. We include all of the notes, questions, vocabulary, timelines, and geography you need.
Stay organized. With our clean design, attractive color and binder system, you are able to flip to what you need, when you need it. Tracking what you've done is easy.
You have everything you need to teach your children with confidence from your very first day of school. Just open up and get started. Included in your History / Bible / Literature or All-Subjects Sonlight Kindergarten program.
"Sonlight makes it easy for us. I love that I don't have to spend time preparing to 'do' school." - Kelli A., Andover, MN.
---

Kindergarten Language Arts
Kindergarten Language Arts
In Kindergarten, you will teach your children the alphabet and letter sounds. You will also serve as their scribe as they begin to practice creative writing by dictating their thoughts to you. With all the amazing books you will read together, your children will have plenty of opportunity to imitate good writing during weekly copywork exercises. Watch the world written communication begin to open to your children.
Spelling & Vocabulary
Please note: Spelling and Vocabulary is already built in to your lesson plans at this level. Spelling and vocabulary words are from the reading you share with your students. This makes practice a natural addition to your homeschool day. We do offer additional resources, but do not suggest using them until 3rd grade.
---

Kindergarten Handwriting
Kindergarten Handwriting
Sonlight has a gentle approach to Language Arts, and this Kindergarten year we start with Handwriting. Sonlight offer's all of the top handwriting programs, so your children can get a solid foundation of letter formation right from the start. We want handwriting to develop well from the start in preparation for writing as your children grow.
We include Handwriting Without Tears in the Kindergarten All-Subjects Package. All-Subjects Package. Check out all of your Handwriting options here.
---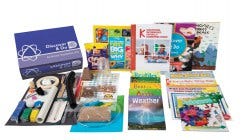 Kindergarten Science
Kindergarten Science
From the heat of the sun to the eyes of an insect, Sonlight Science K teaches your children to think like a scientist.
They will use real scientific skills and practices as they explore rainforests and encounter reptiles, insects, plants and more. Science K builds on children's natural curiosity. It also includes a high-level introduction to forces, matter, and other STEM topics that will set them up for a lifetime of learning and application.
Every week, your students will engage in an experiment directly tied to the rest of the content you study that week. Literature provides the context, while the experiments allow your children to experience the scientific process for themselves.
As with the history section, you have options. Choose the matching Kindergarten Science level or browse other available Science programs and see what you could discover.
---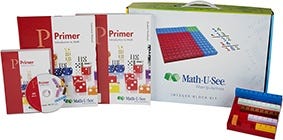 Kindergarten Math
Kindergarten Math
Your child will learn not only how to write numerals but also addition and subtraction, basic counting, skip counting, geometric shapes, telling time, and they will be introduced to the manipulative block system in the Kindergarten Math curriculum. It's a gentle introduction to "doing math."
Math-U-See is included in Sonlight's Kindergarten All-Subjects Package. Learn more about your other Kindergarten Math options here.
---
Ways to Buy
Two ways to choose your
Kindergarten

curriculum

Put together a customized program OR select the recommended everything-you-need package. Compare your choices and pick the path you want. Either way, a wonderful adventure in learning awaits you and your family.
Start with History
Choose one of the options below.
Select the program that covers the history focus you'd like to use this year. Because you'll teach with real books, each Sonlight program works with a range of ages and allows you to teach multiple children together. View the full curriculum scope & sequence for additional information.
Add other subjects as needed.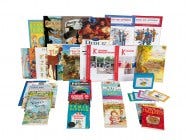 A delightful, age-appropriate kindergarten American History program
Learn More
Get a Complete Package
Customize as needed and still save up to 20%.
A delightful, age-appropriate kindergarten American History program
Learn More
What is the best homeschool curriculum for kindergarten?
The best kindergarten homeschool curriculum is one that instills a love for learning in your child. While there is no one-size-fits-all kindergarten homeschool program, a good foundation provides plenty of opportunities for children to explore the world around them. Children are naturally curious, so a good curriculum should harness that natural curiosity and encourage children to dive deeper into fascinating topics.
With plenty of discussion opportunities, lots of excellent reading material, a wide range of interesting topics, and a gentle approach to education, Sonlight's kindergarten homeschool program makes for a great kindergarten learning experience. Remember, the goal here is to introduce your child to a more formal education, but leave them hungry for more at the end of the year.
How do you homeschool a kindergartener?
The best way to homeschool a kindergartener is to help them delight in their learning. Coming alongside them, guiding them to discover the world around them is essential. We recommend a gentle start to education—keeping the kindergarten day short. Two to four hours of formal instruction is plenty. The rest of the day should be full of play and exploration.
While homeschooling a kindergartner may seem to be a monumental task, Sonlight makes it easy. The Sonlight Instructor's Guide includes everything you'll need to provide a solid at-home learning experience for your kindergartener. Every day, you simply open the guide and begin the day. It's truly that easy to give your child a great start.
How many hours a day do you homeschool a kindergartener?
Kindergarten should be a year of exploration and play, with a gentle introduction to formal learning. Keeping that in mind, a great homeschool education begins with only two to four hours of formal instruction for kindergarteners each day.
You'll want to acknowledge that a child's natural curiosity will drive them to learn a lot through play, so even though you aren't formally educating all day long, you can rest easy knowing that they are working hard even when they play.
Is it hard to homeschool a kindergartener?
When most people first begin homeschooling, they have dreams of being Mary Poppins for their sweet, well-behaved children. Always with a smile on their face, wisdom in their heart, and a song on their lips, they and their children would imagine their way through the day. Now, some days really are like that. Some days, families really do go to faraway places together, and some days, kids really do seem to halfway enjoy cleaning their rooms.
However, we must also acknowledge reality. Just like any worthy callings in life, homeschooling your child will have its rough patches. There will be some days that you just don't feel like homeschooling. There will be some days that your child is resistant or in a bad mood. You'll need to learn to navigate those days, and you will. But one thing is sure—the good days far outweigh the bad, and the cost of homeschooling is well worth the bountiful blessings it brings.
With a good curriculum and a support network, you can homeschool kindergarten! You'll find it far easier than you think!
How do I organize my homeschool curriculum?
If you've chosen Sonlight curriculum, this step is really quite easy. You'll just need to find a shelf to hold your books, open up the Instructor's Guide and begin! It's really that simple. As you get more comfortable with homeschooling, you'll figure out your own method of organizing your things. You may even find that your organizational methods change every year as your children grow and their needs and preferences change.
How long is a homeschool year?
Sonlight curriculum is a 36-week long kindergarten homeschool program, which is consistent with most public school requirements. However, with Sonlight, you can choose whether you would like to schedule your homeschool in a four-day week or a five-day week.
Every family is different, but many families choose a four-day homeschool week. Most of these families use the fifth day as a flexible day in their schedule. Some use the day to take field trips and run errands. Some use the day to review concepts or let kids explore whatever they wish. Others use this day as their homeschool co-op day. This type of flexibility is really invaluable in the life of homeschoolers, as "Life Happens" will likely become one of your many mottos!
What should 5-year old's be learning?
At this age, the Three R's are imperative. In kindergarten, reading, writing, and arithmetic are the main focus.
READING:
Children need to begin learning to read by learning letter sounds and becoming oriented with the printed word.
WRITING:
Around age five is when children explore early writing, both printing and creatively putting their thoughts into written form (although you will do much of the scribing for them at this stage).
MATH:
In math, kindergarteners are learning their numbers and shapes. They are also learning that math is logical and numbers make sense. Sonlight knows the importance of making learning fun, and they have plenty of extra resources, such as games and educational activities that help deepen a child's learning experience in these areas without being laborious.
However, kindergarten learning shouldn't stop at the 3Rs. At this age, a good kindergarten homeschool program should include subjects of wonder and awe like Science and History. Sonlight's Kindergarten homeschool curriculum includes a study of American History as well as science topics such as ecosystems, meteorology, physics, and engineering design. Sounds impressive, doesn't it? It truly is. A gentle introduction to these subjects sets children up to find wonder and awe in all aspects of life.
What should a five-year-old know academically?
Setting arbitrary academic standards based on a child's age is something that we shy away from at Sonlight, understanding that all children are unique, with their own learning style and pace. However, we also understand that setting expectations can also be helpful for parents. In this vein, there are a few things we would like for children to know as they exit their kindergarten year.
Letter names and sounds
Writing letters
Writing their name
Knowing a number of sight words
Showing early reading skills (reading simple words and phrases)
Identifying and writing numbers
Simple addition and subtraction
Identifying shapes and colors
This is not an exhaustive list of targets; however, these are the main milestones for the kindergarten year. Keep in mind, there are many other worthy skills that you will spend time on that aren't listed here such as learning personal information like addresses and phone numbers. You'll also work hard in kindergarten on teaching your child to follow a set of directions and extending their attention span. These skills are necessary and worthwhile, but not necessarily included in an academic list.
Please remember that not every five-year-old will be developmentally ready for all of these targets. That's okay! Homeschooling is a marathon, not a race. You are in this for the long haul, so settle in and resist the urge to worry if your child is up to par with others. Consistent forward progress is what you should always look for in your child's education.