A 'lifelong love to learn' journey begins

The M Family, Sturgis, MI
Explore the world together
With curiosity shining in their eyes, your kindergarten children are just starting to unwrap their world. So now is the perfect time to show them just how much fun learning can be.
Imagine the look on their faces when you tell them what Cleopatra ate when she was their age, or you regale them with the tale of a peasant boy who dared seek the hand of a beautiful princess – and succeeded! You'll discover a crime-fighting canine and a dog who battled a blizzard to bring medicine to thousands of sick children in Alaska. If time permits, you can even help a father rescue a dragon. How cool is that?
In this curriculum, new and exciting worlds await. Along the way giants of folklore and history come alive again for your youngster. Johnny Appleseed and Dr. Dolittle are here, as is Isaac Newton and Winnie the Pooh.
With Sonlight's carefully chosen books, your children will learn fun and awesome things such as: Were there really Vikings named Thor? Why they call it 'Victorian' England? and what's a Ming vase and why is it valuable?
At this critical stage, children's minds are making important developmental advances. Experts say children this age strive to emulate their adult role models. Copying you, learning comes naturally. So let's keep the learning fun. The most complicated thing your child needs to tackle right now is staying within the lines of the coloring book.
You are your child's best teacher
Is there a better role model than Mom and Dad?
Absolutely not!
So cuddle up on the couch, or in the hammock, for "read aloud" time and discover worlds and wonders far beyond your own borders.
Take a stroll through world history and explore the way people ate, dressed and lived throughout the centuries. Learn about the great dynasties of ancient earth. It's all here, and more.
Teach your children how to open their mind's eye to God's fascinating world. With Sonlight's help, you'll share precious time and make memories that will last lifetimes (yours and theirs). You'll also be setting the stage for future learning and having fun while doing it.
The main point to get across now is, "Learning is fun!" Sonlight's Kindergarten homeschool curriculum does exactly that.
Kindergarten Lesson Plans
Fun for Mom, knowledge for dear kids

The S Family, Medford, WI
You've seen how fun Kindergarten can be for your little tyke, but what about you?
Don't worry, Mom, we've got you covered.
With our Instructor's Guides you get:
Flexibility
Ability to Teach with confidence
Entire year at your fingertips
Activity sheets and more
You have everything you need to teach your children with confidence from your very first day of school. Just open up and get started. Included in your Sonlight program.
Kindergarten History
Hey, where's the back door to the castle?

The A Family, Gainesville, GA
Sonlight's foundation is history, and it can be yours, too.
Come …
Discover what it was like to live in a castle.
Marvel at what children used to wear for sleep and play.
Take a spin in the first car, plane & rocket ship.
Meet the former slave who returned to Ireland to share Jesus.
Visit tall mountains and lush jungles.
Care for animals alongside a veterinarian who loves his job.
Learn lifetime lessons with peasant Pong Lo as he wins a whole kingdom with a grain of rice!
Be inspired toward wisdom and character through Grandma's tales of growing up in the pioneer days.
And the fun doesn't stop. Using Egermeier's Bible Story Book, your Kindergartner will get the full flow of the Bible's content, but at a level to which they can relate. Egermeier's makes the Bible's stories fun, readable and compelling.
The books in this curriculum provide the basis for faith-building conversations. They present worthy heroes who display courage and honesty, who work hard, love their families and do the right thing. Let's give children some models worth imitating!
Why literature?
Everyone needs a swashbuckling hero, right?
Great books are fun to read and well-written stories make it easy to remember important things. Reading good literature, no matter the reading level, is a pleasurable experience. As you read together about great people and really interesting places, you'll spark your child's curiosity. Our curriculum is designed for maximum fun and maximum memory-making. We give you plenty of opportunities to log some couch time talking with your children about what they just learned and how it relates to their world.
Spelling & Vocabulary
Please note: Spelling and Vocabulary is already built in to your lesson plans at this level. Spelling and vocabulary words are from the reading you share with your students. This makes practice a natural addition to your homeschool day. We do offer additional resources, but do not suggest using them until 3rd grade.
Kindergarten Science
Wonderment awaits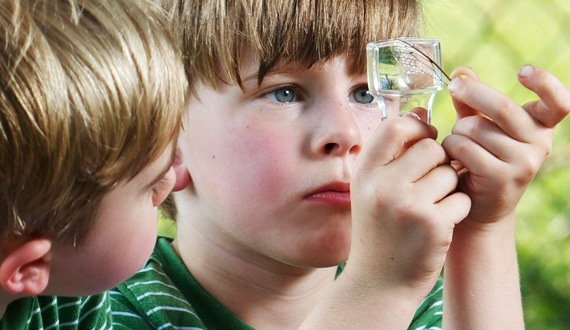 The S Family, Louisville, KY
Where does thunder come from?
Where does the sun go when its dark?
Why is the sky blue?
How much does the Earth weigh?
How do cicadas fly?
Get ready to marvel at why things do what they do as you discover the world where plants and animals live, right in your own backyard.
Great books. Engaging activities. Hands on experiments. Fun and instructive DVDs. All that, and more, is here just waiting for your child.
Kindergarteners get to do cool and fun stuff like making a weather vane and watching it in action. They'll marvel at the absorption power of a simple sugar cube. They even get to taste-test milkshakes. Milkshake 101, what room is that in? Why, the kitchen, of course. Mmm, chocolate!
Kindergarten Math
Bake cookies, learn some Math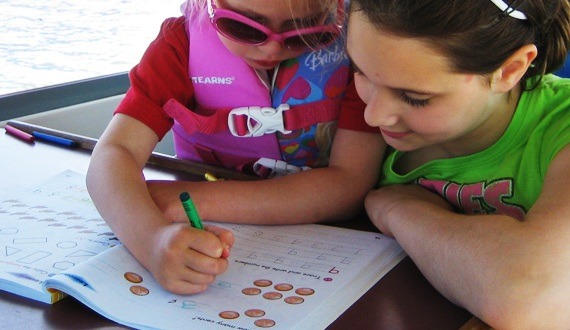 Your child will learn not only how to write numerals but also addition and subtraction, basic counting, skip counting, geometric shapes, telling time, and they will be introduced to the manipulative block system in the kindergarten math curriculum. It's a gentle introduction to "doing math."
Kindergarten Handwriting
Rediscover a lost art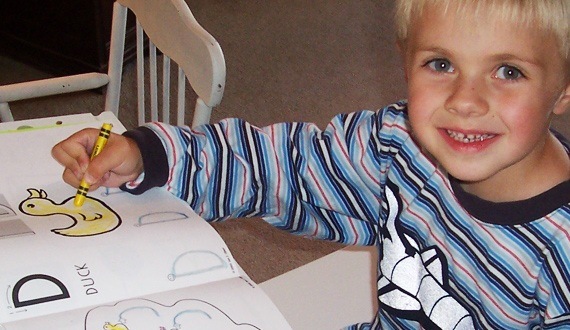 Doesn't every mother want their child to have the cursive competence of John Hancock?
While scriveners and calligraphers are in small demand these days, your child will grow up without having to struggle to write their own name.
With Sonlight's homeschooling for Kindergarten curriculum of award-winning handwriting programs, soon enough your child will be writing as elegantly as King George's antagonist himself.
Choose your Kindergarten curriculum
Put together a customized program OR select the recommended everything-you-need package. Compare your choices and pick the path you want. Either way, a wonderful adventure in learning awaits you and your family.
History / Bible /
Literature

10% off retail

All-Subjects
Package

20% off retail

Individual
Items

5- or 4-Day


For one or more children. Add required subjects to build an All-Subjects Package and save 20%.

5- or 4-Day


Everything you need for one child. Customize as needed and still save 20% if you keep all subjects.




Browse all the products we offer, including our customer-renowned Instructor's Guides (IGs).

The best part of your
homeschool day.

Everything in one package.
Total peace of mind.

Choose the materials that suit your needs.

Instructor's Guide

Instructor's Guides

Add Instructor's Guides

Parent Guides

Parent Guides

Add Parent Guides

Student Guides

Student Guides

Add Student Guides

History/Geography

History/Geography

Add History/Geography

History/Bible

History/Bible

Add History/Bible

Bible

Bible

Add Bible

Read-Alouds

Read-Alouds

Add Read-Alouds

Readers

Readers

Add Readers

Add Language Arts

Language Arts

Add Language Arts

Literature/Language Arts

Literature/Language Arts

Add Literature/Language Arts

Add Spelling

(K-5)

Spelling

(K-5)

Add Spelling

(K-5)

Add Handwriting

(K-3)

Handwriting

(K-3)

Add Handwriting

(K-3)

Add Science

Science

Add Science

Add Math

Math

Add Math

Add Resources

Resources

Add Resources

Entire Package!

Entire Package!

Free shipping (see details)

PLUS: SonlightCares™ $249

FREE

PLUS: SonlightCares™ $249

FREE

Select
Select
Shop Now