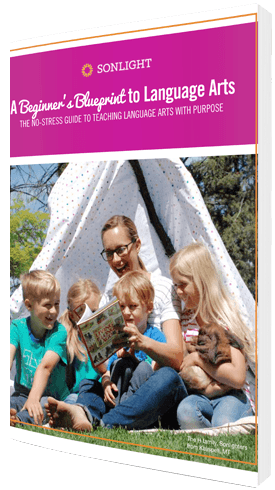 Confused about Language Arts?
Download this FREE, No-Stress Guide to Teaching Language Arts with Purpose today!
When our Product Development Team heard from a frustrated and confused young Sonlighter, we weren't surprised. The caller was struggling to understand Language Arts, and wondering if she was failing. She certainly felt like she was floundering!
This is understandable. Language Arts includes so many pieces. How can you see the big picture? How do you know what to teach, and when?
After a half hour conversation, the young Sonlighter said, "Thank you! This has been so helpful! You should write this up for other Sonlighters like me."
And so this free eBook came to be.
Get Sonlight's A Beginner's Blueprint to Language Arts and Teach with Confidence!
This eBook features instruction on Language Arts topics including
The definition and basics of Language Arts … and the end result you're after
The pros and cons of beginning Language Arts when your children are on the young end of the age range, and on the older end of the age range
A detailed look at the skills that fall under the language arts umbrella
Read through this eBook to get the confidence you need to teach Language Arts.
Inside this free eBook, you will find detailed information and teaching tips on all these skills:
Vocabulary
Reading
Handwriting (both printing and cursive)
Spelling
Grammar
Copywork and Dictation
Public Speaking
Creative Writing
Research
"This eBook is exactly what I was looking for! I needed a big picture view of language arts to inform my decisions and help me know I'm on the right track. It helped clarify my goals for each stage of training my children to be good communicators." ~Laura Lee Ellis, homeschooling mom of four
Also, with your free download of this eBook, you will become a valued member of the Sonlight family. This includes:
Sarita's Word, our free biweekly encouraging word from Sonlight's president and founder
Insider information and sneak peeks of new products coming to Sonlight
Alerts to our occasional sales and specials offers
Are you ready to get your free eBook? Simply enter your email address here and get instant access:
Download

your free eBook!