Progression of Programs
As you can see, though, the programs do not follow a strict, "four years from the Ancients to the present" plan. I believe there are additional topics worthy of study, which is why Sonlight F focuses on the Eastern Hemisphere, and Sonlight 200 focuses on the History of the Christian Church.
That's the big picture: three cycles, nicely balanced between American and World History, and two years dedicated to important – but unusual! – topics.
What do the Letters and Numbers Mean?
Great books speak to a range of ages. And so each Sonlight program can be used by students who aren't the same age and don't share the same grade.
That's why we use letter labels for our programs, instead of numbers. We want you to consider the choices available and pick the program that will best serve you, rather than simply picking a program by grade number.
When we use the word "program," we are usually referring to the History / Bible / Literature portion of the full Sonlight Curriculum. History, Bible, and Literature have always been the heart of Sonlight.
We have Preschool and Pre-K programs. After that, K–H roughly correspond to elementary and middle school. And 100–600 roughly correspond to high school.
Obviously, from kindergarten on, students need to study more than History, Bible, and Literature. That's why Sonlight carries materials to help you teach Math, Science, Language Arts, and, in the early grades, Handwriting, as well.
And when you purchase all of these subjects together, we call it an All-Subjects Package.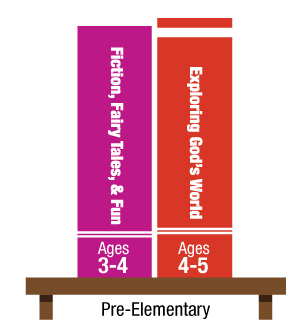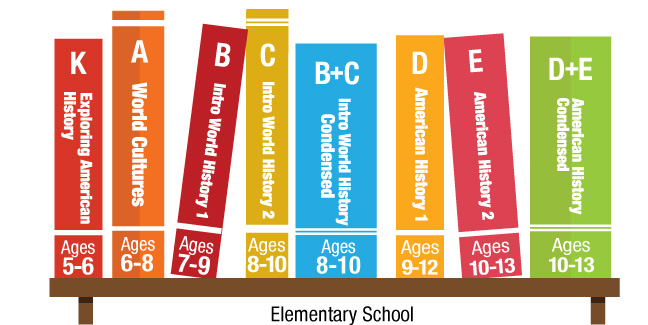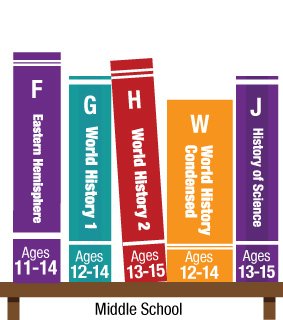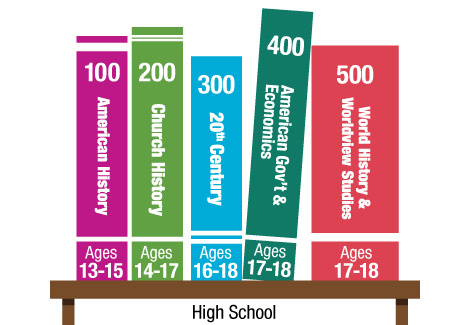 How do Sonlight programs teach history?
We teach history using great books.
All of the Sonlight History / Bible / Lit programs use a book, or series of books, as a "spine" – the foundational text that supports the rest of the program.
Some of the spines are highly illustrated, offering students both a narrative and literal picture of history.
Some, though, are mostly text. In that case, the Sonlight schedule incorporates books with illustrations to accompany the text. For example, the Child's History of the World by Hillyer is a delightful history for elementary school, but, because it lacks illustrations, several Usborne books – filled with detailed illustrations – allow children to see what Hillyer describes in words.
To this foundation of information and illustration, the schedule adds additional books, mostly biographies and historical fiction. When studying India, for example, you'll read about Mother Teresa, who showed the love of Christ to the poorest of the poor in Calcutta, and whose fellow nuns now work around the world.
Not quite done! There are (as of this writing), 196 countries in the world. Some of those countries are easy to locate on a map (the United States, England, China, India). But many are not.
In the midst of all the reading, geography – knowing where things are on a map – becomes an integral part of the history program. Whenever you read a place name, we point it out in your Instructor's Guide. In Sonlight's K–H programs, the IGs include small laminated maps with each location pinpointed (i.e., D2 on Map 3). You don't have to go to an atlas and search the index to locate places you aren't sure about – use the included maps to increase your geographic knowledge.
Finally, Sonlight's history emphasizes the timeline. The Sonlight Timeline Book has blank pages with dates from 5000 B.C. to the present. For K–H, each History package includes self-adhesive timeline figures to stick in the Timeline Book. (In fact, through the years, you'll study so many different historical events and people, you may want to stick down only the top third or half of each figure, to allow other figures to overlap.)
In the programs for older students, Sonlight 100–500, the IGs include names, dates, and events to write in, without accompanying illustrated stickers.
A filled Timeline Book is an incredible resource – not only a record of people and topics studied, but a cumulative reference for history. As one small example: Napoleon was Emperor of France while Lewis and Clark explored all the way to the Pacific Ocean and back. For the music lovers among us: This was also around the time that Beethoven was coming to terms with his hearing loss.
And that is Sonlight's history: a spine (either illustrated on its own, or supplemented with books with illustrations), additional books (such as biographies), geography studies, and a timeline.
Bible
I believe, as the Psalmist says, that God's Word is "a lamp to our feet and a light to our paths." All of the Sonlight programs come from a Christian perspective. Throughout your studies, when applicable, you'll find Scripture references and questions that seek to relate what you're reading to your faith.
I believe that reading Scripture is the first and best way to know and love the Word. In my life it has proven "living and active," as Paul describes it. And so each Sonlight program includes a Bible section in the IG schedule, a reasonable amount of Scripture reading so you spend time in God's Word every day.
By the time they graduate, your children will have read most of the Bible several times through.
The schedule also suggests a weekly memory verse. In the A through G programs, Sonlight is privileged to offer each week's verses set to song. A husband and wife team, both of whom hold advanced degrees from a top-ranked music graduate program in the country (Eastman School of Music), compose, conduct, and perform these seven albums. Each one seeks to match the general feel of the corresponding Sonlight program: In Sonlight K (approximately kindergarten), some of the verses are set to music that sounds like nursery-rhymes. In Sonlight F, the program that examines world cultures, the album incorporates ethnic instruments and rhythms. Since music, for many people, makes memorization easy (how many songs can you sing without having purposefully memorized them?), these albums allow your children to easily learn the Scriptures.
Besides Bible reading and Scripture memory, many programs also include age-appropriate study books. Some of these are actual Bible study guides; some are books on discipleship, such as one to encourage prayer; some are books of apologetics.
My desire is to help you and your children read, talk about, and memorize Scripture so that God's Word becomes integral to your lives.
That isn't all. I want your children to share God's heart for the world. That's why many years include a prayer guide: Let your children begin now to change the world for Christ!
And every year, Sonlight programs include at least one missionary biography. These books show how God is at work around the world, bringing transformation to those in His kingdom.
Read-Alouds
The first Read-Alouds are in Preschool: All of the beautifully illustrated picture books are Read-Alouds. By Sonlight A, the Read-Alouds are short chapter-books with some illustrations.
Each year as the children get older, the Read-Alouds have fewer illustrations, and the books grow longer and have more complex plots.
So: age-appropriate books. Yes.
Overall, I try to ensure that the weightier books, with the more challenging vocabulary and more thought-provoking topics, appear as Read-Alouds. This way, you have a chance to explain things as you go along, to talk with your children about what you're reading, and what you're thinking as you read. This is where true discipleship occurs, where you are talking with your children "when you sit in your house and when you walk by the way and when you lie down and when you rise up" (Deuteronomy 6:7).
From Sonlight D–100, most of the Read-Alouds connect with the events, periods and people in the History. When we study WWII, for example, the Read-Alouds will include a book or two set in occupied Holland or France, or reveal life in Britain during the Blitz.
In Sonlight K–C, the Read-Alouds only occasionally match the history. There are many marvelous children's books available, but not many set in Ancient Egypt, Imperial Rome, or the Dark Ages. So in the younger years, I want children to become captivated by exceptional books, not listen to merely average books about the historical topics at hand. I want to inspire them with the joy of learning. I want them to exclaim – as I've heard numerous Sonlight moms tell me their children have exclaimed: "I love school!" Or, perhaps, as others have said, "My son doesn't even know we're doing school! He just figures we're having fun."
Besides a dozen or so books of prose, each Sonlight Read-Aloud package includes at least one book of poetry. Most of these are collections of outstanding poems by various authors, though some years a program focuses on a single poet. Poetry uses language in creative ways. A single poem is a gift, a moment captured. I'm pleased to be able to share such a wide variety of these gifts with you.
Readers
Beginning with its first Reader, the Fun Tales booklet "Pam" (which children read after learning their first six letters), Sonlight offers outstanding packages of books that grow progressively more challenging as reading ability increases.
The Readers, especially in the early years, have simpler vocabulary, simpler sentence structure, shorter paragraphs, and fewer words on a page.
In the four Sonlight programs that correspond to early elementary school – K, A, B, and C – we give you five different Reader packages to choose from. If your children are a bit ahead of the curve, or a bit behind, or if you have children of different ages you're teaching together, you can choose a package that best meets each of your children's unique abilities. I chose these Readers for delight and appropriate difficulty. They don't correspond with the History or Read-Aloud programs.
In Sonlight D, the Readers, like the Read-Alouds, correspond with the History, and that pattern continues on through Sonlight H.
The Readers get longer each year, until, by Sonlight G and H, there's little difference between the Readers and the Read-Alouds, with respect to length.
In Sonlight 100 and up, students transition to independent learning, and all the literature is assumed to be Readers. (However, some books are too good not to share, so some parents continue to read aloud to their children all the way through high school.)
Try Sonlight and see if the work we've done can provide you the benefits you've been longing for: the joy of discovery, great conversations with your children, and an excellent homeschool experience.
Instructor's Guide
Everything you need to use Sonlight's books and materials, so you can open it up and teach confidently with minimal prep time.
(a complete year's schedule with teaching notes and supplements)
Sonlight's main resource, after all the incredible books, is the Instructor's Guide, or IG, as moms like to call it.
Your Instructor's Guide interweaves History, Readers and Read-Alouds into your homeschool schedule. Your Instructor's Guide helps you decide how much is enough but not too much each day, and breaks those learning elements down into a daily schedule for you.
Thought-provoking notes in your IG spark discussion with your children and balance the biased statements you will find in literature. Vocabulary words, extra historical tidbits, as well as map and timeline activities help solidify your family's study of history, geography and literature.
Learn how you can save some time and effort with our convenient IG preassembly service.
Add Language Arts
Built around the books your student read.
Sonlight Language Arts programs flow from this principle. Each program guides your children through well-paced writing activities based on the Readers they're already enjoying in their History / Bible / Literature program. As your children grow, these activities will guide them through writing their first sentences, simple paragraphs and stories until they're eventually writing gripping creative works and compelling scholarly papers.
When your children were young, you taught them to speak as you spoke to them. In the same vein, children learn to write by learning from good models of writing – and trying out those models for themselves. We call this the "natural" approach to Language Arts.
Complete your curriculum
Sonlight alo offers Science programs you can add to your History / Bible / Literature, as well as some of the best math, handwriting, and electives available on the homeschool market. Explore additional homeschool curriculum subjects now.