Welcome!
This collaborative community is designed to provide support and encouragement on your homeschool journey. If you long for a community that provides educational enrichment, encouragement, creativity, fun, and friendship, Sonlight Connections is for you. Discover all of the ways to connect below and download the Sonlight App too!
Connect In Person
You can now meet IN PERSON with homeschool families who share the same educational philosophy. Join an established Sonlight Connections group or create your own! These in-person groups are perfect for educational group projects, parent discussions about homeschool struggles or opportunities to just have fun with homeschool friends.
The in-person groups are fully owned and operated by the Connectors who start them with minimal guidance from Sonlight. A Connector decides where the group will meet, how often, and what the group will do at each meeting.
The map below shows where established groups are located.
Join a Group
Please review the map below. If you have an established group near you, click the icon on the map to email the Connector directly.
If there is no group in your area and you would like to be added to a list to be contacted once a group does start in your area, click the "Join a Group" button below the map. Please note that you will be notified once a group is started in your area from the Connector directly.
Become a Connector
If you're interested in being a Connector and starting your own group, click the "Become a Connector" button below the map.
Questions? Contact Sonlight Connections coordinators, Judy and Stephanie, at connections@sonlight.com
Connect on Social
Our new Sonlight operated Connections Facebook group is exclusive for sonlight.com users! This community will be a place to share ideas, discuss issues and support each other with encouragement and prayer. Ask for guidance as needed, provide advice to your peers and stay connected with like-minded individuals.
Start building your community around your homeschool with Sonlight Connections.
Connect with Sonlight on your favorite social media platform.
Connect by Listening
Listen to the Sonlight Connections Podcast
We know you're busy. You can connect by listening to the Sonlight Connections Podcast. Get tips, advice, and encouragement from veteran homeschoolers.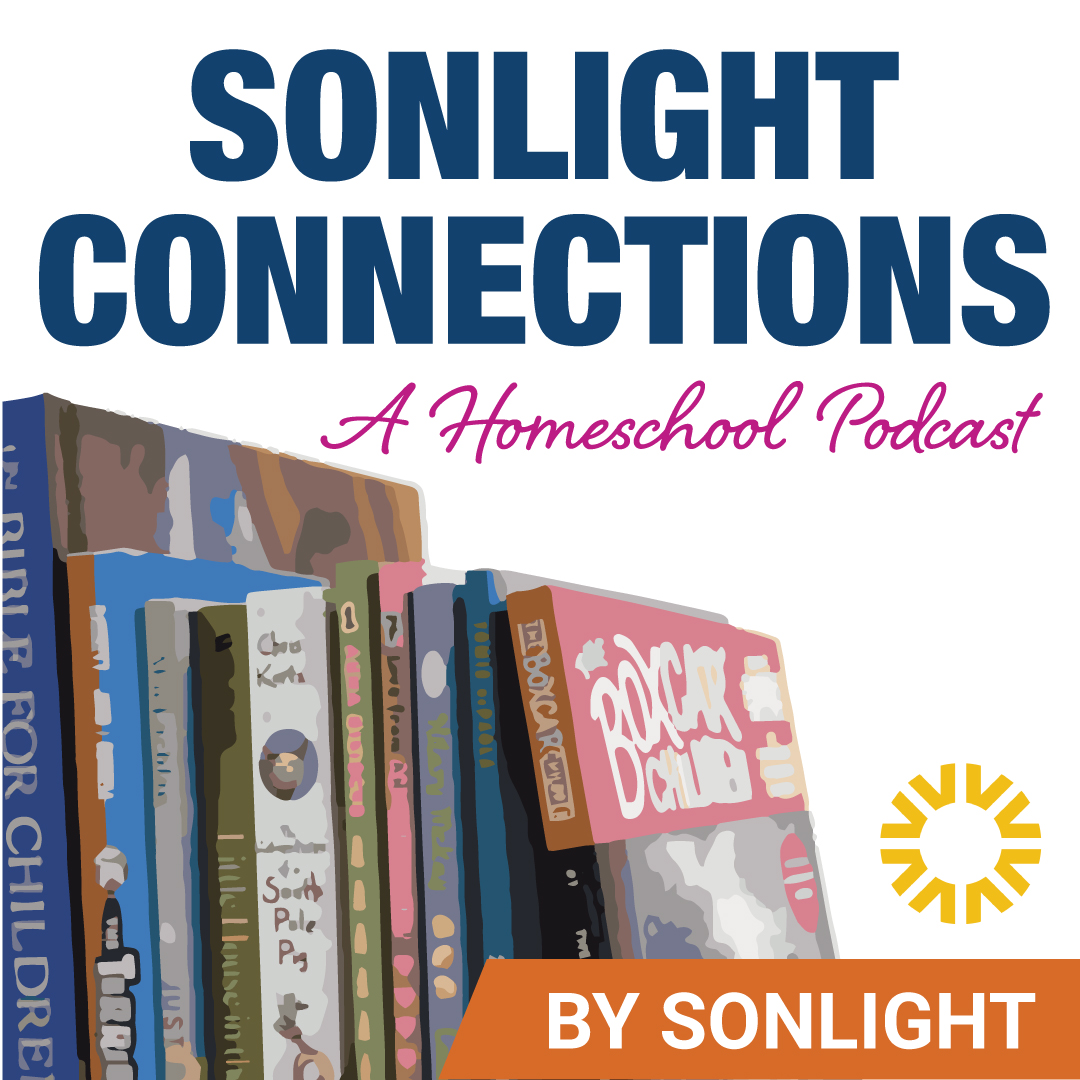 Listen to Sarita Speak
You can also listen in as Sarita Holzmann, president of Sonlight, speaks with influential homeschool moms on their podcasts. Their conversations elaborate on how literature can enrich the study of geography, the importance of raising children with a heart for the world and the power behind great books. Listen below for all that and more.
Connect to Teach
Are you new to Sonlight? Get the support you need as you start the homeschool journey with Sonlight. Learn how to use the Instructor's Guide to fit your family, schedule your homeschool, organization tips and SO MUCH MORE!
This private group on the Sonlight App is a year-long membership for parents using Sonlight for the first time. To help you navigate your first year, our team of veteran Sonlight Curriculum Mentors come alongside to provide guidance, advice, and encouragement.
Teacher's Connections is free for families using Sonlight for the first time with the purchase of a History / Bible / Literature Program, an All-Subjects Package, Quarterly Curriculum Pacakages, or SonlightCares™.
Testimonials from our Customers
For anyone not sure if they want to join, Sonlight Connections Facebook group has become one of my favorite homeschool groups! —Natalie W.
I work from home, and this is my first year homeschooling. It can feel like a bit of a roller coaster. One minute I think this is the best decision we have ever made and then other times I get bombarded with doubts: Did we make the right choice? Am I enough for the kids? Will they learn what they really need? Sonlight's Facebook groups have been such a blessing. They help me get out of those anxious/doubtful times. I get so much encouragement from the other moms and dads who have the same struggles or questions that I have. — Amy A.
This group has been such a joy for me this whole 1st year of homeschooling, but ESPECIALLY during this unusual time we all find ourselves in. So many of you make me laugh and I wish I knew you in real life! 🤣 And I LOVE to hear from all of you veteran Sonlighters because I gain so much wisdom and advice! Not many Facebook homeschool groups are as awesome as this one. Thanks for the breath of fresh air, All! Praying for you all! — Donielle G.
Be Inspired
Connect by Email
Sign up to receive emails filled with motivation and support from Sonlight. You will also get:
Sarita's Word, our free biweekly encouraging word from Sonlight's president and founder
Insider information and sneak peeks of new products coming to Sonlight
Alerts to our occasional sales and specials offers