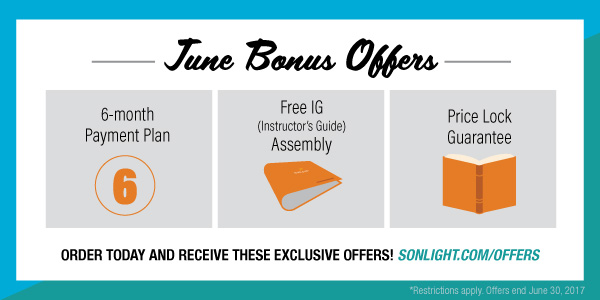 Final Week to Save...
Order by June 30. Your purchase of a History / Bible / Literature Package, All-Subjects Package or any order over $499 also comes with:
6-Month Payment Plan*

Put 40% down and pay 20% every other month after that. No fees, no interest. You use Sonlight over the course of a year and spread your payments over 6 months. Learn more.

FREE Instructor's Guide (IG) Assembly

Our IGs typically arrive hole-punched, with a binder. This month, we will put the IGs into the binder and assemble everything for you, at no charge. (A $40 value!)

Price Lock Guarantee

We guarantee our published prices in the 2017 catalog until June 30. Beginning July 1, we may need to make adjustments on the price of some products. Shop now for the lowest price guarantee!
---
*Payment plans are available on All-Subjects Packages, History / Bible / Literature Packages or any order over $499 to qualifying customers in the U.S. and Canada. 6-month payment plans require 40% down (of the total cost of goods) at the time of shipment. The remaining balance is spread over three additional automatic payments — one payment every other month.