Have you ever wondered how to become the President of the United States or how to vote? It starts with understanding the election process!
The US Elections - Lap Book Kit is a hands-on activity to help your student (Ages 8+) understand the election process in America. A great supplement for any US History and/or Government course.
The artwork and templates were drawn by the talented Amy Pak, who also drew the Timeline Figures in Sonlight's programs.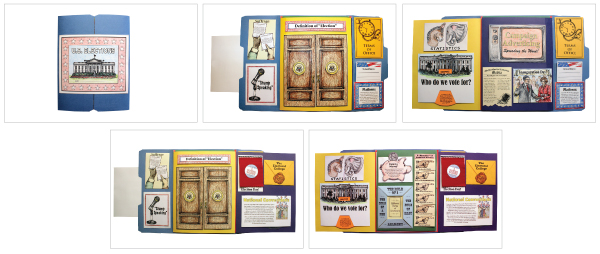 The kit includes instructions and materials for 21 projects, covering topics such as Electoral College, political parties, the three branches of government, and more! The interactive papercrafts incorporate creative writing, illustration, and research, resulting in a finished product your child will be proud of.
This kit includes all materials including:
Lap Book Instruction Booklet
Lap book Base (File Folder)
1 Sheets of Dura-Lar
1 Piece of Red Felt
1 Liquid Glue
1 Glue Sticks
Gold Glitter
1 Roll of Double-Sided Sticky Tape
6 Paper Fastener
2 Pieces of Velcro
and all the pre-printed materials necessary to complete the lap book.
You supply the colored pencils, clear tape, stapler, and scissors.
Projects Include:
Definition of "Election"
Different Forms of Government
The American Experiment
The Three Branches of Government
Suffrage
Who Do We Vote For?
Terms of Office
Political Parties
Caucuses & Primaries
National Conventions
Platform
Stump Speaking
Media
Campaign Advertising
Raising Money
Statistics
Election Day
The Electoral College
Inauguration Day
The Electoral Race!
The "Vocabinet"
Consumable. Purchase one kit for each child completing a lap book.