Author: HOMESCHOOL IN THE WOODS
Consumable Item


Included in these packages:
Over 70 Timeline Figures for Sonlight G on self-adhesive heavy card stock. Just cut them out, color and stick them in your Timeline Book.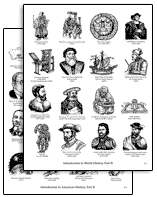 Sonlight's Timeline Book paired with program-specific Timeline Figures make creating your own timeline easy and delightful.
Figures included in this Timeline Figures set are:
Menes (Narmer) unites Upper and Lower Egypt (ca. 3100 BC)
Sumerians invent cuneiform (ca. 2800 BC)
Hammurabi writes Code if Law (ca. 1792 BC)
Indus Calley city Mohenjo-Daro (ca. 2000 BC)
Hittite Civilization (ca. 1600-1200 BC)
Shang dynasty (ca. 1600-1066 BC)
Queen Hatshepsut rules Egypt (ca. 1503-1482)
Phoenician Civilization (ca. 1000 BC)
Assur-bani-pal builds library (669-626 BC)
Sennacherib rules Babylon (704-681 BC)
Hezekiah (ca. 701 BC)
Nebuchadnezzar (ca. 605-562 BC) builds Hanging Gardens
Homer writes Iliad (ca. 800 BC)
Plato teaches Greeks to think (ca. 429-347 BC)
Battle of Marathon (490 BC)
Battle of the Bay of Salamis (480 BC)
Socrates (ca. 469-399 BC)
Alexander the Great (ca. 356-323 BC)
Pythagoras (ca. 566 BC)
Rome founded (753 BC)
Punic Wars (264-146 BC)
Gautama Buddha (563-483 BC) founds Buddhism
Qin Zheng unites China (221 BC)
The Great Wall of China built (221+ BC)
Confucius (ca. 551-479 BC)
Julius Caesar (ca. 100-44 BC)
Cleopatra (69-30 BC)
Octavian (Augustus Caesar) (63 BC-AD 14)
Jesus Christ (ca. 4 BC-AD 29)
Jerusalem destroyed (AD 70)
Constantine I (AD 285-337)
Attila the Hun (AD 406-453)
Saint Patrick (AD 385-461)
Dark Ages (ca. AD 476-1000)
Middle Ages (c. 476-1453)
Augustine of Canterbury (died AD 604)
Mohammed (ca. AD 570-632) founds Islam
King Arthur (ca. AD 465-542)
Tang dynasty in China (AD 618-907)
Clovis rules over the Franks (AD 481-511)
Battle of Poitiers "Tours" (AD 732)
Charlemagne (742-814)
Vikings (ca. AD 793-1020)
Leif Ericsson (AD 1000)
Alfred the Great (AD 849-899)
Battle of Hastings (or the Norman Conquest) (AD 1066)
Eleanor of Aquitaine (AD 1122-1204)
Samurai in Japan (1192-1868)
Crusades (11th, 12th, & 13th Centuries)
King John signs Magna Carta at Runnymede (1215)
Genghis Khan (ca. 1162-1227)
Kublai Khan (1215-1294)
Black Death kills one-third of Europe's population (14th Century)
Hundred Years' War (1337-1453)
Joan of Arc (1412?-1431)
War of the Roses (1455-1487)
Prince Henry the Navigator (1394-1460)
Vasco de Gama (1460-1524) rounds Cape and sails to India (1497)
Velazquez (Juan de Pareja) (1599-1660)
Christopher Columbus (1451-1506) discovers the New World (1492)
Ferdinand Magellan (ca. 1480-1521) leads circumnavigation of the globe (1519-1522)
Francisco Pizarro (1475-1541) conquers the Incan Empire (1531-1533)
Pope sets Line of Demarcation (1493)
Hernando Cortes (1485-1547) conquers the Aztec Empire
Luther's 95 Theses and start of Reformation (1517)
Ottoman Turks conquer Constantinople and end Middle Ages (1453)
European Renaissance (1300s-1600s)
Leonardo da Vinci (1452-1519)
Michelangelo (1475-1564)
Johann Gutenberg (1390s-1468) invents printing press (1440)
Council of Trent convenes (1545)
Nicolaus Copernicus (1473-1543) publishes On the Revolution of the Heavenly Spheres
Galileo Galilei (1564-1642) invents telescope
King Henry VIII (1491-1547)
Queen Elizabeth I (1533-1603) rules England (1558-1603)
Mary Tudor (1516-1558), "Bloody Mary"
William Shakespeare (1564-1616)
British Navy defeats the Spanish Armada (1588)