Looking for a low-stress, complete Science curriculum your kids are sure to love? Do you want Science to include hands-on learning and captivating books? Check out Sonlight's complete Science programs for your elementary through high school students. Customers say ...
Sonlight homeschool science curriculum
Is truly easy to use.
You're equipped to do the experiments. Moms who tended to skip experiments before Sonlight find they actually do them since they already have the materials and instructions they need. Plus …
Kids love the Discover & Do DVDs. In Science A through E, these DVDs demonstrate each experiment in the Instructor's Guide. They also provide plenty of laughs along the way! So if you don't get around to doing an experiment, at least your kids can watch it in action.
Amazingly interesting books with robust content help bring science to life.
With Sonlight, your science study becomes a joyful adventure of discovery, instead of a boring trek through a textbook.
So let Sonlight guide you through each day and simplify your teaching process for less stress and more fun as you learn along with your kids.
Ignite a love for science in your children
Sonlight homeschool science curriculum is made up of many things. Great books. Engaging activities. Hands on experiments. Compelling biographies. Fun and instructive DVDs.
Your children will not only learn the facts of science, but also gain a love of discovery and get to know key scientists such as Isaac Newton, Louis Pasteur, Marie Curie and more.
Enjoy homeschool science
Customers LOVE Sonlight science curriculum with hands-on activities, Activity Sheets and teacher helps in the Instructor's Guides. Here's what a few parents have to say:
"Sonlight science is once again an absolute success in our house! Thank you Sonlight for searching out such wonderful books for us and saving me so much time and frustration on books that just don't interest the kids." -David W, Aug. 2010

"Every parent loves to see their child delighted by good things in life, and Sonlight's science experiments are a great source of delight for our children. They find great joy and fascination in discovering and seeing for themselves how the world works." —Heather M, Aug. 2010

"Sonlight science sparks in my children constant interest in the world around them." -Sarah B, June 2010

"We've discovered the joy of Sonlight's Science! It's well planned out and our children love the science kits and funny DVDs [that show the experiments in action]. Thank you for making it so easy to enjoy Science." —Rose S, Aug. 2010
Your Instructor's Guide (IG) walks you through each day.
Your Science IG equips you to teach with confidence. You know what you're going to study and why. Your complete schedule ensures you cover key concepts in a logical and doable way while explanations in your Guide help you understand the principle of each experiment and activity.
Daily lesson plans show you what to do each day.
Teaching tips guide you through what to cover each day and how to explain science facts.
Thorough parent explanations leave you feeling confident about each experiment and activity sheet.
Helpful notes offer insights relevant not only to science, but also to cultural literacy, religion, philosophy, ethics, technology, and more.
Discussion questions spark meaningful conversations with your children about what you learn together.
Activity sheets customized for each lesson hammer home important points in fun ways.
Optional activities help make science a real and everyday part of life. These activities take your family's science exploration beyond your books and into the world around you.
Do you want to see inside a Science Instructor's Guide? You can even request a 3-week sample of a specific IG.
"Thank goodness for the simplicity of Sonlight's Science D. We were so pleased with how fun those experiments were." —Mary B, July 2010
Homeschool science kits and hands-on experiments
You'll find dozens of hands-on science experiments in each year's program. The scientific method consists not only of philosophical speculation, but testing, experimentation. These activities capture your children's attention and solidify their understanding.
The experiments give your children a "hook" to absorb new things they learn. They'll remember far more of what they experience than facts they only hear about. Plus, these hands-on experiences provide a connection between what your children read and the real world and help grow their interest in scientific exploration and discovery.
Breathe a sigh of relief knowing there's no need to spend gas money and time hunting for random supplies you need for experiments —we include them in your science supply kit.
"Having all the resources for Science B ready from day 1 provided the support we needed to make experiments fun for our science lover." —Christie C, June 2010
A Christian worldview bolsters your family's learning.
Sonlight integrates a strong Christian worldview into our Instructor's Guides so you and your children can look at the world through the lens of God's Word, the ultimate source of truth.
We provide a counter balance to non-Christian content and ideas.
We encourage your family to first seek to understand differing perspectives before critiquing them, so your children gain the ability to discern with you right beside them.
We present information and a response to evolution, highlighting God as Creator and Intelligent Designer.
"Sonlight's creation-based science program has been great for our family. I love how much the girls enjoy working together on their science experiments." —Sara R, Aug. 2010
Sonlight Science educational philosophy
(Hint: Expect the best education possible for your children.)
Sonlight students interact with more scientific subjects and more material—more often—before junior high than many classroom school students cover once by the time they reach high school.
As your students approach the same topics from many different angles throughout the years, they can absorb more deeply what they see, hear and experience. This diverse but repetitive approach means you are under no pressure to ensure your children "get it right" the first time (i.e., the only time) they will hear a word or study a topic. For Sonlight students, the first time is merely the first time. There will be future opportunities to master unfamiliar material.
This approach to education—plenty of review, but from new and interesting directions—means you and your children can relax as you go about your studies.
We cover the full spectrum of science studies, such as earth, space, life, health, physical and technological science. Over the years, Sonlight students focus again and again on several primary fields of study...
Biology/Nature: Explore the living world God created by studying biology, botany, animals, anatomy, and more.
Technology: Understand machines, how inventions came into being and how they work, and the rise and relevance of personal technology.
Physical Sciences: Study and experiment with some of the smallest and most powerful substances of our world with our chemistry studies. Uncover truths about forces, electricity, and magnetism by studying physics.
Earth and Space: Chart new territory in earth sciences, oceanography, meteorology, and archaeology. Discover astronomy and astronautics.
Health and Medicine: Delve into the world of anatomy, physiology, nutrition, and medicine.
Your kids will learn these subjects at greater and greater depth as they circle back through each topic over the years. We mix challenges with fun so your students will not only learn more science than their peers, they actually enjoy the process!
Start your journey of discovery with your family. Find out more details about each science program.
"Our kids have a great overall science sense about them that we did not have at their age (and we're both doctors)! The boys LOVE doing Science with Daddy and Sonlight makes it so enjoyable and fun!" —Meredith F, March 2010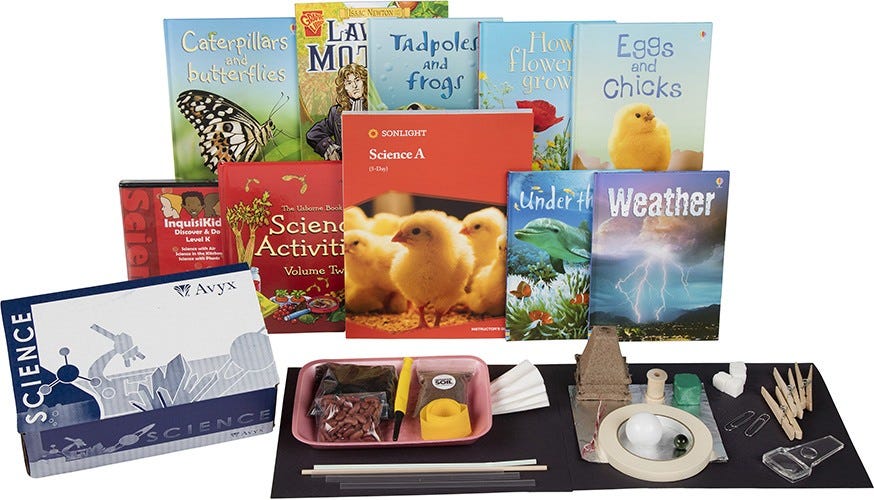 How we help you succeed
With Sonlight Science, you get:
Daily lesson plans, teacher helps, notes to further explain the information, and more, all in your Instructor's Guide.
All the books you need for the year.
Activity sheets (in the elementary years) that help children engage with and learn the material. These are not merely fill-in-the-blank worksheets, but true Activity Sheets with helpful original illustrations and a variety of thought-provoking questions and activities.
Science kits with the uncommon items you'll need for experiments. (No need to run to the store for the wintergreen mint, a 3/4" steel washer, clay, or three 1" copper brads you need to do your Science activity for the day! Just open your Science Kit and pull out exactly what you need.)
Supply lists that tell you what you'll need that week, including

which supplies you'll get from the science kits
and which you'll need to gather from your own home or kitchen (such as a large bowl and paper cup). Particularly for those items that are easy enough to get, but not necessarily always on hand (for example, an egg carton), we include prior-week warnings so you can have it ready when you need it.

Extra notes for experiments that other customers have had questions about. Includes tips and hints to get the experiments to work in your own home and notes about what you can realistically expect from the experiment (which isn't always quite as exciting of a result as a book illustration might show).
Discover & Do DVDs. For Science A through E you get a Discover & Do DVD that demonstrates each experiment in the program. Kids love watching these clips that bring science to life.
Excellent academics. Kids who grow up with Sonlight Science will learn and retain significantly more Science than the vast majority of their peers. It's a robust but very accessible program
"Sonlight science has really sparked a desire to discover in all our children. Leah was fascinated with an experiment from Science G to discover melting points of substances. She continued experimenting even after finishing the required work because she was so intrigued. I have found this to be true for all our children. They continue to look for answers even after we have finished a lesson. They truly have a love of learning now that we have switched to Sonlight." —Lisabeth K, Aug. 2010

"I can't say enough about Sonlight Science. You're not getting information from dry boring science textbooks, but rather living books which help keep things interesting and engaging. I sure wish I had been taught this way." —Happy2BMotherof3, March 2011