Customers tell us the day FedEx delivers their Sonlight order feels like Christmas.
That's because each Sonlight program includes forty to sixty award-winning "real" books (forget boring textbooks!) and everything you need to…
Teach your children all subjects with confidence and ease
Grow closer in your relationship with your children
Love learning (maybe for the first time).
Sonlight. The original "real books" curriculum.
Biblically-oriented. International. With the only full-year, 100% money-back guarantee in the industry: Love to Learn, Love to Teach™ or your money back.
If You Can Read, Then You Can Homeschool Successfully
Sonlight books are carefully and lovingly selected. Together, they create a stunning library of award-winning, classic, delightful books that will satisfy your soul and leave your children begging for more.
Literally. "Keep reading! Keep reading!" is a request every Sonlight family experiences.
Do your children beg to do more schoolwork?
We receive letters regularly from grateful parents who tell stories about how their children respond to Sonlight books. For example, A.S.:
My oldest is addictively reading a chapter book, telling herself over and over, "Just one more chapter and I'll stop."

Two nights ago she was found reading under the blankets with a flashlight. What a joy to be there to watch your child fall in love with reading!
We couldn't agree more. What a joy to be there.
And why are books so useful for learning?
Because stories stick with us, in a way that fact lists … don't.
When your brain experiences what the characters in a story experience, you remember things. Because you've been there. (See The Neuroscience of Your Brain on Fiction for the evidence.)
Another brilliant thing about learning with "real" books the Sonlight way: they allow students to see more than one side.
When students read about the first Europeans in North America, Sonlight includes books written from the perspective of the Spaniards, the Africans, the English, and the Powhatan. Each of these groups had a different perspective!
What do we learn by listening to multiple sides of a story?
Recent studies show that reading increases empathy–feeling with others. And empathy is essential for good relationships. (See Novel Finding: Reading Literary Fiction Improves Empathy.)
Since relationships are vital for a satisfying life: isn't that what you want for your children?
Do you have the courage and the humility to teach your children to listen to "the other side"?
But the books alone aren't what make Sonlight … Sonlight.
A box full of four dozen wonderful books isn't a Sonlight program, any more than a pizza crust, tomato sauce, and shredded cheese is something ready to serve at your family dinner table.
You have to combine the parts to make a delectable meal.
The award-winning books are merely Sonlight's "farm-fresh, organic" ingredients.
The Sonlight Instructor's Guides provide the scrumptious, "chef's secret" recipes.
They ensure your children not only enjoy their education, but gain maximum benefit.
And best of all, the recipes are easy to follow.
They coordinate all the books and tell you, day by day, what to read and when. So that the unique flavors and benefits of the variegated books—the intellectual meal's ingredients—combine into a mouthwatering feast.
Every IG—from History / Bible / Literature to Science to Language Arts—schedules the books, provides helpful notes, tells you what activities you will want to do … when (writing exercises, science experiments, field trips, and more).
The Language Arts Instructor's Guide tells you what assignments you need to do so your children become capable writers, everything from handwriting and basic decoding (i.e., early reading) in the youngest grades, up through research papers and literary analysis at the high school level.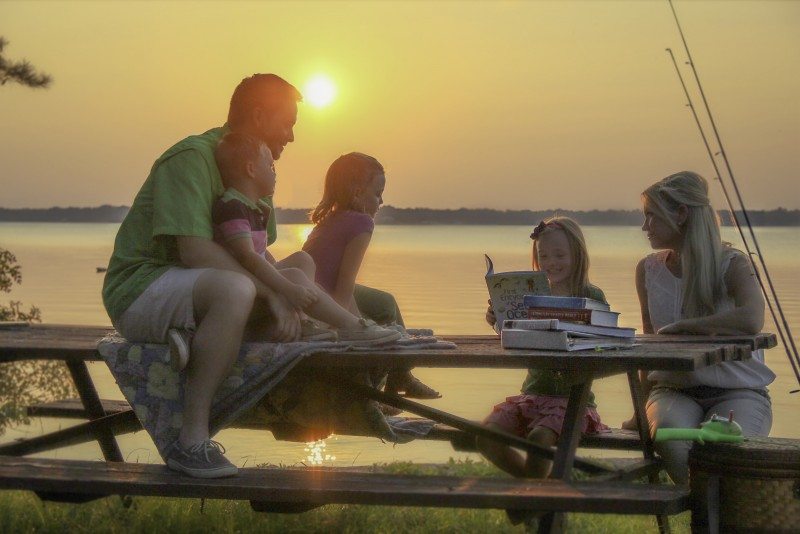 I wouldn't be able to continue our homeschool journey if it were not for the very structured and clear instructions from the Instructor's Guide. I'm thankful that all of the hard work has already been done for me and I can trust wholeheartedly that each day will be just what my children need for their education but also for their spiritual growth as children of God. Plus, Sonlight has helped me keep up with a daily Bible reading where I feel like I am able to strengthen my relationship with God as well as with my children." –Rebecca H of Flint, TX
Do you want to be a hero?
Maybe you make meals that give you delight. They taste delicious, and your family repeatedly thank you for your service in their behalf.
That is such a good feeling, to be physically sated, enjoying family time–and to know that you are the hero of the dinner table!
That's how it feels to homeschool with Sonlight.
You take excellent ingredients and combine them in beautiful ways, as the Instructor's Guide directs, so that your children are happy and satisfied. And you're the hero who serves them the stunning meal.
Hey, guys. It's spring break. Would you like to take a week off from homeschooling like the traditional schools? Get a little break?"

My six-year-old: "No, mommy! Please! I love Sonlight! I don't want a week off!"
That's the story L.F. told us. And it's a story we hear time and again plays out in thousands of homes just like yours.
It's happened in mine.
The children are so excited about what they're learning, they don't want to take time off.
And why would they? If you're offered a grass-fed filet mignon, why would you refuse it for frozen fish sticks?
Sonlight children know that there isn't anything better they can be doing with their time.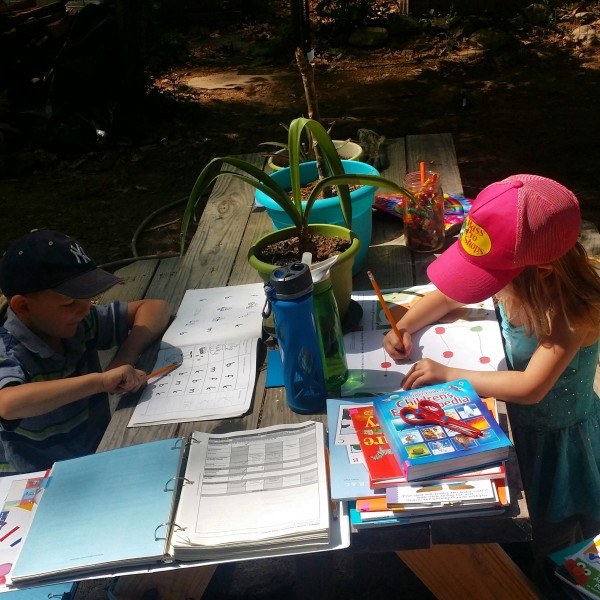 Being a newbie homeschool mom with no teaching background, I was nervous to begin. Finding Sonlight was a huge relief. I felt totally confident to start the school year, and that definitely overflowed to my kids. They were so excited and loved the whole experience. I've told all of my friends about Sonlight. I love telling them I know exactly how they feel, but that Sonlight can help!" Liam (5, Level A with Grade K Readers) and Finlee (4) are enjoying their first year learning at home together. The Sonlight Instructor's Guide (lower left corner) shows Mom exactly what to do." –Esther I of New Windsor, NY
Besides the ingredients … and the recipes … for an award-winning introduction to human history taught from the perspective of God's desire for all peoples …
Sonlight includes everything you need to teach all subjects.
In addition to the books and the Instructor's Guides—for History, Science, and Language Arts, you'll also get any one of half a dozen industry-leading Math programs. —We're happy to help you choose the one that will work best with your children!
You'll also get the other, smaller things that make learning come alive. Like a timeline book to help you see the scope and flow of human history. And preprinted stickers of key people and events, ready to place where they belong within the timeline.
And how about a high quality map of the world and the United States—so you can learn geography naturally: tracking, while you read, where the stories and history take place around the world.
Oh! And the science supply kits! All the "little things" that are likely to trip you up when you want, actually, to do the science experiments: the marbles, powerful magnets, wire, thumbtacks, straws, mirrors, seeds, and more that would drive you nuts if you had to locate them.
Depending on the grade, you might also get handwriting or spelling workbooks, or supplemental math materials.
Whatever you need to teach your children successfully each year … you'll get it delivered to your home.
And you'll love it.
Sonlight's Unmatched Love to Learn, Love to Teach™ Guarantee
Try a Sonlight History / Bible / Literature or All-Subjects Package for six months to see if it works for you. If it does, you'll be delighted—and I think that's exactly what's about to happen. If for some reason you're not delighted, then just let us know—and you get all your money back.
This offer is unique in the industry. No one else makes such a promise.
But we make it because we are confident that you will be thrilled with the excitement and laughter that fills your home. And we know that fewer than 3% of our customers take us up on this offer. Which means that the odds are pretty good that you, too, will enjoy a year of homeschooling like no other: one where your children truly loved to learn … and you truly loved to teach.
We want you to experience the wonder of a Sonlight education.
We want your children to love learning, and for you to love teaching. We want your children to grow up in a joyful home, surrounded by good literature and good conversation.
And all of this with no training, no prep time. Because all the prep work has been done for you. "Just open [the Instructor's Guide] and go" as so many other Sonlighters have already discovered.
Right about now, if I were you, there would be one question on my mind…
How Much Does It Cost?
You know education is expensive.
A year of public school costs taxpayers over $10,000 per student. Read that again: $10,000 annually per student. And after spending over $150,000 for all those years of schooling, only about one in three students is ready for college.
Not that a parent pays that entire burden per student. But public school parents do pay several hundred dollars a year in addition to taxes to send their children to the public school. Between uniforms, art supplies, fund-raisers, fees, teacher appreciation gifts ($200 per family is not unknown), and so on, a public school education is definitely not free!
And the price for a year of private school averages over $9000.
But education is important.
It's a bit silly to compare the real-life benefits of a close relationship with your children, and their success in life, to the price of a smartphone. But may I offer a comparison?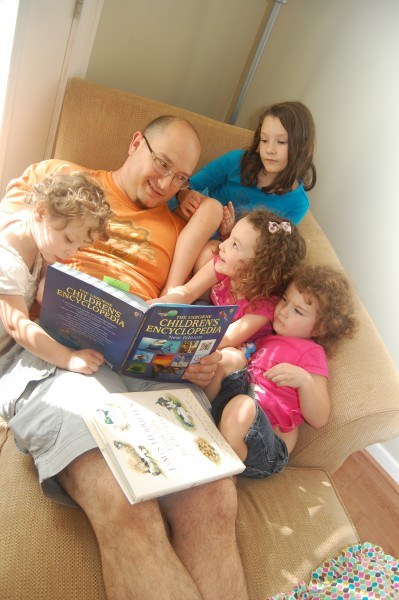 Once we took the plunge and started using Sonlight, I was hooked. As an elementary teacher, I was adamant that I could do it myself. I spent the first year compiling as many 'free' resources as I could. It was exhausting. And while I didn't pay money for those resources, I did pay with my time and energy. With Sonlight, everything was there and ready to use, straight out of the box." –Jennifer B of Gardendale, AL
If you're willing to spend the standard $1200 or so a year on your smartphone,1 might it be reasonable to spend a similar amount on your children's education for a year?
Your Facebook feed today probably won't be memorable in thirty years, but the books you read with your children—the amazing Sonlight books: I can guarantee you'll remember them!
I know I remember books my parents read to me thirty years ago. And my parents still comment on the books their parents read to them more than fifty years ago. …
Here's the good news:
A Sonlight All-Subjects Package won't cost you as much as an average smartphone.
It won't cost you $1200.
It won't cost you $1000.
By the time you've totaled the price of sixty books, plus Instructor's Guides, Science supplies, Math books … : that's a lot of materials.
But we don't charge full price.
You get a full twenty percent off. So no All-Subjects Package costs even $1000.
This is an incredible bargain.
Less than $1000 for an award-winning heirloom library of books your family will enjoy for a lifetime and more.
Less than $1000 for increased fellowship and lifelong relationships.
Less than $1000 to equip your children, this year, for whatever God calls them to do for the rest of their lives.
Of course, you could put together a basket of ingredients more or less equivalent to what Sonlight offers. You could take on a part-time job of curriculum assembly.
Even if you spent only five hours a week during the 36-week school year trying to pull together books from the library and create a reasonable schedule—that's 180 hours. And if you paid yourself the federally mandated minimum wage ($7.25) for all those hours, that would total $1305.
That means that trying to put together your own curriculum would cost 42% more than the most expensive of all of Sonlight's programs. And you wouldn't even own the books! (They'd be borrowed from the library.)
Library books have to be returned. Unlike your personal library that you get to keep. And enjoy for as many years as you want.
Is your time worth minimum wage?
Maybe not. But, then, what value do you place on your time and life?
I would rather use the best quality materials (shipped at no additional charge direct to my door), enjoy school with my children, and spend the rest of my time doing things that I love.
You can homeschool. With joy... Ready to Explore Your Options?