Author: Cathy Diez-Luckie
Consumable Item
Binding: Pb
Make your study of history fun and memorable with these articulated puppets of famous people from Medieval history. With Famous Figures of Medieval Times your children will make jointed paper dolls of the most important people from the past. Includes William the Conqueror, Joan of Arc, Charlemagne, Richard the Lionheart, and more!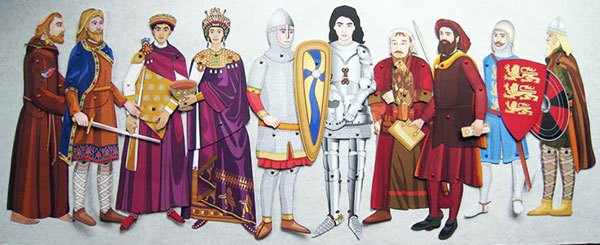 Includes ten historical figures:
Justinian I
Theodora
Richard I (The Lionheart)
Charlemagne
Leif Eriksson
William I (The Conqueror)
Genghis Khan
Francis of Assisi
Marco Polo
Joan of Arc
First, cut them out and put them together. Then use your imagination to make them come to life. Each of these easy to assemble figures comes in two versions: pre-colored, or blank and ready to color. Printed on sturdy paper, when assembled, these figures move their arms and legs! Includes historical information.
Famous Figures of Medieval Times will inspire your child with story. Act out the real stories of history. Travel through time with your articulated puppets. It is a perfect activity for eager learners who continually want more hands-on activities.
These jointed paper dolls of characters from the Medieval history also motivate and engage reluctant students. Furthermore, your child will build fine motor skills as they cut out the pieces and put them together. Additionally, you can create puppets with string or craft sticks. Even more, try producing a stop-motion animation film using magnets on the back of the figures.
Give your children engaging medieval activities. Encourage them to discover more about the great men and women of the past with Famous Figures of Medieval Times. Famous Figures of Medieval Times provides hours of fun and educational play for hands-on learners! The perfect complement to Sonlight levels B+C, C, G and W… or any history program you may be using.
Suitable for ages 6-14
Grade range: 1-9