Sonlight's Economics Program
Take a deep, balanced tour of Modern Economics—Sonlight style!
Prepare for both the Microeconomics and Macroeconomics AP exams. Your student also gets a balanced, critical view of modern economic theory and biblical view of economics.

100% MONEY-BACK GUARANTEE
Take up to one year to use your curriculum. If you don't love it, return it! Complete details here.
This is a one-semester (18-week) course. Prerequisite: Algebra 2.
Demystify the world of Economics (macro and micro) far beyond any textbook.
Sonlight combines dynamic online multimedia videos, excellent notes and interactive exercises with the Bible and modern literature for a clear, critical view of the subject with this course in Economics. From basic theory to "Political Instability and Trade," get your student ready for success in college placement or AP exams.
Virtually all students in the U.S. are required to pass at least one course in a high school economics curriculum. Many who do well in this subject can leap ahead in their college studies with a great score on the Advanced Placement exams for Economics. Now you can use Sonlight to get there!
To see a sample of the Economics Program Instructor's Guide, please click here.
Did you know: Economics is NOT about money...
That's one of the fundamental lessons your high-schooler will learn in Sonlight's Economics program.
Economics is one of the most important, yet least understood, disciplines in academics. Free markets? Interest rates? All those graphs? Economics confuses and frustrates students and adults alike. That's why we carefully designed Sonlight's Economics program to demystify and simplify all that jargon. We believe this Economics program is unparalleled in today's homeschool market.
Your students will take an in-depth, balanced tour of the world of Economics—and find out what this challenging concept is really all about. To create the broad, approachable course in Economics we wanted for you, we've combined the next-generation internet-based multimedia Thinkwell Economics materials with Randy Alcorn's biblically-based Money, Possessions and Eternity and a delightful "economic romance," The Invisible Heart by Russell Roberts. And yes, students will use their Bibles, too!
Sonlight's Economics program does more than just prepare high-schoolers for the Microeconomics and Macroeconomics college Advanced Placement (AP) exams. This course in Economics also gives them a balanced, critical view of modern economic theory.
What is God's "take" on our modern-day theories and values? Your students will ponder many spiritual questions as they pursue a well-rounded, biblical view of Economics.
If you're familiar at all with Sonlight, you know to expect an educational experience that goes well beyond the "regular" textbook approach. As we developed this Economics program, it became clear to us that the material required something more than what a textbook—or any single book—could provide. It needs to be truly taught (by an expert in the field), which is incredibly challenging to pull off in a homeschool!
That's why we were so excited to discover Thinkwell's Economics program...
This "Next-Generation Textbook" powers a new way of thinking.
We believe this Thinkwell program truly is from—and for—the next generation, because it doesn't look anything like traditional economics textbooks. Instead, this comprehensive course in Economics (macro and micro) features a fascinating combination of multimedia online lectures and applications.
In fact, here's what you can expect from the Thinkwell Economics program:
Engaging online multimedia video lectures by Professor Steven Tomlinson accompanied by dynamic, interactive animations.

Rather than reading dense chunks of text for homework, students watch a series of 262 internet-based tutorials filled with illustrations, examples, even humor. Students say they learn more easily with Thinkwell's program than with traditional textbooks.
Full-color, illustrated review notes.

While the online video lectures are the heart of the Thinkwell program, the programs also feature concise, illustrated review notes, a glossary, transcripts of the video lectures, and links to relevant websites. All of these materials from the Thinkwell course in Economics may be viewed online, and the notes and transcripts may be printed and kept for reference.
Rigorous teaching/learning exercises for your students, automatically graded for you and them!

Hundreds of exercises reinforce the subject matter in the lectures themselves. Fully worked-out solutions and explanations for the right and wrong answers teach further. Students can work on the exercises at the computer or print them out to work on later. Once they enter their answers in the computer, grading is done automatically!
We believe the Thinkwell program will provide invaluable experience for your students. The video lectures will help them get used to taking notes from a lecture format. Moreover, comparing their own notes to the review notes will help them take better notes themselves—this alone is a wonderful added benefit that will help students immensely as they prepare for college.
Thinkwell co-founder Dan Heath writes:
I had an amazing microeconomics professor when I was a freshman in college. In the first minute of the first day of class, he asked a question: Why do you always see multiple gas stations clustered on the same street corner? It seems a bit crazy, when you think about it. Why would a gas station owner deliberately position himself next to the competition?

An hour later, we knew the answer. More importantly, in the span of one class period, we had learned that economics is not about money. It's about a new way of thinking.

That class was full of ideas that stuck with me. They're etched into my memory—I can remember them clearly 15 years later...

I co-founded Thinkwell ten years ago because I wanted... [a] textbook that would be more memorable... more useful... I wanted a textbook that was "sticky".

I knew we couldn't pull off this vision on our own. So when we went looking to sign up our first author, we knew exactly where to go—to the office of my college microeconomics professor, Steven Tomlinson.
Yes. Tomlinson is the man who teaches the course your students will be taking!
A few additional notes about Professor Tomlinson:
He holds a Ph.D. in economics from Stanford University.
He taught economics and finance for 15 years at The University of Texas McCombs School of Business, where he also designed and directed the MBA professional development program.
University of Texas MBA students voted Tomlinson "Outstanding Core Faculty in the MBA Program" three times.
He is the Director of Curriculum for Austin's Acton School of Business MBA program.
He is an accomplished playwright and performer. His solo performances led the Austin Chronicle to name him "Austin's Best Monologist."
When modern secular theory fails—add personal feeling and eternal perspective...
While the Thinkwell program forms the spine of the Sonlight Economics program, we felt that a program focused entirely on modern—almost exclusively secular—economic theories would fail to present a truly well-rounded, balanced view of the subject.
So each day, we give students a passage to read in the Bible translation of their choice. Each passage focuses on God's view of some element of Economics. Your students will ponder what they've read for a bit, and then write about their thoughts and feelings in a journal (in fact, we've included a quality blank journal with hardstock cover and 200 lightly-ruled pages). We provide thought-provoking questions to help guide students in their thinking about the day's passage.
Students also read a daily assignment in Randy Alcorn's Money, Possessions & Eternity, a book that presents a comprehensive view of the biblical basis of stewardship. As the title suggests, Alcorn focuses on more than just money. It places our money, possessions, time, and talents in an eternal perspective that often flies directly in the face of modern economic thought. In doing so, it provides a challenging, yet invaluable, balance to otherwise secular economic theory.
If you know Sonlight at all, you know that we couldn't put together a Economics program without including some piece of wonderful literature. Our choice: The Invisible Heart, an "Economic Romance" by Russell Roberts.
We think Roberts' work offers a novel insight into Economics (pun totally intended). It also gives students a pleasurable break from the more theoretical lectures. Roberts' novel gives practical and emotionally challenging "feet" to many theories that might otherwise seem dry and unfeeling. Your students will see how economic principles and concepts surround them every day and in every way.
Yes! Sonlight Instructor's Guide is included!
The Sonlight Economics program includes an exclusive Instructor's Guide complete with a daily schedule for the half year (18 weeks) course. After all, where would you be without a ready-to-use schedule, all worked out for you? That's what you expect from your Sonlight programs, isn't it!
That's not all you'll find in your Instructor's Guide for Sonlight Economics. It's packed with "teaching" notes, lots of reading-based questions for your students (plus answers in the Guide), thought-provoking questions to get them writing in their journal, plus two lesson plans for use with the online Thinkwell materials—one for general study and a more in-depth schedule for preparing your student to take the AP exams.
Prerequisite
A good math foundation is required for this course; we recommend Algebra 2 as a prerequisite.
Note: Advanced Placement, Advanced Placement Program, and AP are registered trademarks of the College Board, which was not involved in the production of, and does not endorse, this product.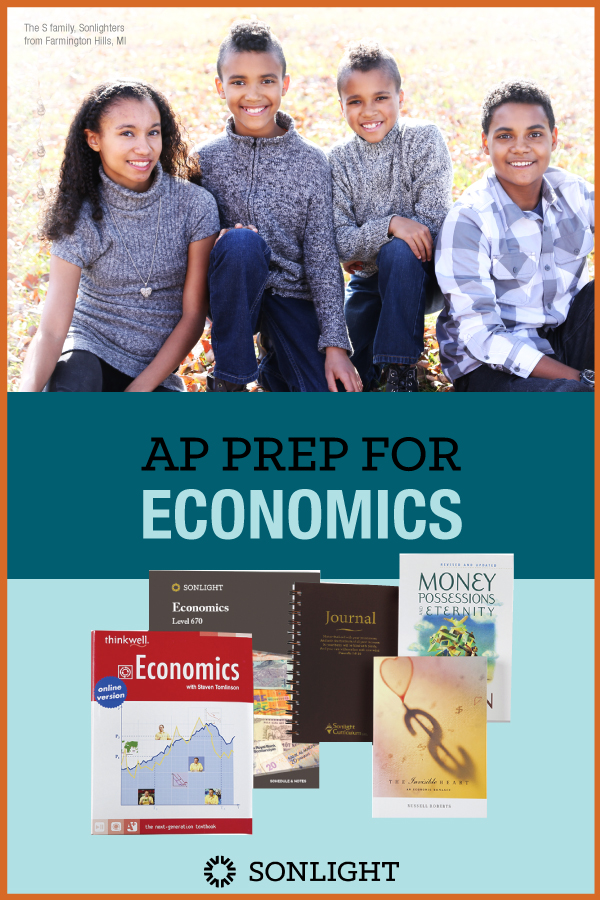 100% MONEY-BACK GUARANTEE
Take up to one year to use your curriculum. If you don't love it, return it! Complete details here.