American History I Lap Book
A collection of extraordinary paper projects on early American history topics, from indigenous peoples and the age of exploration through the 1850s.

100% MONEY-BACK GUARANTEE
Take up to one year to use your curriculum. If you don't love it, return it! Complete details here.
Bring history to life with a hands-on lap book your children will love — a collection of crafts and creative projects that fold down into a kind of portfolio, and unfold to show their detailed magnificence.
The American History I - Lap Book Kit is a hands-on activity to help reinforce and document your students' American History studies.
The photos on this page don't do justice to the exquisite detail and delightful projects you'll find in this lap book. The templates were drawn by the talented Amy Pak, who also drew the Timeline Figures in Sonlight programs. Using this kit, your students will cut, color, write, tape, and glue their way to a deeper understanding of events in American History.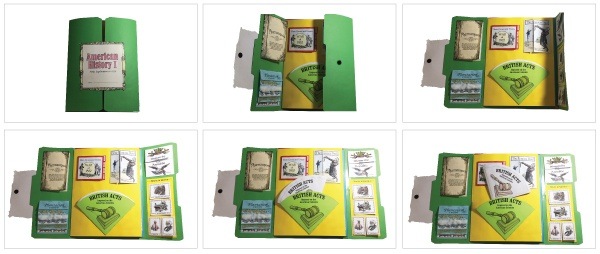 This American History I lap book is full of activities related to early explorers, the Revolution, and many other topics covered in Sonlight's Level D History / Bible / Literature program. The kit includes instructions and materials for 25 projects, covering early Native Americans through the 1850s.
Sonlight American History Lap Book materials include:
A 38-page clear and detailed instruction booklet, with many full-color photos that illustrate each project
Pre-made lap book folder
A wide range of paper in different colors (white, yellow, tan, blue, green, red, orange) and weights (i.e. cardstock, regular printer paper, tissue paper), according to the requirements of each project
All the pre-printed materials necessary to complete the lap book
Additional materials: double-sided tape, 2 glue sticks, 1 bottle of glue, several toothpicks, 1 piece of burlap, one extra small brown paper bag, a cotton ball, a brad, a piece of velcro, several sheets of thin plastic
You supply the colored pencils, tape, glue stick, glue gun, and scissors.
Each of the 25 projects is scheduled as an optional activity in the current Sonlight Level D History / Bible / Literature Instructor's Guide. With the help of the included instruction booklet, you can effectively use the Lap Book Kit as a hands-on supplement for any US History program.
Each American History activity takes roughly one to two hours to complete. Children ages: 8-11
Projects Include:
Explorer Profiles
Mapping the Routes of Columbus
5 Reasons for Exploration
Native American Tribes
Native Story Bag
Real-Estate Brochure
Doc-Pocket
European Exploration & Colonization
Navigational Equipment
Slavery in America
Mitchell Map
Plantation Crops
George vs. George
British Acts
Monarchy vs Republic
Bad News in Boston
Soldiers of the Revolution
The Famous Duel
The Growth of the United States
Lewis & Clark
The War of 1812
The Erie Canal
The North Star
Covered Wagon
Pharmacopoeia
Consumable. Purchase one American History activities kit for each child completing a lap book.
"This American History I lapbook highlights 25 events in early American history in a way which kids are not likely to forget. Aveline definitely felt she had created a memorable history portfolio showcasing the highlights of this particular historical period. After the last project, she genuinely exclaimed, "I will treasure this for the rest of my life, and look back on it and read it whenever I want!" — Gina Munsey from The Oaxacaborn Blog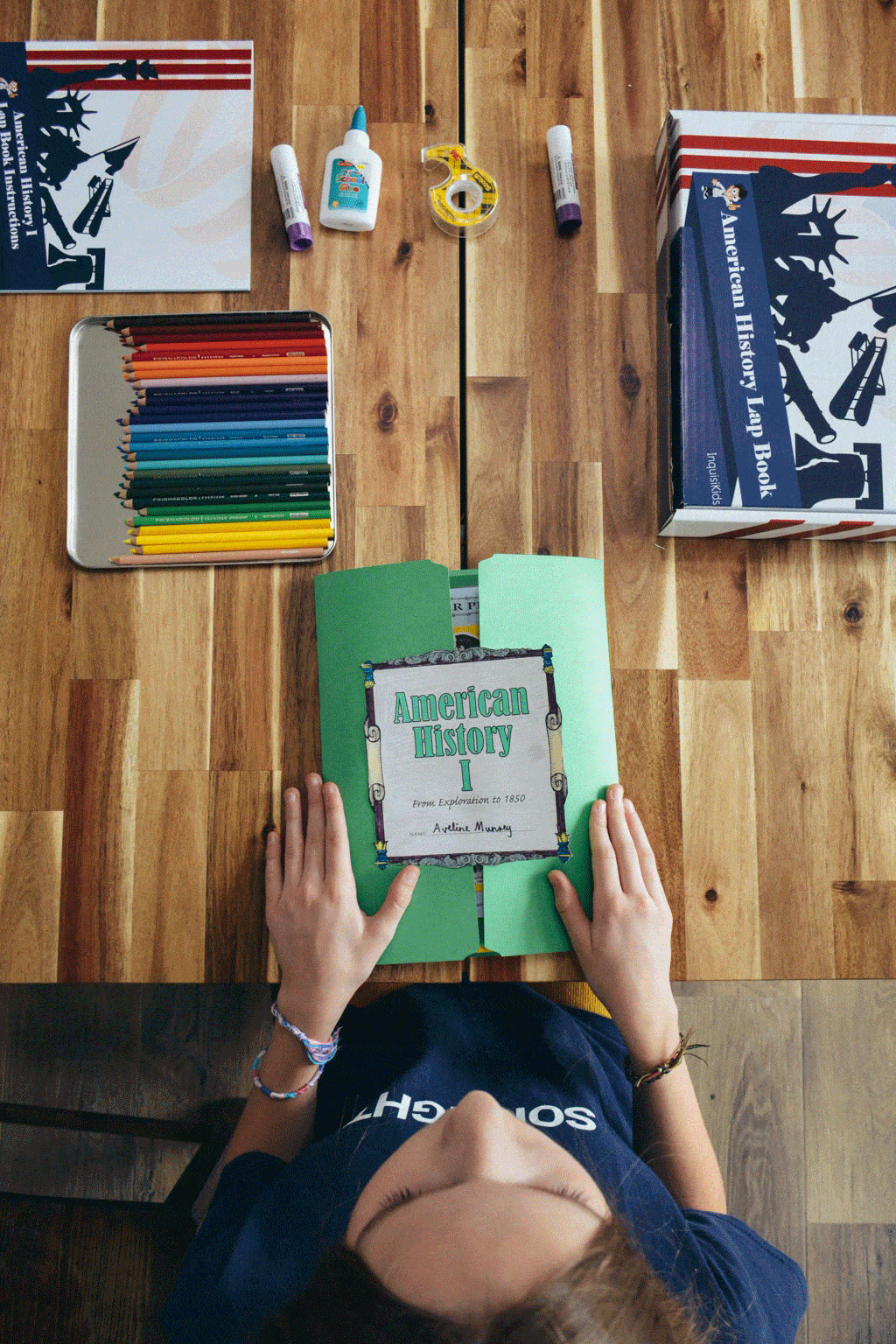 100% MONEY-BACK GUARANTEE
Take up to one year to use your curriculum. If you don't love it, return it! Complete details here.