Bring history to life with a hands-on lap book your children will love – a collection of crafts and creative projects that fold down into a kind of portfolio, and unfold to show their detailed magnificence.
The photos on this page don't do justice to the exquisite detail and delightful projects you'll find in this lap book. The templates were drawn by the talented Amy Pak, who also drew the Timeline Figures in Sonlight programs. Using this kit, your students will cut, color, write, tape, and glue their way to a deeper understanding of events in American History.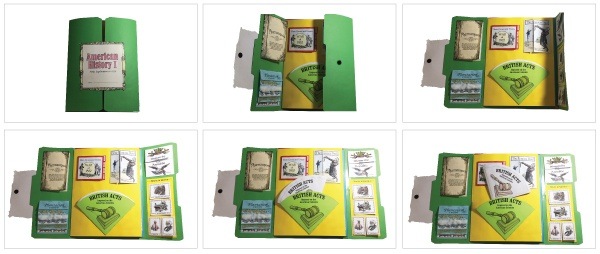 This American History I lap book is full of activities related to early explorers, the Revolution, and many other topics covered in Sonlight's Level D History / Bible / Literature program.
Kit includes all materials including:
instructions
cover folder
maps
various forms of paper
and all the pre-printed materials necessary to complete the lap book
You supply the colored pencils, tape, glue stick, glue gun, and scissors.
A thoughtful and interesting activity is scheduled each week, 36 total.
Each activity takes roughly one to two hours to complete. Children ages: 8-11
Enhance your study of American history today!