Be inspired and ignite a lifelong love of learning
Ever feel overwhelmed and wonder if homeschooling is worth it?
Want reassurance that it's the right thing to do for your family?
This compilation of inspiring and encouraging stories written by everyday moms, as well as some of the biggest names in the homeschooling community, is a must-read for parents who want to give their children the best education ever.
When I think about it, my four adult children are as different as can be. Each has a different personality type, a different learning style, and a different career trajectory. With all their differences and 10 years between the oldest and youngest, I seriously doubt they'd be friends now if we hadn't homeschooled."
– Sarita Holzmann, homeschool mom and Sonlight Curriculum founder
What's Inside?
This ebook is a delightful and informative resource, featuring Sonlight founder, Sarita Holzmann; Lee Binz, Sally Clarkson, Cathy Duffy, Sarah Mae, Crystal Paine, Heather Sanders, Ann Voskamp and more.
This is just a sampling of what awaits inside the book:
I make no claims to be a wise homeschool veteran. I'm just a determined mama who has made it through the first few years of this homeschool life. But if you'll let me, I'd love to share a bit of how I got to this place."
– Sarah Mae, homeschool mom and author
For us, forging a deep attachment to parents was a key factor in our decision, so that children had a strong foundation for their own sense of self, saw parents as more important than peers, and as we modeled the preeminence of God in our lives, our children could see too how to live out that faith model."
– Ann Voskamp, homeschool mom and best-selling author
I just can't shake the feeling that the real question to ask about education, homeschool or otherwise, is not "What about college?" but "What about life?" How can you prepare someone to live to the fullest?"
– Laura Lee Ellis, second-generation homeschooler
In looking back, the time we spent with our kids was the single greatest contributor to the success of our homeschool."
– Ken Chapman, homeschool dad
Being homeschooled helped me to become an independent and self-motivated learner, which are characteristics essential to success as a student in college and as a researcher in graduate school and beyond."
– Mark Panaggio, 2005 homeschool grad and Professor of Mathematics, Rose-Hulman, Institute of Technology.
Looking back, I realize that we learned much more important things than academics: We got to see firsthand what it meant to trust God, how to walk through hard times, to see answered prayer, to reach out and minister to those in the midst of difficult seasons, to help our grandparents, and to serve people who couldn't do anything for us in return."
– Crystal Paine, homeschool mom, author, blogger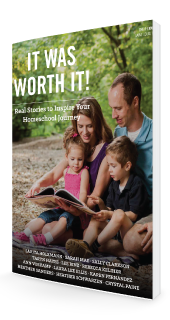 Download your free ebook!
Whether you're a new homeschooler, a veteran or simply homeschool-curious, you'll learn from and be encouraged by families who've found homeschooling success while making this journey. Get the inside scoop from a host of homeschoolers who accepted the challenge, stayed the course and lived to (joyfully) tell about it!