2021 Photo Contest is Closed.
While the 2021 photos have been selected, we invite you to submit your favorite Sonlight moments all year long.
Submit a Photo
Method #1:
Simply post your favorite photos with #sonlightstories on your favorite social media platform and we'll contact you if we'd like to use your photo.
Method #2:
Submit a photo here and a story or testimonial about Sonlight. The ultimate Sonlight prize, of course, comes when your family loves learning together. But an additional reward is in store for the three families who can capture that experience and win the Annual Photo Contest!
The photos and captions you submit may appear in our catalog, on our website, or in other promotional material Sonlight may choose to create. Published photos will be accompanied by captions we write based on the information you provide us.
Submit as many photos as you like. If you submit multiple photos, you may repeat your comments if necessary, but don't leave those fields blank!
When you upload your photo, you may see only a fraction of it. That's okay. That means it's probably a high enough resolution for us to use, and we should have your full photo.
Past Photo Contest Winners





Here are a few tips to increase your chances of making it on a Sonlight catalog cover:
The catalog cover is in portrait (vertical) mode, but sometimes we have cropped a landscape (horizontal) photo to make it fit. Submit all the good photos you have!
Catalog cover photos are well focused, with a range of lights and darks. Photos of just a couple people work better than photos of large groups.
There are a few topics that are always underrepresented: older students (say, 13 years or older); moms with their children; dads enjoying Sonlight with their children; parents using their Instructor's Guide; single parents who are teaching their children; people with physical or mental challenges; photos that show international flavor; emotionally grabbing moments that happen in the midst of discovering something new; Science experiments; Language Arts work. If you have a photo of one of these—send it along!
Specificity rules for captions:

This is not specific: "Sonlight is great! We love it so much and it's perfect for us!"
This is more specific: "With Sonlight, my reluctant reader fell in love with stories and picked up a book for the first time on his own."
This is not specific: "This photo shows us as a museum with Civil War uniforms."
This is more specific: "Sonlight makes learning come alive. When we visited a Civil War Museum, my kids knew the context and reasons for the war from studying History / Bible / Literature E. They remembered the biographies they read and connect them to what they saw in the museum."

Feel free to describe what is happening in the picture, but also share the "big picture" of how Sonlight fits into your overall homeschool experience.
Photo Examples
We are looking for photos of all types.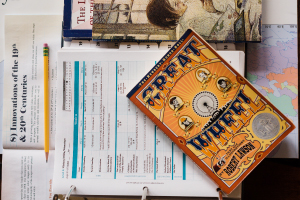 Flat lays featuring Sonlight products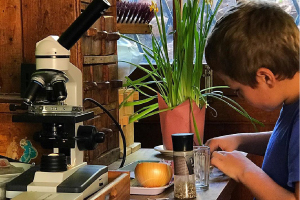 Photos of your homeschool the people and the paraphernalia (science kits, language arts workbooks, etc.)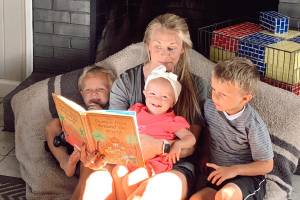 Photos and stories of your family in both landscape and portrait (horizontal and vertical) orientation.
Note: in the following examples, we only have a single model, so we are completely missing the close family togetherness conveyed by many of the best photo submissions. We love pictures of kids and families learning together. Click on each picture to see a larger version.
Good Photo Example:
This is the best all around photo of our samples. The lighting is soft, so you don't see any glare, other than those few spots in the lower left. There is plenty of room to crop, which means we can adjust it to fit our space. The subject is the focus and in focus, and she looks genuinely happy. We could use this photo anywhere.
Poor Photo Examples:
While this is an example of doing school right, on the couch, she doesn't look like she's "loving it." Also, the photo is slightly out of focus meaning we would have to make it very small so the focus problem wouldn't show. Otherwise, the color is nice, and seeing the title of a familiar Sonlight book is great.
While this one has beautiful colors, it's not a great example. If possible, when shooting inside, try not to have a window at your subject's back. It will most likely appear "blown out" as it does here.