Hands-on materials that keep your children fully engaged for science and history.
The heart of InquisiKids is to give parents tools to encourage a love of learning in their children.
InquisiKids materials keep your children fully engaged during learning, while making your homeschool day much more enjoyable. These educational resources are easy for parents to follow, enhance any history or science curriculum, and are fascinating for both kids and adults!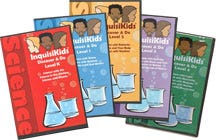 Discover & Do
The ideal video supplement to the early levels of our science programs.
Included in Sonlight Science K-4.

History Project Kits
Help your children remember the time periods they are learning about by building several projects that coordinate with the era using these homeschool kits.
Optional activity for Sonlight History / Bible / Literature levels A, B, and C.
Discover & Do
The ideal video supplement to your science program. This series of videos will engage, entertain, and educate your young science enthusiasts.
Hands-On History Kits
Hands-on, multi-sensory history project kit ideal for kinesthetic learners. Create art, build models, and let your children touch history.
Lap Books
Interactive notebooks with smaller mini books affixed onto a file folder. It's a fun way for craft-loving kids to organize what they learn and reinforces and documents students' History studies.