Rosetta Stone® Homeschool Foreign Language Courses
Language learning software built to fit your homeschool curriculum
Learning a new language is so fun and easy, your whole family can enjoy the experience!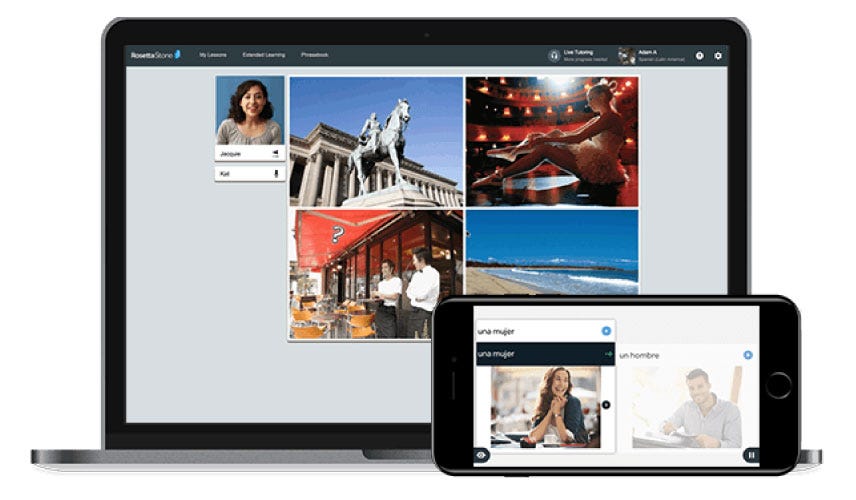 Rosetta Stone Homeschool Foreign Language Subscription
Of all the foreign language programs we've tried — and we've tried a lot of them — Rosetta Stone is the only one that has motivated our kids to keep studying the language on their own. Why? Because it's fun! And not just fun — it's almost addicting.
Rosetta Stone's game-like natural method is designed to help your child achieve success. It lets you set the pace, and makes you want to keep going... Rosetta Stone's natural language learning approach promotes long-term retention and correct pronunciation all without forced memorization and drill.
Does language learning fit with your family's homeschool goals?
Choose from 24 languages and add a foreign language to your homeschool lineup today.
Purchase a subscription. Then choose from the following languages when you're ready to start.
Arabic
Chinese (Mandarin)
Dutch
English (American)
English (British)
Filipino (Tagalog)
French
German
Greek
Hebrew
Hindi
Irish
Italian
Japanese
Korean
Persian (Farsi)
Polish
Portuguese (Brazil)
Russian
Spanish (Latin American)
Spanish (Spain)
Swedish
Turkish
Vietnamese
Rosetta Stone Subscriptions
Each program comes with a money-back guarantee for thirty (30) days from the date of purchase.

Due to restrictions from some publishers, we are not allowed to discount Rosetta Stone, Singapore Math, Math-U-See, Spelling You See, All About Spelling, A Child's History of the World, and a few other products. History / Bible / Literature and All-Subjects Package are pre-discounted. No additional discounts apply.
Rosetta Stone for Homeschool: New Features for Online Subscriptions
Rosetta Stone Homeschool Edition gives you tools for language learning success!
An Award-Winning Method That Works
College Admission Officers Like to See Foreign Language Credits
Rosetta Stone Spanish Homeschool Subscription