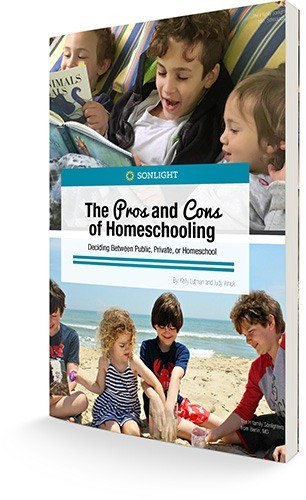 Inside this free eBook, you will find detailed points on these three methods of education, including topics as unrelated as:
Curriculum choices, and who gets to choose.
Transportation, and why this might make a difference in your quality of life.
Cost, because even "free" public school isn't really free, as any parent knows.
Parental involvement, because even if all you do is homework at night, you still might spend several hours a day helping to teach your children.
You'll also get complete instructions on the process of good decision-making, so that if, after you read the pros and cons, you still aren't sure which method might be best for your family this year, you'll have some direction to move forward with confidence.
Also, with your free download of The Pros and Cons of Homeschooling, you will become a valued member of the Sonlight family. This includes:
Sarita's Word, our free biweekly e-newsletter with an encouraging word from Sonlight's president and founder
Insider information and sneak peeks of new products coming to Sonlight
Alerts to our occasional sales and specials offers
Are you ready to get your free eBook? Simply enter your email address here and get instant access:
---
Download your free Pros and Cons of Homeschooling eBook now!
Enter your email address below:
---
Download this free Pros and Cons of Homeschooling eBook and start moving towards your family's best year today!
Whether you have a toddler and are just starting to research your schooling options, or whether your children are in a public school and you wonder if private school or homeschooling might be a better choice, this value-packed eBook will give you the information you need to make a more informed choice.
Homeschooling is the schooling option of choice for millions of families. Download The Pros and Cons of Homeschooling now and see if it will work well for you.
Download your free Pros and Cons of Homeschooling ebook now! [scroll up]