Historic Williamsburg
Looking for a family destination to enrich your homeschool experience and give your kids a deeper appreciation for American history? Virginia's Historic Triangle is an excellent option!
Part field trip, part family vacation, a trip to Historic Williamsburg immerses you and your children in the colonial roots of Williamsburg, Jamestown, and Yorktown. Your favorite Read-Alouds and Readers take a new meaning as you see tradespeople at work, tour sites of critical battles, and tread the ground that Native Americans, settlers, and enslaved Africans trod.
Tips for a Field Trip to Williamsburg, Jamestown, and Yorktown
Filled with full-color photographs of historic Williamsburg, this FREE digital guide (PDF) is a must-have if a visit to The Historic Triangle is a possibility for your family.
Inside you will discover:
How much time to allot for each location
Not-to-miss attractions, including features for little kids, tired kids, and hands-on kids
How to avoid crowds
How to get the most benefit from interpreters (the onsite guides and re-enactors)
A sample itinerary and tips for planning your own itinerary
Additional activities in the area
Discussion questions to inspire conversations with your children
Readers and Read-Alouds to help your children enjoy the history of this area (Read these books before or after your trip. There's no right or wrong!)
And more…
Effortlessly Navigate the Historic Triangle with this Guide
Get A Family Travel Guide to Historic Williamsburg, free from Sonlight, so you can better navigate some of America's most historic and beloved landmarks. These living history museums and national parks provide your family the opportunity to be immersed in colonial life:
Step back in time to experience the struggles the first settlers experienced at Jamestown Settlement and Historic Jamestowne*.
Live through the American Revolution at the Yorktown Battlefield and the American Revolution Museum at Yorktown.
And spend days immersed in Colonial Williamsburg's time machine.
So much history in such a small space!
The Historic Triangle Welcomes Homeschoolers
Colonial Williamsburg even holds annual Fall Homeschool Days with special admission rates, just for homeschool families! This year, the event is held September 7–22, 2019; February 22–March 1, 2020; and September 5–20, 2020. See the official website for details, but grab your free guide before you leave!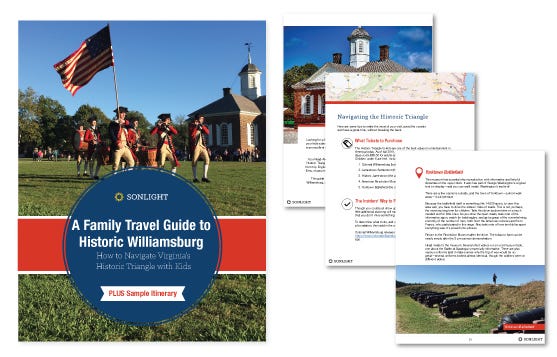 Sonlight American History
A visit to the Historic Triangle brings to life the dawn of America for your whole family. It reinforces and brings to life what you've already studied with Sonlight through our two American history programs:
Sonlight 100 American History (for ages 13-15)
Or it can lay a foundation for any future study of colonial America regardless of what curriculum you choose.
*The original colonial spelling for Jamestowne included the final e that we typically don't see in modern usage.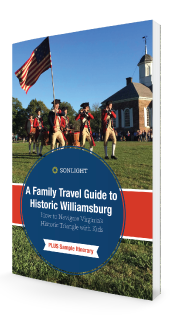 Download Your Free Family Travel Guide
This Historic Triangle Guide—for Colonial Williamsburg, Yorktown, and Jamestown—Gives You All the Tips and Tricks You Need for a Fantastic Vacation!