This Homeschool High School Transcripts eBook Includes All You Need to Get Ready for High School!
This free eBook talks through what a transcript is, how to prepare one, and what credit you might offer for your children's high school studies.
Wherever you are in your homeschooling journey – whether your children are younger than high school age but you like to know what is to come, or whether you are close to high school and need a plan now, or whether your student is working on high school studies, and you realize you need to think about a transcript – this value-packed eBook will answer your questions and give you confidence.
Download this free High School Transcripts eBook and start getting excited about the joy of homeschooling high schoolers. What a precious opportunity for your family.
Many families say that homeschooling high school is the icing on the cake – one more chance to enjoy the children you've raised. Download High School Transcripts now and see how this might be a possibility for your family.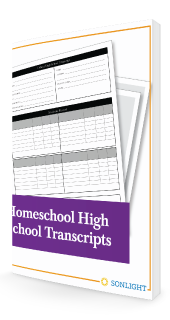 Download Your Free Ebook!
Even if your children have several years to go before you'll need to think about high school transcripts, you might be curious now.
Creating a transcript is not as hard as you might think. In this special report, three moms talk about how they created transcripts for their Sonlight graduates. And they include some suggestions for the number of credits you might award for Sonlight's high school programs.
Download your free copy today.