In your 4th Grade curriculum, bring life to the history of this unique nation. Walk alongside families whose lives intersect with major historical events. Meet characters who grapple with the difficulties around them and overcome in the end. Biographies, historical fiction and absorbing Readers add depth to your chronological study. Key players in American history feel like old friends. You meet people you should know in order to be culturally literate — fascinating characters like Christopher Columbus, Benjamin Franklin, Harriet Tubman and Helen Keller.
Discover why time zones and "fast food" came into existence. Examine how mass immigration, women's suffrage and the Great Depression impacted the social, political, and economic climate of the country. Discuss how racism has influenced life for individuals and the entire nation throughout the years.
Celebrate the positive aspects of our history: the establishment of a government by a free people apart from a king, the move toward unprecedented equality, the compassion that has historically flowed out of the American Church, two Great Awakenings that led thousands back to God ... and so much more! Americans have been far from perfect, but there's certainly a lot of good in our history to teach our children.
Add your choice of science, math and spelling programs to your 4th Grade homeschool.
---
Ways to Buy
Two
ways to choose

your 4th Grade curriculum

Put together a customized program OR select the recommended everything-you-need package. Compare your choices and pick the path you want. Either way, a wonderful adventure in learning awaits you and your family.
Start with History
Select the program that covers the history focus you'd like to use this year. Because you'll teach with real books, each Sonlight program works with a range of ages and allows you to teach multiple children together. View the full curriculum scope & sequence for additional information. Need help choosing? Chat with an Advisor.
Add other subjects as needed.
Get a Complete Package
If you are beginning your study of American History, select D+E for a one-year condensed program. If you have already completed Sonlight D, select E. Need help choosing? Chat with an Advisor.
Customize as needed and still save up to 20%.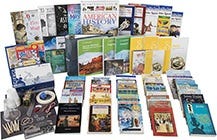 Five hundred years of United States history, covered in 36 weeks
Learn More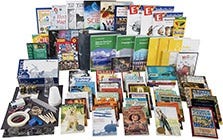 From the Civil War to the present, United States history unfolds
Learn More