4th Grade Homeschool Overview
World History or American History, the choice is yours
You have a wonderful choice before your 4th grade homeschool year: do you want to study World History or American History? Once you've made that first choice, you get to choose how in depth you want to go: early world history, later world history, combined? The same for American History! Early American history? Later American history? A combination? Whatever your choice, your year will be filled with books and biographies that are chock full of adventure, non-scary, but still nail biting suspense, and anecdotes that will make you laugh out loud. It's going to be a great year.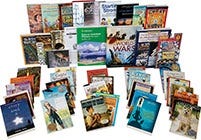 4th Grade History
4th Grade History
Your complete Fourth Grade program from Sonlight has history at its center. With your choice, you'll either look at World or American History and the events and people who have played pivotal roles in forming the world around us.
The people your children should know to be culturally literate come alive in the books you read. It's more than just who that person was, but why are they significant? How did their thinking and actions change the world so they are part of history? It is fascinating.
Included in your 4th grade curriculum are Bible readings and missionary biographies to round out your year. Whether you study World History or American History, you are in for a great exploration of the world and the characters in it.
---

4th Grade Lesson Plans
4th Grade Lesson Plans
Your Sonlight Instructor's Guide (IG) provides your daily, book-by-book, subject-by-subject 4th Grade schedule. This is more than a calendar: it's everything you need to be able to confidently teach your children. Behind each week's scheduled lesson plan you will find a wealth of notes, maps, activity sheets, and teaching tips to accompany your studies. Your Instructor's Guide takes the stack of books and materials in each subject and makes it a curriculum. IGs are included with your History / Bible / Literature or All-Subjects Package, as well as Sonlight's Science and Language Arts programs.
The IGs are a fantastic tool. Use them for record keeping, a daily schedule, notes, or any combination of the three.
Using our Instructor's Guides you'll see just how easy it is to teach your children.
Sonlight has made learning come alive for us. The literature they choose is beyond amazing! We can open up a book and immediately be transformed into a new world. All of us have a hard time putting the books down! I often find my daughter up in bed at night sneaking in the next chapter in a read aloud! As we adventured through American History this year with Core D, my kids were able to explore right along with Lewis and Clark, see what it was like to be there when the constitution was signed, go on a mission with Adoniram Judson, discover the mystery in growing corn and beans and so much more! Thanks to Sonlight my kids are excited about learning and I feel well-prepared to teach them! Sonlight has definitely enriched our homeschool experience and we would recommend it to anyone! Rachyl R, Harrisburg , IL .
---

4th Grade Language Arts
4th Grade Language Arts
While you are reading great books as part of your homeschooling with Sonlight, you will find that you have laid a foundation for your children of how good writing feels and sounds. They have already started preparing them for good writing.
In 4th grade, your children will learn to vary sentence length, use active voice, create authentic dialog and more. You'll have mechanics instruction, and you will practice dictation exercises, which provide an opportunity to recognize and imitate quality writing. And they will participate in creative expression activities such as mind mapping and letter writing keep them engaged.
All of your Fourth Grade Language Arts assignments are laid out in our Language Arts Instructor's Guide. Each lesson is scripted and includes rubrics (a simple scale so you can easily see where your child is falling on each assignment) in an easy to use format. If you've ever felt intimidated by teaching writing, fear no longer. Mechanics are explained in simple terms, and you can see realistic examples of the type of writing your children should be doing.
By 4th Grade, the Language Arts and History are interwoven, so, you'll be reading and writing about the events you are learning about. If you think your children would benefit from another level, check out all of Sonlight's Language Arts options here.
---
4th Grade Spelling
4th Grade Spelling & Vocabulary
We include Spelling You See's American Spirit as the default spelling for your children's fourth grade year. The Instructor's Handbook contains an introduction to the philosophy behind Spelling You See and the five development stages of spelling. There are 36 lessons and with the Teacher's Guide you will be able to work through the lessons with instruction on guided reading, chunking, copywork, and dictation to improve spelling. Other options available.
---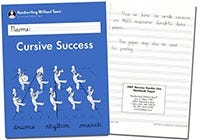 4th Grade Handwriting
4th Grade Handwriting
By Fourth Grade we no longer include a handwriting program in our All-Subjects Package. But, if you would like your children to have more practice, you are able to customize your year and add the handwriting program of your choice. Check out all of Sonlight's Handwriting options here.
---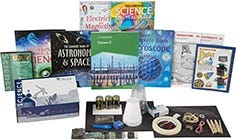 4th Grade Science
4th Grade Science
Ever wondered what lasers are made of or how to tell a planet from a star? Do you know the most important energy source on earth? Physics and technology are the main focus of Science E, the matching Science level included in the 4th grade All-Subjects Package. Your children will explore electricity, magnetism, light, color, microscopes, astronomy and space, inventions, chemistry, modern technology, and early American life. This year's scientist of note is Alexander Graham Bell.
Sonlight's science programs have lots of hands-on activities, with all the supplies you need provided. While it's easy to just match your level of science to what history program you are doing, you also have choices here. You are free to match a range of children up and do one level together, or go back to study something you might have missed. Whatever level you choose, you'll get to explore with your children. In addition to the hands-on, you'll continue to read illustrated and photographed books to help your children see what science is all about. And, you can laugh with Justin in the Discover & Do 4 DVD as he walks you as through experiments with electricity and magnetism.
This is a fascinating subject to learn about every day from your couch and kitchen.
Choose the matching 4th Grade Science level or browse other available Science programs and see what you could discover.
Enhance your Science E program with the Sonlight microscope and microscopy supply kit and make Science come alive!
---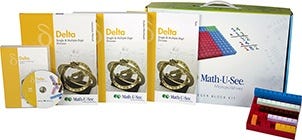 4th Grade Math
4th Grade Math
Sonlight includes Math-U-See in our 4th Grade All-Subjects Package. This year, the focus is on division for single and multiple-digit numbers. Division is presented as the inverse of multiplication and single-digit division facts are learned and the concepts of division and place value are applied when solving long division problems. In addition, your fourth grader will use strategies based on place value and properties of operations to divide and begin to understand division as solving for an unknown. They will work towards being able to divide any whole numbers, and solve problems involving addition, subtraction, multiplication and division.
With the help of lots of review, your children will continue to build their skills and abilities working with both abstract and real-world problems.
While Math-U-See is included in Sonlight's All-Subjects Package, if you are interested in another program, you can easily swap out the math and still receive our best 20% discount. Learn more about your other 4th Grade Math options here.
---
Ways to Buy
Two ways to choose your
4th Grade

curriculum

Put together a customized program OR select the recommended everything-you-need package. Compare your choices and pick the path you want. Either way, a wonderful adventure in learning awaits you and your family.
Start with History
Select the program that covers the history focus you'd like to use this year. Because you'll teach with real books, each Sonlight program works with a range of ages and allows you to teach multiple children together. View the full curriculum scope & sequence for additional information.
Add other subjects as needed.
Get a Complete Package
If you are beginning your study of American History, select D+E for a one-year condensed program. If you have already completed Sonlight D, select E.
Customize as needed and still save up to 20%.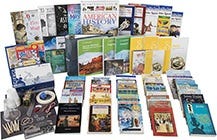 Five hundred years of United States history, covered in 36 weeks
Learn More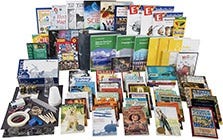 From the Civil War to the present, United States history unfolds
Learn More