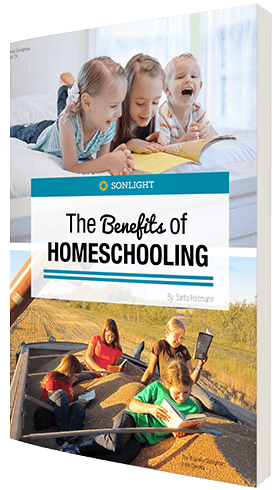 FREE ebook:
The Benefits of Homeschooling
Inside this free eBook, you will find sincere meditations on seven benefits of homeschooling, including:
Socialization, and why this common protest about why NOT to homeschool is actually a fabulous reason TO homeschool.
Movement, and why this unexpected reason TO homeschool is uniquely suited to homeschooling.
The Gift of Time, and why a childhood spent on your own schedule can make a huge difference in your quality of life.
Customization, and why parents can offer each of their child an education at a pace and with a curriculum that is best.
This Benefits of Homeschooling eBook Includes Seven Intriguing Articles on Why Homeschooling Might Be Right for You!
You'll end encouraged and inspired by these messages from a homeschooler who started under protest, and soon became a homeschooling advocate.
Also, with your free download of The Benefits of Homeschooling, you will become a valued member of the Sonlight family. This includes:
Sarita's Word, our free biweekly e-newsletter with an encouraging word from Sonlight's president and founder
Insider information and sneak peeks of new products coming to Sonlight
Alerts to our occasional sales and specials offers
Download

your free eBook!

Enter your email address below: