Get the MathTacular Educational Kit, all four MathTacular DVDs, plus the MathTacular4 Workbook and Answer Key at a great discounted price!
MathTacular Kit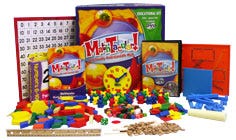 MathTacular Educational Kit gives you the manipulatives you need to get the most from the included MathTacular Manipulatives DVD. You also get a Math Manipulatives Guide which shows you how to get the most from each of the manipulatives included in this kit. This DVD is distinct from MathTacular by focusing on the activities which can be done with the included manipulatives. The Educational Kit DVD contains most of the first MathTacular DVD activities.
The MathTacular Educational Kit DVD features more child-friendly navigation so your children can find the activities they want to watch without your help. They can take joy in learning math without interrupting you.
Includes:
67 of the 88 activities in the first MathTacular
Bear Counters
Color Tiles
Red & White Counter
Mini-Clock
Die
Base Ten Blocks
Pattern Blocks
12" Wooden Ruler
Number Flash Cards
Number Chart
Gram Centimeter Cubes
Geoboard with Bands
Popsicle Sticks & Pinto Beans (for place value practice)
Sidewalk Chalk
and Math Manipulatives Guide
---
MathTacular!® 1-3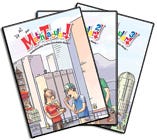 Math is "unbelievably understandable" AND fun with Justin!
Apples teach fractions, cars serve as rulers, and a bear hunter shares his snacks! And the best part is this: you'll have fun learning math in every minute of this series...
We armed Justin with a complete list of concepts from every top Math program–including Horizons, Saxon, and Singapore. He gathered all sorts of manipulatives–from blocks and clocks, to marbles and cars!–and created over 150 real-world scenarios to demonstrate how math surrounds us in our everyday experiences. Learn about everything from addition to factoring, place value to coordinate planes, ordinal and prime numbers, mass, area, fractions, money and more.
Justin's unique style and humor captivates throughout the series. You get over ten hours of math activities and games–plus additional training tools.
Founded in concrete skills, enriched with creativity, and splashed with humor, MathTacular® is sure to become your children's favorite math supplement. Your child may even have a new favorite subject!
"I highly recommend the MathTacular DVDs. The kids LOVE them, and they teach real math concepts in a very engaging way." -Crystal K
---
MathTacular4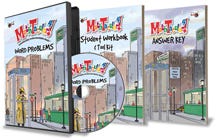 Crack the code of word problems once and for all. Justin will show you how!
Crisis has hit the MathTacular gang: Amber Waves's precious prize pig has been porknapped!
The dreaded Word Puzzler has captured the poor pet and left a string of word problems behind as clues. Fortunately, Detective Justin Time has experience with this sort of thing.
With logical, simple steps, he and Amber Waves tackle one math puzzle after another. Every word problem they face in their sleuthing appears right in the Workbook as well! The Answer Key provides each solution.
This hilarious adventure gives your children the tools to face pesky word problems with confidence. Unique among the popular MathTacular series, MathTacular4 covers a very wide scope of mathematical skills as it focuses on one goal: cracking the code of word problems. The problems start with simple addition. And even if your kids aren't ready for the more advanced skills (like fractions and algebra) at the end of the video, they'll love watching Amber Waves and Justin Time chase the case to the end.
The Answer Key is a parent's dream. You'll find answers to each problem in the workbook and see all the steps on the way to that answer. And since there's more than one way to stuff a taco you'll even see alternate ways to solve some problems. If your kids get stuck on a problem, a quick peek inside the Answer Key will help them get started or see where they went wrong.
Finally, with MathTacular4, word problems are fun, practical ... and unbelievably understandable!
The Workbook with Tool Kit and Answer Key is great for grades 6 and up. Grades 4 and up will happily follow along with the DVD.