Both Windows and Mac versions are included in this product. The premier tool to develop ideas and organize thinking!
Inspiration®: Ideas to Outlines in Seconds

Inspiration is a thought engine, a thought processor. It helps you generate ideas and then organize your thoughts for effective analysis, planning, writing and more.
Sounds complex, but it's really not. Here's how it works.
Suppose you want to brainstorm a new project. You'll use Inspiration's mind-mapping tool.
You start with a theme or idea in the center of a blank screen and type in related ideas that will appear in linked colored bubbles. You can change the bubbles' colors, shapes, and patterns or choose from over 1,300 available illustrations to highlight and differentiate among ideas.
Now this is where the magic happens...
After you've created your "idea map," click on the Outline tool, and Inspiration will instantly transform your once-scattered thoughts into a traditional, well-organized outline.
While Inspiration is benefici0al for anyone age 12 or older, it will particularly benefit children who find it difficult to transition from concepts to actual writing. Where your children may have spent hours trying first, to get their ideas on paper, then to convert their thoughts to an essay or story, Inspiration will help them reduce that time to minutes.
One grade school teacher says, "Students are often very creative, but they can't make their ideas form a logical pattern. By using Inspiration, it's easy to brainstorm and then, with one click of a button, they have an outline for a story, an essay or a simple research paper. This difficult job is reduced to an enjoyable task that they can accomplish with minimal assistance."
Once you have created an outline, you can edit and save it for one-click export to your favorite word processor for final polishing.
Inspiration also enables you to hear work read aloud or to record your own spoken words, which increases accessibility and usefuleness for auditory learners.
Inspiration has several internet capabilities. Simply type a web address to create a live hyperlink or drag and drop JPEG and GIF images into Inspiration diagrams straight from the web.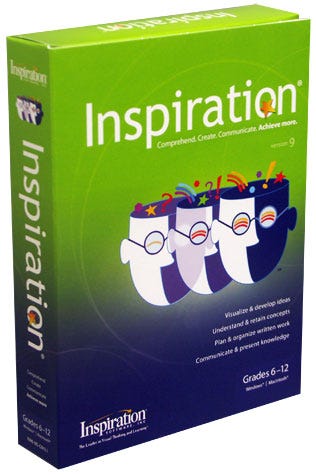 Based on the proven principles of visual learning, students grade 6 to adult use Inspiration to strengthen critical thinking, comprehension, and writing skills across the curriculum-in language arts, social studies, science, planning, and more. Inspiration inspires students to tap creativity, build new knowledge, develop ideas, analyze complex topics, and improve organizational skills by creating graphic organizers to visually represent concepts and relationships.
Inspiration's integrated diagramming and outlining environments work together to help students with brainstorming, writing, organizing, and more. In the Diagram View, students easily create and use concept maps, webs, and other types of graphic organizers. With the integrated Outline View, students can see their thoughts and ideas instantly transformed into the foundation of written projects, naturally prioritizing and rearranging information. The results are clearer thinking, more creative projects, better-organized writing, and improved performance.
Use Inspiration across the curriculum to:
Analyze complex topics
Brainstorm and explore ideas
Improve writing proficiency
Planning
Develop planning skills
Other Inspiration capabilities to enhance the visual learning process:
One-click transfer to word processors streamlines the writing process.
RapidFire™ tool supports brainstorming.
Visually integrated notes bring writing power into diagrams.
Hyperlinking incorporates web sites and files for research and portfolios.
60+ curriculum-aligned templates inspire classroom quick starts.
1300+ symbols represent concepts and ideas.
The Site Skeleton® export easily converts diagrams to HTML.
Please Note: This is a single-user product. It cannot be installed on more than one computer at a time.
What's new in version 9.0
More visual learning support for reading, writing and thinking
Map View—A new visual view to create and think in mind maps
Presentation Manager will let you develop presentations from your mind map
More organizing, outlining and writing capabilities added to Outline View
By clicking on one of the options below, you can get a fully functional version of Inspiration software for free. Download the trial version now and you'll get to experience all the features of the real software for a full 30 days.
Your trial version of Inspiration comes with integrated Diagram and Outline Views, RapidFire™ brainstorming, complete symbol palettes, as well as loads of templates, activities and examples to help you get started.
Choose the download that matches your operating system. If you are still impressed with Inspiration after your 30-day trial is up, consider purchasing a licensed version from Sonlight so you can continue to enjoy the convenience of "ideas to outlines in seconds."
Inspiration® 9 three minute overview
Quick Tour of Inspiration 9
What's New in Inspiration 9
Outlining in Inspiration®
Mind-Mapping in Inspiration®
---
System Requirements
Windows®
Windows XP, Vista, 7, 8 & Windows 10
CD-ROM drive (for installation)
Optional:

Printer
Interactive electronic whiteboard
Macintosh®
OS 10.6 and later
CD-ROM drive (for installation)
Optional:

Printer
Interactive electronic whiteboard