Includes books, schedule, and study guide with comprehension questions. Features books written at a second grade reading level.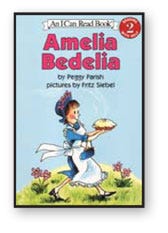 Created for children who can decode most words but are still working toward proficiency in reading. Helps children learn to organize their thoughts, construct basic sentences and write simple paragraphs. You will likely serve as their scribe for writing exercises. Select this as part of your Core A, Core B, Core B+C, or Core C program.
Features books at a second-grade reading level, including beloved stories about Amelia Bedelia and Frog and Toad. Also includes The Beginner's Bible--a favorite that gives kids a great sense of accomplishment.
The Instructor's Guide (IG) gives you the tools you need: schedule, lesson plans, discussion questions, Activity Sheets, teaching tips and more. Just follow the guide to teach reading, phonics, spelling, copywork, creative expression and writing mechanics. Your guide also schedules the optional workbooks below.
Use the Quick Reading Assessment to see if this is the right level for your child. Request a 3-Week Instructor's Guide sample.