If you can imagine a family cuddled on the couch, laughing as dad reads a hilarious turn of the plot with one of his signature voices, then you may be onto the secret of teaching more than one child with a single Sonlight program.
Teaching more than one student? Excellent! Sonlight was designed for you.
At Sonlight, we think of studies in two basic categories: Couch Subjects™ and Table Subjects™.
Couch Subjects™
Couch Subjects are those you can do sitting on the couch, subjects like Bible, History, Read-Alouds, and Science.
These subjects are all about learning new information. And children in a large range of ages can all learn the same information. Sonlight programs teach using biographies, historical fiction, and other books designed to appeal to a both children and adults.
If you've ever read C.S. Lewis's Chronicles of Narnia, you know that they are not only good for readers who are eleven years old. They are good for children younger than eleven, and older than eleven--even adults.
So if you are homeschooling more than one child, you can use one Sonlight program for multiple children for all Couch Subjects.
In general, one program will work well if your children are within about three years of one another. If you have very young children, or if your children cover a wider range of ages, or if you want further reassurance, please don't hesitate to contact one of our Curriculum Advisors.
Table Subjects™
Table Subjects are those that you probably do at a table or desk, including Language Arts, Spelling, and Math. These subjects are all about building skills.
With Table Subjects, you will want to choose one for each child, according to each child's skill level.
And one exception
There is one more item you need to consider, especially if your children are younger than third grade. If you are using a Sonlight program up to Sonlight D, choose the Readers appropriate for each child's reading ability. (From third grade on, the Readers are integral to the program--no need to choose.)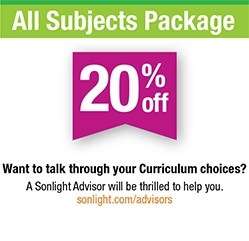 Get an All-Subjects Package and save 20%.
How to put this together?
Choose a History / Bible / Literature and a Science program, one for all students within about three years of age.
Choose a math program for each student, based on each student's ability. Find placement tests here.
Pick a Language Arts program that fits each student's skill level. Besides the graded programs, you might also need:

Handwriting
Spelling (built-in K-2, add for students in Grade 3-5)
Readers (for students in Grades K-2)

We've made this process simple for you with SmoothCourse™. We'll walk you through each step of the process and help you add the materials you need when you need them.