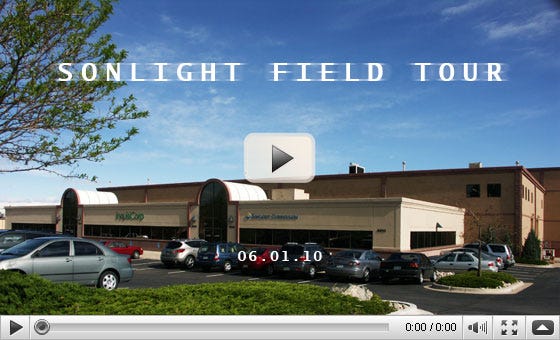 Sonlight Field Tour
What Really Happens at Sonlight?
The first tour of Sonlight I created back in 2007 was informative but rather bland. As I prepared to make our 2010 20th Anniversary tour I wanted something that was fun to watch, got you involved in the day-to-day here at Sonlight, let you meet some people around the building and left you with a desire to share the video with your friends. Those were the criteria I set for myself as I started writing. To make the movie fun, though, I had to weave a story--however vague or simple--into the experience. So not everything is real.
Interested in learning more? Watch my Sonlight Field Tour Q&A session.
Facts about Sonlight included in the Sonlight Field Tour:1
Sonlight employees meet every day to pray for each other, events around the world and you
The power does fluctuate at Sonlight from time to time2
I let people say what they wanted into the camera (with mild tweaking to keep things moving and understandable)
We don't just watch the news3 (though we may share a fun or important clip with one another)
We have yet to have a monster attack the building
I wrote a few lines to be funny. We do believe Sonlight is the best and back that belief with a guarantee and excellent support
Follow My Path Through Sonlight
1. Wayne - Sonlight's General Manager
2. Conference Room - Large Group Prayer
3. Barb - Affiliate/SCC Coordinator
4. Amber/Colleen - Product Development
5. Lydia - Human Resources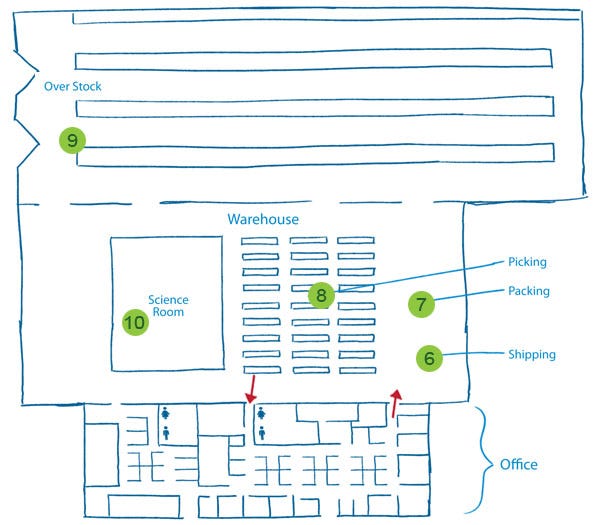 6. Lysa/Ryan - Shipping
7. Packing
8. Picking
9. Nate - Recieving
10. Adis - Warehouse Manager

11. Greg - Controller (Finance)
12. Kurt - Network Administrator
13. Linda - Project Coordinator (Catalog)
14. Tim - Marketing Manager
15. Karla/Christiane/Lindsey - Customer Service
Sonlight Field Trivia
1. Sonlight Field was inspired by Cloverfield. The style, execution and ending seemed to fit perfectly with what I wanted to do. [NB: I am not endorsing Cloverfield. In fact, I hope you like my version much better <smile>]
2. I wrote the first draft of Sonlight Field right after we had installed the solar panels on the building. The power had been fluctuating quite a bit due to unrelated issues, and I thought it would be a clever joke. It wasn't, so I cut it by the time we started shooting.
3. I created logos, web pages and video clips for both Faux News and CNom for my actors to be watching to hint at the coming disaster. Much of this work was done in the evening after I'd gone home for the day.
4. Barb is standing on a chair in the shadows tapping the light in the Server Room to make it flicker.
5. I had written Sonlight Field so I would drop my camera to run off screen and help my fallen coworker, Liz. Unfortunately, as we worked on the choreography of the sequence, my wife pointed out that it was odd to have me run off camera and disappear. So I ended up helping Lindsey escape from the building. I console myself with the thought that the blast shortly after we exit probably took me out.
6. Lindsey, fake blood oozing through her wounded leg, smiles as I drag her out the door. I covered this with a well-placed blur effect.
7. I shot various clips for Sonlight Field on twelve different days. It was several months after the first shot I took--walking up the stairs to the Science Room--before we filmed anything else. Ironically, Adis was the first and last person to be recorded.
8. I came in early on a Friday morning to make Customer Service look like it had been torn apart by a monster. Many of the people who came in that morning thought someone had broken into the building before I reassured them that it was just a movie set.
9. We purposely set off the fire alarm for all five takes of the final explosion scene.
10. I cut three scenes from my original script for the final film.