The V Family, Townsend, ON
Pre-Kindergarten Homeschool Overview
Nurture a love of learning for a lifetime
Sonlight's Pre-Kindergarten homeschool curriculum takes the fear out of teaching and gives you the tools you need to succeed. You'll get just one package and inside will be everything you need for your Pre-K child to succeed in developing motor skills, visual acuity, exceptional auditory skills and comprehension.
In addition to the myriad of books you will read to your children, these components add up to a wonderfully delightful Pre-Kindergarten program that helps you give your children what they need to grow. Finish Pre-K with great memories, a closer relationship with your children, significant improvements in fundamental skills, and the spark for a lifelong love for learning that will continue to grow in the Sonlight years ahead.

Pre-Kindergarten History
Pre-Kindergarten History
Pre-K starts to expand your children's knowledge of the larger world: they will be introduced to the world beyond your neighborhood. They will catch a glimpse of the variety of people and homes throughout the world, a sampling of jobs people do, and, how people lived in the past and now. Additionally, you can give your children a wonderful introduction to the Bible with the included Bible story book. Your children will be amazed as they learn about how God is working with the included missionary biographies and stories from around the world.
---

Pre-Kindergarten Lesson Plans
Pre-Kindergarten Lesson Plans
Your Pre-K Sonlight Instructor's Guide takes an active role in helping you teach. This year, you'll find a daily homeschool schedule as well as helpful notes and teaching tips. Even with a more structured schedule, your Pre-K program still provides a gentle introduction to formal learning, giving you plenty of time to relax with your children as they learn. With everything planned out for you in a flexible layout, you can focus on your children and enjoy your time with them, and skip the time-consuming planning part. You'll be able to see how a schedule brings freedom to your homeschool days, as it can provide a framework for when to do school, and what to cover.
---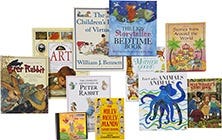 Pre-Kindergarten Read-Alouds
Pre-Kindergarten Read-Alouds
Studies show attitudes, fears, hopes and values are strongly influenced by story. Whether they are the stories you tell, or stories in books, stories are one of the ways that children learn to enjoy reading. In fact, the single greatest predictor of children's future success is how much they are read to as children. Reading aloud to your children greatly increases their vocabulary and attention span. Basic children's books contain a much wider vocabulary than most college-educated adults use in normal speech. Watch your children effortlessly learn the words they need to know through your reading.
Reading and telling stories to your child can become a very special sharing time. It helps your children to learn to love books and to develop a sense of being a lovable person. Many children remember their story times for the rest of their lives.
---

Pre-Kindergarten Language Arts
Pre-Kindergarten Language Arts & Phonics
This year your children will begin to learn the sounds of the alphabet and expand their vocabulary. You and your children will focus on one letter per week in Dr. Seuss's ABC's and First Thousand Words. Throughout the week, your letter will continue to reappear in stories, art, and activities. This is the first step to learning to read--recognizing the sounds of letters. You'll get a variety of fun practice and reinforcement that's necessary for phonics progression appropriate to your child's age and development. With Sonlight's Pre-Kindergarten Language Arts, you are laying the foundation for early reading.
However, if your child is showing signs of already being ready to learn to read, we offer an alternative.
Alternative option to Pre-Kindergarten Language Arts (for children who are ready to read)
If your student is ready to move beyond basic letter-recognition/letter-sounds and is ready to learn to read, consider getting the Pre-Kindergarten program with Grade K Readers (PCK). This comes with a complete Phonics K program.
The more advanced level of readers combined with the Language Arts K will take the place of the Pre-Kindergarten Language Arts.
The K Readers package is designed for children who are ready to learn the alphabet.
The K Readers are focused on consonant-vowel-consonant words (CVC). This package comes with a collection of 27 booklets in a sturdy slipcase. Each book adds in a new letter and sight words to slowly and successfully introduce reading skills through enjoyable short stories. By the end of the series, your children will be reading basic three and four letter words.
Early decoding, as this first reading is called, is often challenging. We aim to have your child experience success each week as they read the next story. This combination of phonics activities and reading enjoyable stories makes learning to read an easy and enjoyable experience.
---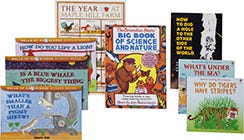 Pre-Kindergarten Science
Pre-Kindergarten Science
Science, in its most basic definition, means "pursuing knowledge." With Sonlight's Pre-K Science your children will learn about life on a farm, seasons, weather, the ocean, simple machines, plants, animals and more. Perfectly targeted to this age group, your children learn science principles through vivid illustrations: from how a lever lifts, to how camouflage helps animals, to how scuba divers explore the depths of the ocean.
---
Ways to Buy
Order your complete
Pre-Kindergarten

curriculum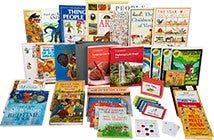 Beginning chapter books to engage and delight with beginning readers
Learn More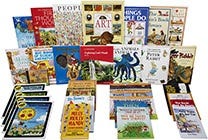 Beginning chapter books to engage and delight
Learn More