The S Family, Medford, WI
Kindergarten Homeschool Overview
Explore the world together
With Sonlight, at the Kindergarten level you have several options for courses of study: you can either look at the more familiar world around them: what jobs do people have, what makes people different; or, jump into a broad overview of World History. The choice is up to you. This is going to be a great year. You can do this. Whether you plan to just test homeschooling out, or are hoping to homeschool for years, starting in Kindergarten is a great choice.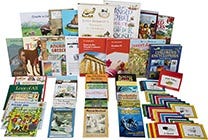 Kindergarten History
Kindergarten History
Sonlight always starts with History. In the case of Kindergarten, you'll be using carefully chosen books to either examine the known world around your children: how people are different, jobs, what makes us each unique; or start to explore a very top view of history through the ages.
You'll spend time reading an age appropriate story Bible, and you'll have the opportunity to read some of the best stories out there together.
---

Kindergarten Lesson Plans
Kindergarten Lesson Plans
Sonlight is much more than just great books, to make your days go smoothly we include our Instructor's Guides so you are able to:
Open and go. You can simply look at the schedule each day to pursue the next lesson.
Teach with confidence. We include all of the notes, questions, vocabulary, timelines, and geography you need.
Stay organized. With our clean design, attractive color and binder system, you are able to flip to what you need, when you need it. Tracking what you've done is easy.
You have everything you need to teach your children with confidence from your very first day of school. Just open up and get started. Included in your History / Bible / Literature or All-Subjects Sonlight Kindergarten program.
"Sonlight makes it easy for us. I love that I don't have to spend time preparing to 'do' school." - Kelli A., Andover, MN.
---

Kindergarten Language Arts
Kindergarten Language Arts
In Kindergarten, you will teach your children the alphabet and letter sounds. You will also serve as their scribe as they begin to practice creative writing by dictating their thoughts to you. With all the amazing books you will read together, your children will have plenty of opportunity to imitate good writing during weekly copywork exercises. Watch the world written communication begin to open to your children.
Spelling & Vocabulary
Please note: Spelling and Vocabulary is already built in to your lesson plans at this level. Spelling and vocabulary words are from the reading you share with your students. This makes practice a natural addition to your homeschool day. We do offer additional resources, but do not suggest using them until 3rd grade.
---

Kindergarten Handwriting
Kindergarten Handwriting
Sonlight has a gentle approach to Language Arts, and this Kindergarten year we start with Handwriting. Sonlight offer's all of the top handwriting programs, so your children can get a solid foundation of letter formation right from the start. We want handwriting to develop well from the start in preparation for writing as your children grow.
We include Handwriting Without Tears in the Kindergarten All-Subjects Package. All-Subjects Package. Check out all of your Handwriting options here.
---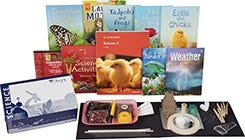 Kindergarten Science
Kindergarten Science
Where does thunder come from?
Where does the sun go when its dark?
Why is the sky blue?
How much does the Earth weigh?
How do cicadas fly?
Get ready to marvel at why things do what they do as you discover the world where plants and animals live, right in your own backyard with Sonlight's Science A.
Great books. Engaging activities. Hands-on experiments. Fun and instructive DVDs. All that, and more, is here just waiting for your child during their Kindergarten year.
As with the history section, you have options. Choose the matching Kindergarten Science level or browse other available Science programs and see what you could discover.
---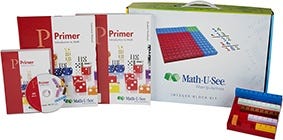 Kindergarten Math
Kindergarten Math
Your child will learn not only how to write numerals but also addition and subtraction, basic counting, skip counting, geometric shapes, telling time, and they will be introduced to the manipulative block system in the Kindergarten Math curriculum. It's a gentle introduction to "doing math."
Math-U-See is included in Sonlight's Kindergarten All-Subjects Package. Learn more about your other Kindergarten Math options here.
---
Ways to Buy
Two ways to choose your
Kindergarten

curriculum

Put together a customized program OR select the recommended everything-you-need package. Compare your choices and pick the path you want. Either way, a wonderful adventure in learning awaits you and your family.
Start with History
Choose one of the options below.
Select the program that covers the history focus you'd like to use this year. Because you'll teach with real books, each Sonlight program works with a range of ages and allows you to teach multiple children together. View the full curriculum scope & sequence for additional information.
Add other subjects as needed.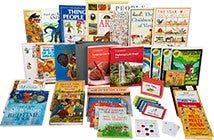 Beginning chapter books to engage and delight with beginning readers
Learn More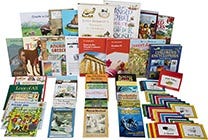 Get a Complete Package
Customize as needed and still save up to 20%.