Many students who start Sonlight at this level already dread school. They find learning boring and tedious. They might think they're just bad students. Fortunately, 7th Grade is a wonderful introduction to the delight of learning. The approachable, winsome, gripping books gently pull kids in. Before you know it, your reluctant learners will be sneaking books off to finish ahead of schedule! After seventh grade, your students will be well-prepared for the fascinating challenges of Sonlight's upper-level programs ... or whatever schooling options you may choose.
Watch your children fall in love with learning in seventh grade. You'll also have science, math and plenty of electives to give your children a well-rounded education.
---
Ways to Buy
Two
ways to choose

your 7th Grade curriculum

Put together a customized program OR select the recommended everything-you-need package. Compare your choices and pick the path you want. Either way, a wonderful adventure in learning awaits you and your family.
Start with History
Choose one of the options below.
Select the program that covers the history focus you'd like to use this year. Because you'll teach with real books, each Sonlight program works with a range of ages and allows you to teach multiple children together. View the full curriculum scope & sequence for additional information. Need help choosing? Chat with an Adivsor.
Add other subjects as needed.
Get a Complete Package
If you are beginning your study of World History, select W for a one-year condensed program. If you have already completed Sonlight G, select H. Need help choosing? Chat with an Advisor.
Customize as needed and still save up to 20%.
Explore the worldwide transformation in daily life since the 1600s
Learn More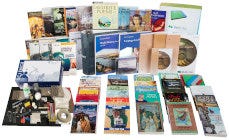 From creation to the present, around the world
Learn More