The H Family, Huntsville, AL
See the connected flow of human history, from creation through the 1600s. Find answers to real-life questions such as: How did ancient Egypt, Israel and Assyria interact? Where did the Greeks come from? Why did Greek civilization give way to the Romans? Why did the Roman Empire fall? How did Asian culture develop during that same time? How did Western history progress during the so-called Dark Ages? How did those centuries give rise to the Renaissance, and how did the Renaissance, in turn, pave the way for the Protestant Reformation?
When your children grow up, will they need to know lists of memorized facts ... or will they need to consider new information, connect it to what they already know and then take the good and toss the bad?
Sixth Grade helps students develop understand the world today by seeing how we got to where we are. It helps them understand their own and other's cultures by seeing the connections between civilizations around the world and throughout time. When students really understand how Egyptians viewed their gods; when they see how weak, wicked and fickle the Greek gods were, they'll appreciate all the more the awesome power and goodness of the true God we worship.
Also available are your choice of science, math, handwriting and spelling programs for your sixth grader.
---
Ways to Buy
Two
ways to choose

your 6th Grade curriculum

Put together a customized program OR select the recommended everything-you-need package. Compare your choices and pick the path you want. Either way, a wonderful adventure in learning awaits you and your family.
Start with History
Choose one of the options below.
Select the program that covers the history focus you'd like to use this year. Because you'll teach with real books, each Sonlight program works with a range of ages and allows you to teach multiple children together. View the full curriculum scope & sequence for additional information. Need help choosing? Chat with an Adivsor.
Add other subjects as needed.
Get a Complete Package
Customize as needed and still save up to 20%.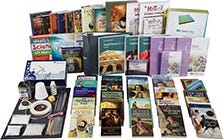 An in-depth look at the world, from creation to the 1600s
Learn More