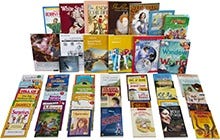 2nd Grade History
Sonlight focus on history helps you see how things tie together across subjects. You and your students discover an overview of key events of the past as you learn about the past. You will also enjoy biographies together of people who have made a big different in the world. Your package comes with History / Bible / Literature together in one set. At this level, you get to choose a Language Arts and Reading program that matches your students ability.
Three reasons literature is a great way to learn history:
Great books are fun to read.
Well-written stories help you remember the information you learn.
You and your children can discuss the content as you read together, opening new opportunities to learn about a wide range of subjects not often covered in school.
Literature naturally provides these benefits and makes your homeschool experience a joy. Sonlight's 2nd Grade History program -- part of your 2nd Grade All-Subjects Package -- is excellent choice for your school year.
Spelling & Vocabulary
Please note: Spelling and Vocabulary is already built in to your lesson plans at this level. Spelling and vocabulary words are from the reading you share with your students. This makes practice a natural addition to your homeschool day. We do offer additional resources, but do not suggest using them until 3rd grade.
---

2nd Grade Lesson Plans
2nd Grade Lesson Plans
Your complete 2nd Grade schedule comes in your Sonlight Instructor's Guide. But that's not all. Your lesson plans offer you teacher notes, activity sheets, and more. In short, you'll have everything you need from Day 1 of school to the end of the year. Just open the guide and begin homeschooling. Find tips, vocabulary, activities, articles and more in your Instructor's Guide. You will be able to maximize your homeschool experience with your lesson plans.
---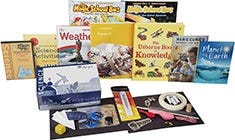 2nd Grade Science
2nd Grade Science
Sonlight's 2nd Grade Science: Geology, Meteorology, and Mechanical Technology helps your students uncover the complex make-up of the earth. You'll dive into a hands-on introduction to such diverse topics as how things are made, rocks and minerals, weather, plants, animals and habitats. You'll read about these topics and do activities to help your children remember the lessons. Your science supply kits contain the bits and pieces you'll need. Follow along in the Discover & Do DVD to see each activity demonstrated. Your children may find that this their new favorite "movie."
---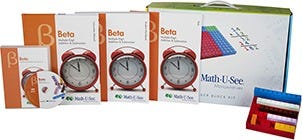 2nd Grade Math
2nd Grade Math
Our pick of 2nd Grade Math is included in your All-Subjects Package. If you'd rather customize, choose from three unique math programs that cater to your student's needs. Horizon's Second Grade math gives your child colorful, hands-on, "spiral learning" opportunities. Singapore Math's 2nd Grade program makes use of strong mental math, practice, and extremely clear explanations of concepts. 2nd Grade Saxon math is built on solid foundations for arithmetic and provides ideas for how you can teach difficult concepts; plenty of review is also included.
---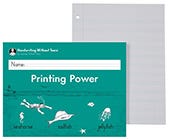 2nd Grade Handwriting
2nd Grade Handwriting
Grab one of these prize-winning handwriting programs:
A Reason for Handwriting - Scripture-oriented, traditional
Getty-Dubay Italic Handwriting - self-assessing, comprehensive
Handwriting Without Tears - innovative, developmentally-oriented
Your students will have more opportunities to practice handwriting in their Dictation and Creative Expression assignments.
---
Ways to Buy
Two
ways to choose

your 2nd Grade curriculum

Put together a customized program OR select the recommended everything-you-need package. Compare your choices and pick the path you want. Either way, a wonderful adventure in learning awaits you and your family.
Start with History
Choose one of the options below.
Select the program that covers the history focus you'd like to use this year. Because you'll teach with real books, each Sonlight program works with a range of ages and allows you to teach multiple children together. View the full curriculum scope & sequence for additional information. Need help choosing? Chat with an Adivsor.
Add other subjects as needed.
Get a Complete Package
If you are beginning your study of World History, select B+C for a one-year condensed program. If you have already completed Sonlight B, select C. Need help choosing? Chat with an Advisor.
Customize as needed and still save up to 20%.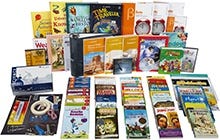 A fast-moving introduction, from creation to World War I
Learn More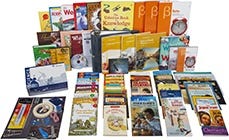 Explore the Dark Ages through World War I
Learn More