The M and S Families, Fairbanks, AK
Get ready for some exotic travel. With the Usborne Time Traveler, exotic lands and time periods, such as 100 AD in Rome, are just a page turn away. Spend a day with Baron Godfrey at his medieval castle and learn the ways of knights and ladies at court. See how Roman children spent their days in school. Travel the seas with Viking raiders and explore the pyramids and life among the Pharaohs. A separate book, "Tut's Mummy Lost ... and found," details the death of Egypt's boy king.
With Sonlight's literature-rich, homeschool curriculum, your children receive a well-rounded education with plenty of American and World history and insights into cultures around the globe.
"Sonlight makes it easy for us. I love that I don't have to spend time preparing to 'do' school." - Kelli A., Andover, MN.
Your First Grade homeschool curriculum gives a clear outline of world history from Creation to the fall of Rome. Missionary biographies and literary characters worth imitating provide inspiration to follow God and live life according to His word. And, of course, the captivating books of your first grade curriculum convince children learning is a fun, worthwhile endeavour.
Experiment-driven science programs also permeate this level, along with your choice of math curricula and handwriting and spelling.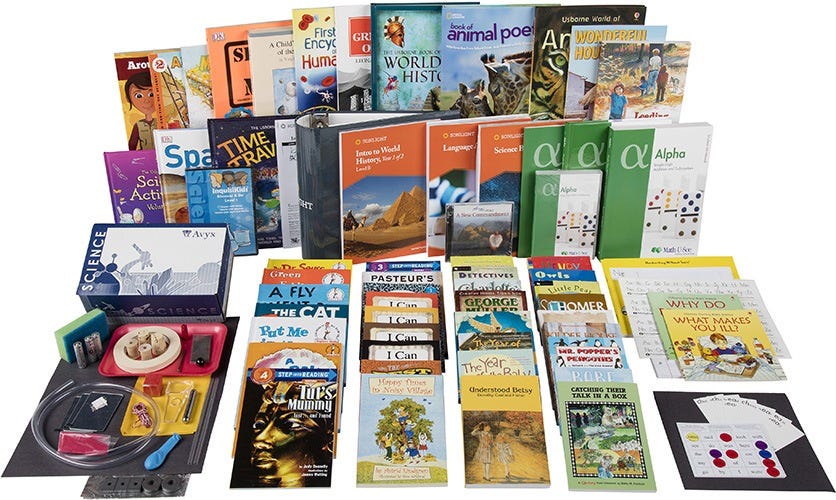 Complete 1st Grade Homeschool Curriculum
Read on to learn more.
1st Grade Lesson Plans
Your Sonlight Instructor's Guide provides your daily, book-by-book, subject-by-subject 1st Grade schedule. This is more than a calendar. Behind each week's flexible lesson plan you will find a wealth of notes and teaching tips to accompany your studies.
"The Instructor's Guide has been invaluable. It is SUCH a time saver. I tried for two years to put together my own curriculum. What a stress! Every day I would wonder if we did enough work. How did I know we would cover everything by the end of the year? Yikes. We decided to try Sonlight and haven't looked back. I don't worry any more about scheduling or tracking - it's all done for me." - Julie A Sandy, UT
The IGs serve as a tool, not a taskmaster, leaving you in the driver's seat. You choose if, when and how you utilize your 1st Grade Instructor's Guide. Use it for record keeping, a daily schedule, notes, or any combination of the three. Your Instructor's Guide is more than just a complete lesson plan for your First Grade homeschool curriculum. It also includes maps and activity sheets that expand your child's studies.
Using our IGs you'll see how easy it is to teach your own children and to develop your love to teach.
History / Bible / Language Arts / Reading
Ride along with Balto as the famous sled dog pulls into Nome, delivering life-saving diphtheria serum. Explore Greek mythology. Your children's Readers & Language Arts program are full of amazing stories to stoke their lifelong love of learning.
Your complete First Grade History homeschool curriculum program from Sonlight includes more than just social studies. You will read many biographies with your children, discovering a very human and vibrant side of history not found in textbooks. This great literature does more than simply make history come alive. As you read and discuss these beautifully written books your children will begin to absorb how good writing feels and sounds. This begins construction on Language Arts skills and prepares your student for writing. You and your student will also have the opportunity to read from the Bible as another connection to history, literature, and Christ.
Sonlight's 1st Grade History / Bible / Language Arts / Reading program is included in your 1st Grade All-Subjects Package. You'll have everything you need for your First Grader and have the flexibility to bring other students along on the adventure by customizing your homeschool reading curriculum should that be of benefit to you.
Spelling & Vocabulary
Please note: Spelling and Vocabulary is already built in to your lesson plans at this level. Spelling and vocabulary words are from the reading you share with your students. This makes practice a natural addition to your homeschool day. We do offer additional resources, but do not suggest using them until 3rd grade.
First Grade Science
Have you ever wondered how much air your lungs hold? How about where thunder comes from? Those are just a couple of the puzzling questions you and your children will find the answers to by using Science B. Animals, Astronomy and Physics rule in this part of your homeschool curriculum.
Using Sonlight, you'll begin exploring the rich worlds of Animals, Astronomy, and Physics in your First Grade Science program. Loaded with hands-on activities and filled with the supplies you'll need to accomplish them, your family will find amazement in the program's offering and teaching/learning success in each lesson. With our help, science comes to life and you may find your children begging to "do science" as part of this accessible, age-appropriate package included in your complete First Grade year program. As an added bonus, you can watch a demonstration of each activity on the Discover & Do DVD.
1st Grade Math
Horizon's First Grade math program offers a colorful, hands-on approach with regular review and with deeper explanations each time. Its included in your full-grade package. As a bonus, it can also be used for grades two and three.
"Horizon Math has been a success in our family," said Dana G. of Scottsdale, AZ. "In fact, the new concepts are introduced so smoothly that Ryan self teaches many times. Even better, the constant review without tedious repetition helps Ryan to remember the concepts."
Heavy-stock flash cards teach multiplication, division and Roman numerals.
Singapore Math's First Grade provides clear explanations and encourages mental math and practice. Originally developed in Singapore, this unique teaching method focuses on teaching students to learn and master fewer mathematical concepts using a three-step learning process: concrete, pictorial and abstract.
"I love that Sonlight offers different options for math that can cater to your child's personality and learning style. Isaac loves Singapore Math and I love that it caters to his individual learning style." - Emily R., Magnolia, AR.
In the concrete step, students engage in hands-on learning using concrete objects such as chips, dice or paper clips. This is followed by drawing pictorial representations of mathematical concepts. You child will then solve mathematical problems in an abstract way by using numbers and symbols.
The First Grade math package Saxon offers builds off a solid arithmetic and mathematical foundation and helps you teach the concepts your child will review regularly. First-graders will skip count by 1's, 2's, 5's, and 10's; compare and order numbers; identify ordinal position to tenth; identify a sorting rule; identify and extend patterns; solve routine and non-routine problems; master all basic addition facts and most of the basic subtraction facts; add two-digit numbers without regrouping; picture and name fractions; measure using inches, feet and centimeters; compare volume, mass and area; tell time to the half hour; count pennies, nickels, dimes and quarters; identify and draw polygons; identify geometric solids; tally; and create, read, and write observations from real graphs, pictographs, and bar graphs.
"We love Sonlight because we are able to customize it to fit the needs of our family. Specifically, we love being able to choose which math program we will use for our children. I love how thorough the Saxon math program is. It provides the right balance of hands on activities with skill and drill." - Dawn K., Front Royal, VA.
First Grade Handwriting
Help your child develop handwriting skills through one of following programs:
A Reason for Handwriting
This is a complete handwriting curriculum with daily practice focused on verses from Scripture, as presented in the Living Bible paraphrase. Students learn the traditional "ball-and-stick" style of print and a standard cursive hand.
You'll get a full-color workbook recommended for beginners. A Reason for Handwriting starts with lines and shapes, then moves into basic letter formation of both lower-case and upper-case alphabet. The program focuses on one letter per lesson built around a Creation theme and includes regular review and an art component.
"Sonlight offers several good programs and lets the parents decide what is best for their children. Alena does well with the more developmentally focused 'Handwriting without Tears' while big sister Marissa liked the fancier writing and Bible verse display pages of 'A Reason for Handwriting.'" - Becky C., S. Dayton, NY.
With each 10- to 15-minute daily lesson built around Bible verses, content is not only instructional, but also inspirational. Plus, at the end of each week your children will be given the opportunity to apply excellence to their work as they copy their verse-of-the-week onto their choice of "Scripture Border Sheets." Done with care, these completed sheets are worthy of sharing with friends and family.
By providing students with intricate sheets on which to do their work (border sheets suitable for display) the program seeks to motivate students subconsciously to think of the public nature of their work and, therefore, to improve their handwriting.
Getty-Dubay Italic Handwriting
Named for famed Oregon educators Barbara Getty and Inga Dubay, this is a comprehensive learning program of a series of seven workbooks K - 6 and Instruction Manual. According to the founders, "Even if you've never taught handwriting, you'll find the Getty-Dubay Italic Handwriting Series easy to follow and full of step-by-step guidance, tips, and creative practice materials."
"I prefer to start my little ones with Italic handwriting. It is very logical to teach and produces very legible results. Furthermore, many adults adopt a similar version of this handwriting somewhere along the way." - Jenny H., Munford, TN.
But what exactly is Italic Handwriting? In short, italic handwriting is:
Legible. Italic letter forms are uncluttered (no loops!), even when written rapidly.
Logical. The transition from printing to cursive is straightforward and intuitive. Letter shapes remain the same from basic italic to cursive italic, eliminating the abrupt leap from "ball and stick" to looped cursive seen in other programs.
Easy to Write. The elliptical shapes and strokes of italic conform to natural, rhythmic hand movements. The letters are formed easily and quickly.
Easy to Teach. The Getty-Dubay Italic Handwriting Series provides a clear, concise, step-by-step approach with opportunity for lots of practice.
Handwriting Without Tears
Developed by a registered occupational therapist, Handwriting Without Tears is a developmentally-based handwriting program. That means it pays attention, in a way that no other program we know does, to the developmental needs of people - of whatever age - who are trying to learn how to write.
Handwriting Without Tears offers extremely basic exercises in figure-ground discrimination and top-to-bottom, left-to-right sequencing. When it comes to forming letters it begins with all capitals. Why? Because, unlike the lower-case p, q, b, and d, the capital letters are all very easy to distinguish. Your children don't mix them up!
"My left-handed son had all the bad habits -- arched hand, awkward grip, bottom to top writing... Within a short time of using HWT, these were reversed. His handwriting is described as legible and fluid. Once again, Sonlight has exceeded my expectations!" - Dana G., Scottsdale, AZ.
Designed to eliminate problems with reversals, spacing, placement, and letter and numeral formation. Handwriting Without Tears is included in the Grade 1 All-Subjects Package.
Choose your 1st Grade curriculum
Put together a customized program OR select the recommended everything-you-need package. Compare your choices and pick the path you want. Either way, a wonderful adventure in learning awaits you and your family.
History / Bible /
Literature

10% off retail

All-Subjects
Package

20% off retail

Individual
Items

5- or 4-Day


For one or more children. Add required subjects to build an All-Subjects Package and save 20%.

5- or 4-Day


Everything you need for one child. Customize as needed and still save 20% if you keep all subjects.




Browse all the products we offer, including our customer-renowned Instructor's Guides (IGs).

The best part of your
homeschool day.

Everything in one package.
Total peace of mind.

Choose the materials that suit your needs.

Instructor's Guide

Instructor's Guides

Add Instructor's Guides

History/Geography

History/Geography

Add History/Geography

Bible

Bible

Add Bible

Read-Alouds

Read-Alouds

Add Read-Alouds

Readers

Readers

Add Readers

Add Language Arts

Language Arts

Add Language Arts

Add Spelling

(K-5)

Spelling

(K-5)

Add Spelling

(K-5)

Add Handwriting

(K-3)

Handwriting

(K-3)

Add Handwriting

(K-3)

Add Science

Science

Add Science

Add Math

Math

Add Math

Add Resources

Resources

Add Resources

SonlightCares™ $249

FREE

SonlightCares™ $249

FREE

Free shipping (see details)

Select
Select
Shop Now