The M and S Families, Fairbanks, AK
1st Grade Homeschool Overview
Travel the globe with a turn of the page
The transition to a more formal education doesn't have to be overwhelming. With Sonlight's literature-rich homeschool curriculum, and easy to use schedules, you are setting yourself up for a great 1st Grade year.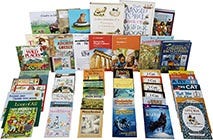 1st Grade History
1st Grade History
Your complete First Grade History homeschool curriculum program from Sonlight includes more than just social studies. History is at the center of all of Sonlight's programs. With your choice, you'll either explore American History, or take a broad view of the world and the people and places that fill it.
You will read many biographies with your children, discovering a very human and vibrant side of history not found in textbooks. Included in the 1st grade curriculum are Bible readings, missionary biographies, and books filled with characters worth imitating. This great literature does more than simply make history come alive. We always want to provide inspiration to follow the Lord. And, of course, you'll have the joy of reading captivating books that make you laugh, possibly cry, but surely learn.
---

1st Grade Lesson Plans
1st Grade Lesson Plans
Your Sonlight Instructor's Guide (IG) provides your daily, book-by-book, subject-by-subject 1st Grade schedule. This is more than a calendar. Behind each week's lesson plan you will find a wealth of notes, maps, activity sheets, and teaching tips to accompany your studies. Your Instructor's Guide takes the stack of books and materials in each subject and make it a curriculum. IGs are included in your History / Bible / Literature or All-Subjects Sonlight 1st Grade program.
The IGs serve as a tool, not a taskmaster, leaving you in the driver's seat. You choose if, when and how you utilize your 1st Grade Instructor's Guide. Use it for record keeping, a daily schedule, notes, or any combination of the three. Your Instructor's Guide is more than just a complete lesson plan for your First Grade homeschool curriculum. It also includes maps and activity sheets that expand your child's studies.
Using our IGs you'll see how easy it is to teach your own children and to develop your love to teach.
"The Instructor's Guide has been invaluable. It is SUCH a time saver. I tried for two years to put together my own curriculum. What a stress! Every day I would wonder if we did enough work. How did I know we would cover everything by the end of the year? Yikes. We decided to try Sonlight and haven't looked back. I don't worry any more about scheduling or tracking - it's all done for me." - Julie A Sandy, UT
---

1st Grade Language Arts
1st Grade Language Arts
The great books you read as part of your homeschooling with Sonlight do more than make history come alive: as you read and talk them through, your children will absorb how good writing feels and sounds. This is the beginning of Language Arts and prepares them for writing.
Spelling & Vocabulary
Please note: Spelling and Vocabulary is already built in to your lesson plans at this level. Spelling and vocabulary words are from the reading you share with your students. This makes practice a natural addition to your homeschool day. We do offer additional resources, but do not suggest using them until 3rd grade.
---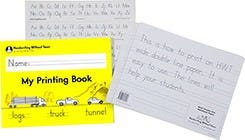 1st Grade Handwriting
Handwriting for First Grade
While your child is still in the early stages of learning to grip pencils, make shapes, and start work on letters and numbers, we give them practice by scheduling handwriting. There are many physiological processes going on in the art of writing, and even more as your children will begin the process of learning to write their ideas in the coming years. This is a foundational step in helping them learn to communicate.
We include Handwriting Without Tears in our All-Subjects Package because it is designed to eliminate problems with reversals, spacing, placement, and letter and numeral formation. But, you are able to customize your package and choose the handwriting program of your choice and still enjoy our best discount of 20% off. Check out all of Sonlight's Handwriting options here.
---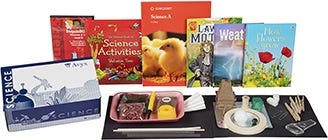 1st Grade Science
1st Grade Science
From the Solar System to human body systems, Sonlight Science A nurtures children's natural curiosity and provides daily opportunities to explore the world around them. They will use real scientific skills and practices as they explore our natural earth: from weather, geology, natural habitats and animal life to what makes us ill and why we eat. Science A includes a high-level introduction to light and sound waves and other STEM topics that will prepare students for a lifetime of scientific curiosity, learning and application.
Choose the matching 1st Grade Science level or browse other available Science programs and see what you could discover.
---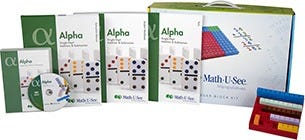 1st Grade Math
1st Grade Math
In 1st Grade math, the focus is on single digit addition and subtraction. One key goal is to commit the addition and subtraction facts to memory. In addition, your children will continue to learn about: place value, telling time, skip counting, beginning fractions, measuring, and shape recognition, and be introduced to word problems. With lots of review built in, they will continue to add to what they learned in their 1st grade year.
Math-U-See is included in Sonlight's 1st Grade All-Subjects Package. Learn more about your other 1st Grade Math options here.
---
Ways to Buy
Two ways to choose your
1st Grade

curriculum

Put together a customized program OR select the recommended everything-you-need package. Compare your choices and pick the path you want. Either way, a wonderful adventure in learning awaits you and your family.
Start with History
Choose one of the options below.
Select the program that covers the history focus you'd like to use this year. Because you'll teach with real books, each Sonlight program works with a range of ages and allows you to teach multiple children together. View the full curriculum scope & sequence for additional information.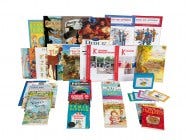 A delightful, age-appropriate kindergarten American History program
Learn More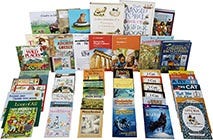 Get a Complete Package
Customize as needed and still save up to 20%.