The V Family, Miami Springs, FL
10th Grade Homeschool Overview
In-depth study of History and why the world is where it is now
As a High Schooler, your student is looking not just at next year, but at their whole future: Am I going to college? Trade school? Taking time off? What season comes next? Sonlight has designed your High School level programs to be flexible for a range of grade levels to ensure your student covers all of the subjects they need for whatever they are pursuing. Look at your history options and choose a program that will fulfill college requirements or just keeps your student interested in learning. Any one of these programs will provide an excellent year of study.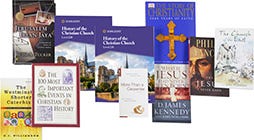 10th Grade History / Bible
10th Grade History / Bible
Looking ahead at your student's transcript, what programs do they still need? American History? Church History / World History? 20th Century World History? Let's look at each of these courses more in depth.
For high school credit consider:
American History: Dig deep into American history as you move chronologically through the ages. Look at periods like the empires that existed before Columbus; the founding fathers; WWI; and the Montgomery Bus Boycott. While you may have touched on these periods before, it's an opportunity to delve deeper into these subjects. Many states require American History to graduate, you can use this program to satisfy that requirement.
History of the Christian Church / World History: A look at traditional Church History; with the added benefit of studying history and interactions from around the world through this unique lens. Many states require World History to graduate, you can use this program to satisfy that requirement.
20th Century World History: Learn the key events, people, conflicts, inventions and changes of the last century. You'll have the opportunity to evaluate it for what it is, why it happened as it did and where we are headed now. Many states require World History to graduate, you can use this program to satisfy that requirement.
If you need more options, Sonlighters have also successfully used either World History, part 2 (level H) or History of Science (level J) for their 10th grade year.
Check out all of Sonlight's History / Bible courses here.
Unsure which program would be best for your students' requirements? Check out our free report on creating transcripts here.
---

10th Grade Lesson Plans
10th Grade Lesson Plans
At the high school levels, we have designed the lesson plans, our Instructor's Guides, to move you into more of a supportive role. The notes in the Instructor's Guides (IGs) are written to the students, and each high school program includes both a Parent Guide and a Student Guide.
The Student Guide contains discussion and thought questions. Some questions cover basic comprehension, and some are closer to college-level analysis. The Parent Guide contains all the same information, along with answers.
So, while you still receive the book-by-book, and subject-by-subject schedule and notes, the tool matches your family's needs for high school season.
Your student will be able to work independently for much of the time and you are able to choose when and how you would like to work with them.
IGs are included with your History / Bible and Literature / Language Arts or All-Subjects Packages. Use them for record keeping, a daily schedule, notes, or any combination of the three. At the high school level, your Apologia Science program comes with a Sonlight "Schedule Plus" which provides a Sonlight-style schedule to accompany the Apologia program.
---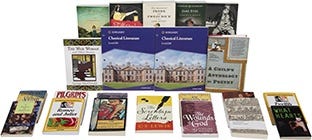 10th Grade Literature / Language Arts
10th Grade Literature / Language Arts
Within our high school levels, we no longer have separate Language Arts Guides that are connected to History. Our numbered levels have History and Bible combined, and Literature and Language Arts.
As your students read the literature, they will spend some time on comprehension questions and continue to look in-depth at literary analysis and deeper thought questions: What does this text reference? What do you think of this character's actions?
Your student will continue to learn terms like symbol and allegory, think through ethical questions, and build their cultural literacy. Their writing assignments mostly come from their reading.
You can also choose from several optional workbooks, with assignments scheduled in the IG. Wordly Wise improves vocabulary and Analogies helps your student learn to reason. Analogies are part of college admission standardized testing, as well as helpful in overall communication. If you suspect your student needs more instruction in grammar, add on a grammar program here.
Check out all of Sonlight's Literature / Language Arts courses here.
---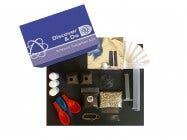 10th Grade Science
10th Grade Science
Sonlight offers Apologia's Exploring Creation with Biology, with the addition of the Sonlight-exclusive Schedule Plus (which provides the familiarity of Sonlight's IG for your Apologia studies). The CD-ROM version of the program is less expensive and includes all of the information found in the print version, with multimedia add-ons such as animations, videos, narrations, and audio pronunciation guides.
This is a thorough high school-level biology program designed for use at home and is presented in a conversational style, making it easy to understand.
The primary topics included are a general introduction to biology; monerans (bacteria); protists (protozoans and algae); fungi; the chemistry of life (atoms, elements, molecules, osmosis and diffusion, photosynthesis, enzymes, etc.); cells; cellular reproduction and more.
Student exercises (with detailed solutions), experiments, and tests (with detailed solutions) are all included.
Recommended for use during or after Algebra 1.
Choose the matching 10th Grade Science level or browse other available Science programs to find the best program for your family this year. If you would prefer to study something else, you can customize your science selection and still get our best discount of 20%.
---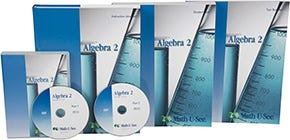 10th Grade Math
10th Grade Math
Sonlight includes Math-U-See's Algebra 2 in our 10th Grade All-Subjects Package.
Algebra 2 covers topics such as factoring polynomials, quadratic formula, graphing conic sections and other algebra 2 topics.
Your students will learn about simplifying multiple-degree rational expressions; working with imaginary and complex numbers; how to understand and applying the binomial theorem; how solve basic quadratic equations with factoring; and how to apply analytic geometry to conic sections. They will solve simultaneous equations (linear and conic) using graphing, substitution, and elimination and apply basic algebra to problems involving ratios and proportions.
While Math-U-See Algebra 2 is included in Sonlight's All-Subjects Package, if you are interested in another program, you can easily swap out the math and still receive our best 20% discount. Learn more about your other 10th Grade Math options here.
---
Ways to Buy
Two ways to choose your
10th Grade

curriculum

Put together a customized program OR select the recommended everything-you-need package. Compare your choices and pick the path you want. Either way, a wonderful adventure in learning awaits you and your family.
Start with History
Choose one of the options below.
Select the program that covers the history focus you'd like to use this year. Because you'll teach with real books, each Sonlight program works with a range of ages and allows you to teach multiple children together. View the full curriculum scope & sequence for additional information.
Add other subjects as needed.
Get a Complete Package
Customize as needed and still save up to 20%.
The expansion of the Gospel from the Apostles to the present
Learn More