There are two components to an All-Subjects Package: the "skill-based subjects" (i.e. Math, Handwriting, Phonics homeschool activites) and the "literature-based subjects" (i.e. History, Bible, Science). The skill-based subjects are what provide the grade level for an All-Subjects curriculum package. The literature-based homeschool programs will always be appropriate for a range of grades/ages, and are not limited to the single grade level of an All-Subjects Package. This is why you are able to build your own package if you want.
And you get all that for a 20% discount!
For starters, simply choose the All-Subjects Package that Sonlight picked, based on our best recommendations after 25 years of ongoing research, development, and feedback from families around the world.
Prefer to build your own? You can still save 20% when you customize an All-Subjects Package. Start here!
"When I noticed the All-Subjects Packages had EVERYTHING I was looking for all in one nice neat package the excitement came back again! I was looking in my son's backpack for a toy he thought he had lost and guess what I found? Books! I asked him where he got them from and his answer about made me cry ... 'Mom they were with our school stuff. They are really cool. I want to keep reading them.'" — Andrea O, United Arab Emirates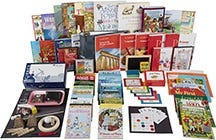 Kindergarten
Kindergarten
Parents often rejoice at the flexibility we built into Sonlight's Instructor's Guides. Miss a day? No problem. Want to spend all day on Science? Go for it! This Kindergarten All-Subjects Package is as flexible as you need it to be and includes subjects such as History, Geography, Bible reading and, of course, Read-Alouds.
---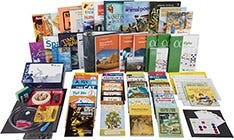 1st Grade
First Grade
Get your time machine ready, as you are about to visit some exotic lands in various times throughout history. On the itinerary are such eclectic places as ancient Rome, medieval England and Egypt during the reign of the Pharaohs. You'll also navigate the high seas with the Vikings, learn new spelling and vocabulary words along the way and, of course, have lots of time for Bible study.
---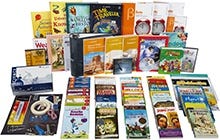 2nd Grade
Second Grade
Civilizations across the globe are the focus of this year's curriculum. The goal here is to give your children a big-picture look at how the world map has changed through the centuries and how each event has resonated through time. With Sonlight's help you'll take your children on a fascinating discovery of God's entire world.
---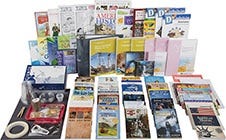 3rd Grade
Third Grade
For the first time, History, Geography, Read-Alouds and Readers as well as Language Arts are all linked together. The characters you meet in your history book will show up in the readers. As your children learn and discover in this style, they'll make astonishing connections between the people, places and events in American History.
---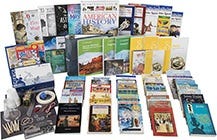 4th Grade
Fourth Grade
History's major players and characters come to life during this curriculum. You'll meet famous Americans such as Ben Franklin, Harriet Tubman, Helen Keller and more. You'll celebrate the positive aspects of our history: the establishment of a government by a free people apart from a king, the move toward unprecedented equality, the compassion that has historically flowed out of the American Church, two Great Awakenings that led thousands back to God.
---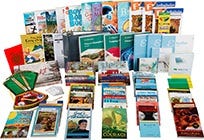 5th Grade
Fifth Grade
Unique among Sonlight curricula, the subject matter here stands out from that available anywhere else. Take a full year's exploration of Asia, the Middle East, Africa and the South Pacific. Learn about the world's Eastern Hemisphere, where 90 percent of all unevangelized people call home. All over the world, people eat, dress, work, play and see the world very differently. But we're also the same in key ways: God loves all of us and we all need Jesus.
---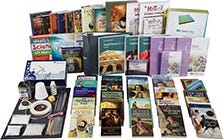 6th Grade
Sixth Grade
Critical thinking really begins to grow here. You'll see the connected flow of human history, from creation through the 1600s. Find answers to real-life questions such as: How did ancient Egypt, Israel and Assyria interact? Where did the Greeks come from? Why did Greek civilization give way to the Romans? Why did the Roman Empire fall? How did Asian culture develop during that same time? How did Western history progress during the so-called Dark Ages? How did those centuries give rise to the Renaissance, and how did the Renaissance, in turn, pave the way for the Protestant Reformation?
---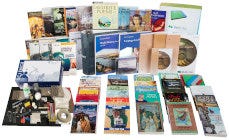 7th Grade
Seventh Grade
This level's gripping books gently pull in even the most reluctant of readers. You'll learn such tenets as Honor, Faith and the importance of Family. You'll discover some of history's most noble characters, including: King Arthur and his Round Table, Charlemagne and the warriors of the Trojan War.
---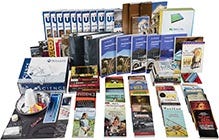 8th Grade
Eighth Grade
Go deeper into American history this year. Discover what drove the founding fathers to rebel against their king. Discover why Benedict Arnold became the most despised name in the colonies. Walk with courageous Sacajawea as she navigates the adventure of a lifetime. Survive WWII with a Japanese-American family in a California internment camp. See the daily struggles of normal African Americans who courageously changed history through the Montgomery Bus Boycott.
---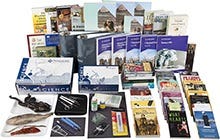 9th Grade
Ninth Grade
Your children know their heritage as citizens of their country. 9th Grade opens their eyes to their astounding heritage as citizens of the Kingdom of Heaven: What has God done throughout history? How is He moving today? How are we part of a global body of Christ bigger than our local churches and denominations?
---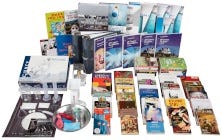 10th Grade
10th Grade
In 1900, American women couldn't vote. Vaccines and radio didn't exist. It took more than a week to travel from Paris to New York. Colonial powers scrambled to conquer Africa. Only the world's wealthiest owned automobiles. By 1999, the world prepared for a computer problem that might ravage the global economy. Daily commercial flights jetted across the Atlantic. The Internet, space travel and the ability to clone animals were no longer far-fetched tales of science fiction. This year's study helps you understand those changes and, therefore, understand the world today.
---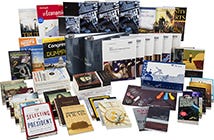 11th Grade
11th Grade
Your 11th Grade homeschool curriculum teams two 18-week courses, American Government and Economics, with a 36-week American Literature course. The first offers a view of not only how our government works, but also why it works as it does. The second demystifies one of the least understood disciplines in all of academics. The third offers a delightful encounter with a catalog of literary classics, including: Adventures of Huckleberry Finn, Black Like Me, Brave Companions and The Grapes of Wrath.
---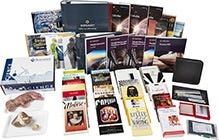 12th Grade
12th Grade
More great literature awaits, including: Candide, Crime and Punishment and Don Quixote. The Iliad and The Odyssey, along with Dante's The Inferno, are also here. You'll spend your senior year with some of the best-of-the-best classical literature has to offer. There is also a wide selection of History, Science and Math homeschool curriculum packages available.