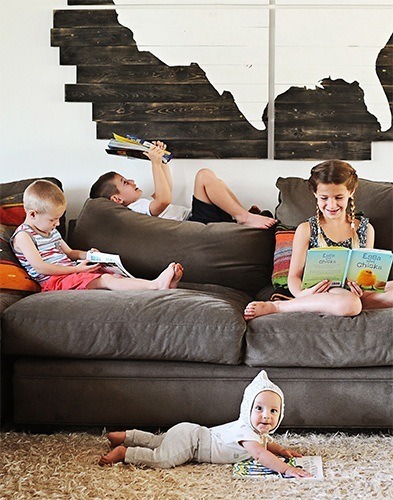 Congratulations to the R family of Lombard, IL!
"Of course my second child (age 4) is a 180 degree difference from my first (age 6) ... Isn't that the way it goes?" writes Courtney L of Lombard, IL. "Just when you figure it out, your next child learns in a completely different way! Thank goodness for the flexibility of Sonlight's curriculum, as I already know where I will be using the same resources from a different angle to suit his needs when the time comes. Sonlight has transformed my vision of what homeschooling can be. Each family can cater to their own specific needs and lifestyle!"
Thank you to our other finalists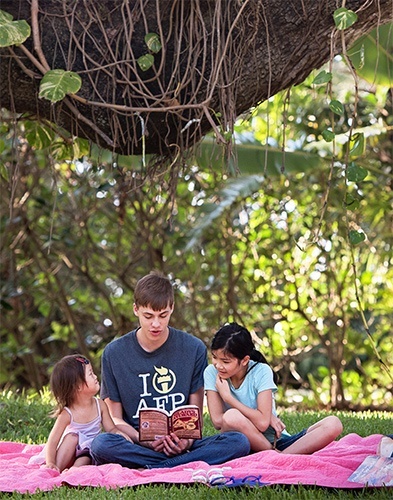 K family
Saint Petersburg, FL
2nd Place

"God has really spoken to us through Sonlight to grow our hearts toward Him, and He has given us compassion toward people groups who have never heard about Jesus. We love learning about new cultures and praying for people in other lands," writes Sennu K of Saint Petersburg, FL. She also credits Sonlight with her family's homeschool success during a year of huge change. "Little Mae (3) joined our family in August from China, and our teen quadruplets started a dual enrollment program at a local college. We also moved! Twice! Abby (10) and I continued Sonlight at home, which allowed us to do everything we needed while being flexible with the schedules of a toddler and teenagers. We can't wait to see what next year's books are!" Sennu's teens used Sonlight for their final year of homeschooling before starting college last year. Abby looks forward to her third year of Sonlight with D+E next year. Here, Mae and Abby listen while their beloved big brother Daniel (17) shares their favorite book.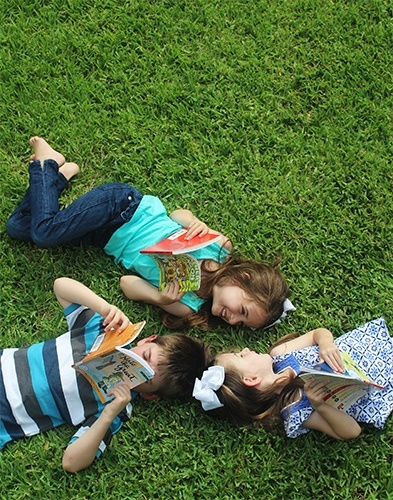 E family
College Station, TX
3rd Place

"I don't have a teaching background and I was nervous about trying to pull together the right curriculum for my kids," writes Abigail E of College Station, TX. "I love Sonlight because it does the planning for me! Having everything already selected and scheduled has made me so much more confident about homeschooling my kids. The Instructor's Guide with everything laid out day-by-day has been a lifesaver, and the notes that it includes have helped me become a better teacher for my kids. That is why I love Sonlight, but my kids love it because the books are interesting and engaging. They also get the benefit of a teacher who is confident and not always stressed out about lesson planning!" Abigail's three children also love the freedom Sonlight gives to take their classroom anywhere they want to go. Here, Micah (8), Lizzie (6) and Jane (4) share their Sonlight books outside. They love to listen to each other read so that they don't miss any of the great stories. They've used Sonlight since the beginning of their homeschool.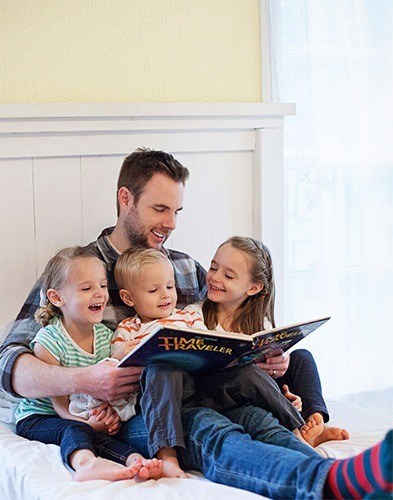 K family
Waco, TX
Honorable Mention

"Sonlight books have expanded my children's vocabulary, their love of reading, and their thirst for knowledge," writes Megan K of Waco, TX. "Even our youngest kids listen up during Read-Aloud time! We talk about what we learned that day over dinner and I'm always impressed with how much each child has absorbed. As a busy mom, I love the guides that accompany the books. It's so nice to have questions that I can ask my kids about what we're reading at my fingertips. I also love the included definitions and explanations for unfamiliar words or ideas. Homeschooling has been a great decision for our family and Sonlight has been a fabulous curriculum choice!" Like many veteran Sonlighters, Megan and her husband cherish the opportunity to read with their children. Each evening before bed, Ava (6), Adelyn (4) and Talmage (2) soak up quality time with Dad as he reads out loud.
---
Do you have some excellent photos from your homeschool?
It's not too early to submit pictures for next year's Sonlight® Photo Contest!