Discover all of the new products, curriculum packages, product updates, changes and more.
NEW Standards-Based Science Programs, Levels K-C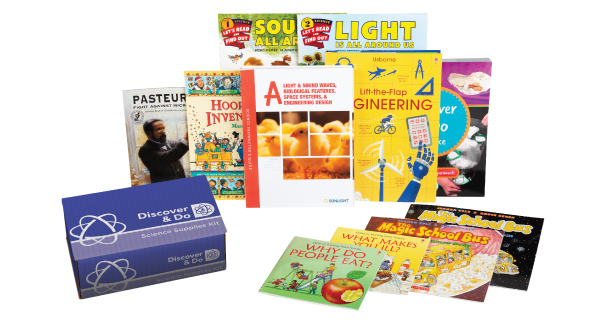 Brand new philosophy, brand new books, brand new experiments, brand new worksheets! Several of Sonlight's popular hands-on Science programs are completely new and redesigned. Sonlight's new science programs will prepare your children to become future scientists by training them to think scientifically. Beyond studying classic scientific topics, Sonlight Science creates a learning environment in which students can gain the skills and practices used by scientists and engineers to answer questions, solve problems, and innovate and improve their own designed solutions.
In these new programs, our classic model of learning by reading, discussing, and doing is combined with research-based science standards. Programs K-C now adhere to the Next Generation Science Standards (NGSS)1.
In addition, each level becomes more interconnected as brand new hands-on experiments now tie directly to the rest of the content. Each weekly experiment helps bring to life the scientific content read each week. Sonlight's great books provide the context, while the experiments help students apply scientific practices and principles to the topics they read about each week.
Now you have even more assurance that Sonlight Science provides an outstanding science education—at home.
1https://www.nextgenscience.org/voices-of-support NGSS is a registered trademark of Achieve. Neither Achieve nor the lead states and partners that developed the Next Generation Standards were involved in the production of this product, and do not endorse it.
A NEW Hands-On Preschool Program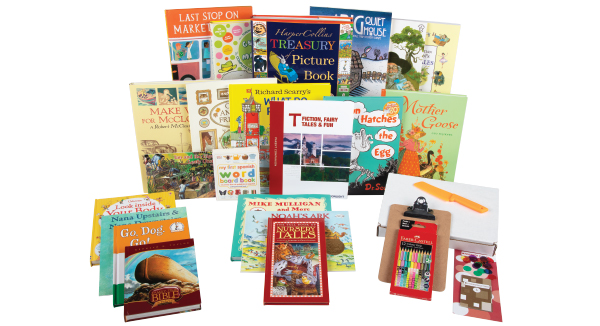 Embark on an exciting adventure of learning in our brand new, hands-on preschool homeschool program!
Our new, no-pressure preschool curriculum provides favorite children's book classics, plus engaging games, and new hands-on Montessori-type materials and activities all designed to address the developmental needs of young children in a fun, relaxed, and interactive environment. This program is scheduled for 3 days a week, for 30 weeks.
You'll ease into homeschooling, as you have the materials and guidance you need to gently build pre-reading, pre-math, pre-writing, listening, and motor skills. Your children will start to hear cadence and rhyme; they'll grow in their cultural literacy; they'll learn Bible stories and a story of God at work on the other side of the world. They will work with spatial relationships, build cognitive and motor skills, develop independence and self-confidence through practical life skills, and wade into rudimentary science.
All of this through picture books and Montessori-type materials and activities that your family will treasure and enjoy for years to come. Flexible and simple to teach, this program will provide the opportunity for your little one to hear great stories, spend quality time with you, and explore the world around them through great books, play, and tactile activities.
NEW Sonlight App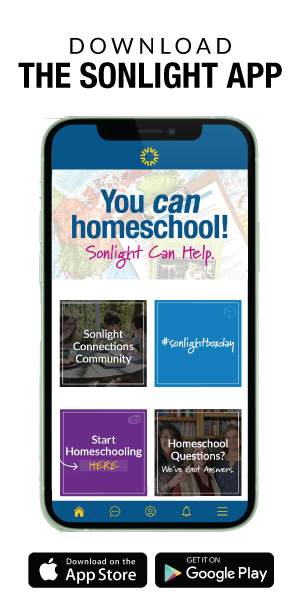 Join the Sonlight community! Gain access to rich homeschooling content, build meaningful connections with other homeschooling parents, download freebies, get homeschooling resources, and more. It's your one-stop-shop for everything Sonlight. Download today for encouragement, inspiration, and everything you need to successfully homeschool. You can homeschool. Sonlight can help.
Now available for iOS and Android.
NEW Grade 5 Readers Package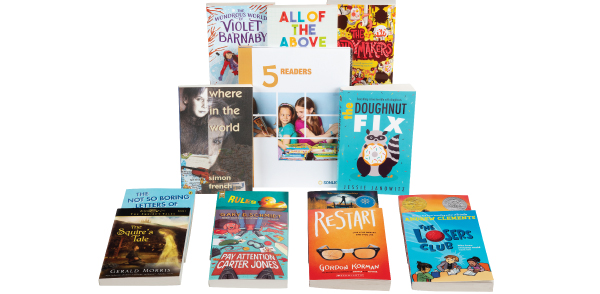 A wonderful collection of Sonlight-curated literature creates a brand new level of stand-alone, graded Readers. In response to customer request, you now have the option of another year of reading practice before moving into our history-integrated Readers.
Connect with a Sonlight Homeschool Advisor for advice and using this new Readers package.
Learn more about Sonlight Readers
Unit Studies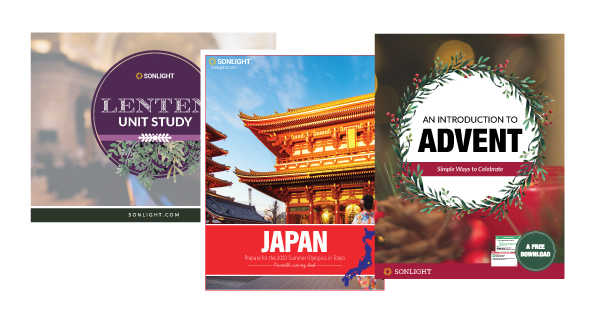 Would you like a small taste of what a Sonlight education is like? Our unit studies are patterned after our curriculum—literature-based** with discussion questions, hands-on activities, an easy to use daily schedule, and more. We also offer a variety of free downloads and ebooks to help you on your homeschool journey from Sonlight.
Discover all of Sonlight's Unit Studies & Free Downloads here.
Homeschool Events—Online & In-Person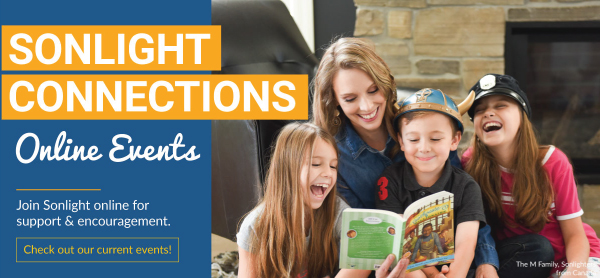 Did you know Sonlight is on the road—in-person and virtually this year? We'd love to connect with you at an upcoming homeschool convention or virtual event to help and encourage you in your homeschool journey, or even help with your curriculum decisions.
Join us throughout the year as we bring together veteran homeschoolers, Sonlight Homeschool Advisors, homeschooling experts, curriculum creators, and Sonlight founder and president, Sarita Holzmann for several online events—you don't have to leave the couch! These virtual events give you the opportunity to connect and learn alongside fellow homeschoolers and experts. You'll get everything from practical homeschooling advice, real-world homeschooling experiences, encouragement, tips to enrich your homeschool, and even tools to decide if homeschooling is right for your family.
Learn more about our upcoming events here.
The Happy Cheetah Reading System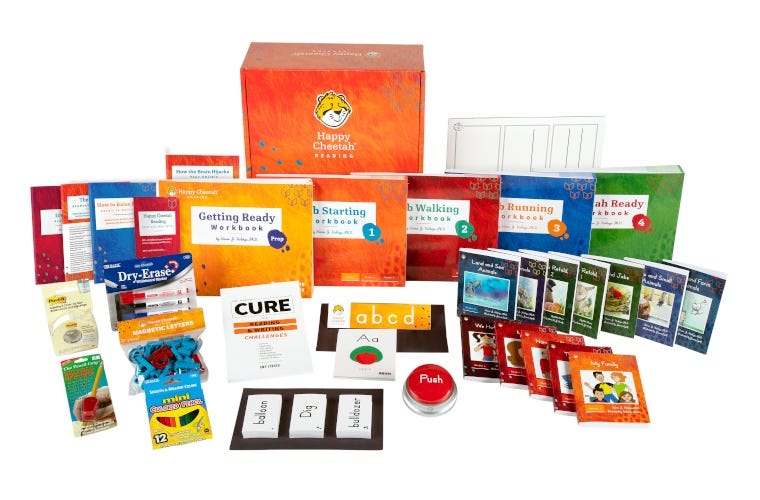 Sarita searched for an effective remedial reading program for almost two decades before she found the Happy Cheetah Reading System. Developed by Dr. Karen Holinga, The Reading Doctor (who also created Spelling You See), this program uses an entirely new method of teaching reading. Not Orton-Gillingham, not whole language, not intensive phonics. Rather, the proprietary Right Focus Method™ teaches children using the best breakthroughs in reading research and neuroscience, along with Dr. Karen's own work in helping children overcome issues of dyslexia, poor auditory processing, and more.
Eighty percent of children learn to read no matter what program they use. But for the struggling 20%, Happy Cheetah offers all of Dr. Karen's expertise, developed over 25+ years, helping over 25,000 students. If you need an expert's help, this program is as close as you can get to an office visit with Dr. Karen.
Updated Scope and Sequence

With the addition of our new science programs, the Science Scope & Sequence has changed.
Wondering what that means for your next science curriculum purchase? Check out the update Scope & Sequence for Science Programs K-C.
Updated Timeline Book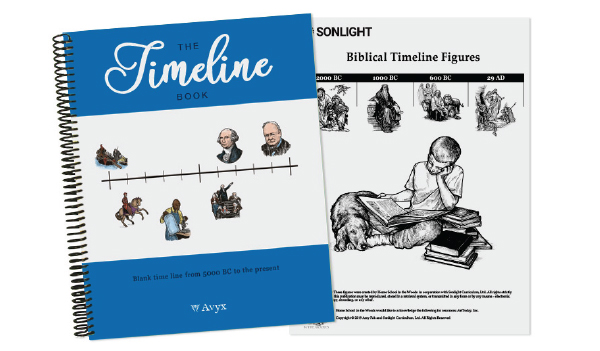 A long-time staple of our History / Bible / Literature program, The Timeline Book receives an exciting facelift this year. Check out the new cover below! Note, the inside pages did not change.
NEW Books & Curriculum Updates
As sometimes happens, titles go out of print or we replace a book in a particular curriculum package. We also update our Instructor's Guides yearly to fix mistakes, add notes and refine discussion questions, and more. In 2021, History / Bible / Literature levels K, B, and D have new books. Level 320 will receive an overall refresh as well, with a brand new spine and multiple new titles.
If you're planning to re-use a Sonlight level later with a younger child, or simply want the new books and updated Instructor's Guide, you can upgrade your existing Instructor's Guide for 50% off! Check out the video below to learn how.
Make sure you have the latest books and Instructor's Guides. Sonlight's repurchase discount makes upgrading easy and cost-effective so you can enjoy all of the improvements and upgrades available since your last time through the program.
Did you miss any of these 2020 Highlights?
Sonlight Connections: A Homeschool Podcast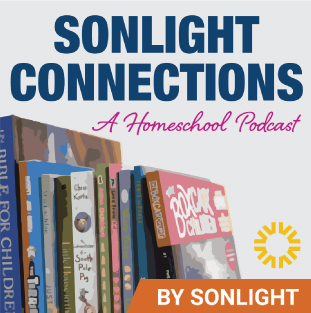 Listen in and connect with other homeschoolers for encouragement, tips, and fellowship. In our Connections Podcast, we explore homeschooling through the lens of literature-based, Christ-centered education. Join us for conversations about everything from organizing your homeschool to dealing with sibling conflict.
NEW Discover & Do Experiment Videos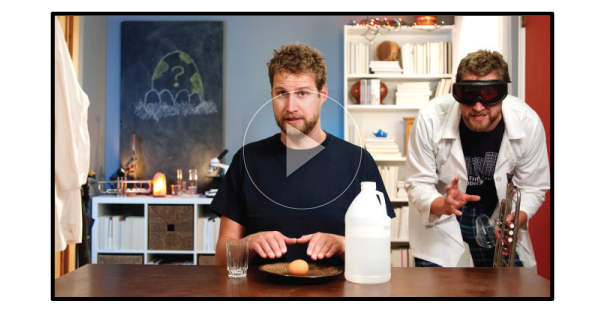 There is no better way to delight your kids with the wonders of science (and reinforce lessons!) than by experiencing it firsthand through hands-on activities. With the new Discover & Do, your children learn by actually doing the science!
As a busy parent thought, you may not have the time to demonstrate every experiment for your children. With the new Discover & Do: Science Experiment Videos, your students will be able to watch the experiments and learn do it on their own.
Available in Sonlight Science K, the new Discover & Do: Science Experiment Videos are an ideal supplement to your child's education.
4-Day Bonus Book Collections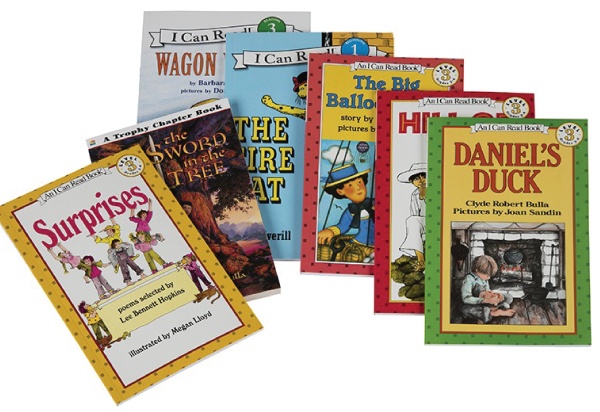 Love the 4-Day schedule, but don't want to miss any amazing books? We've heard you! The 5-Day only books are available in easy-order collections for all Readers and Read-Alouds for Sonlight levels K-J. Enjoy your 4-Day schedule and never miss another great book!
Just Book Collections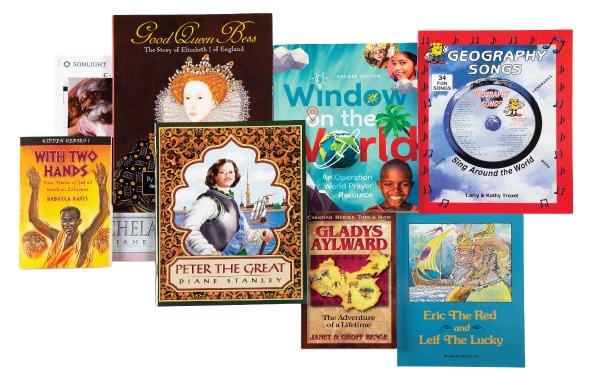 If you enjoy Sonlight's book selections, but don't need a full program, we have an easy-order option for you. No more typing in your order title-by-title; now you can get all the Readers in an HBL or all the Read-Alouds, with a single click!
*Sonlight's repurchase discount applies only to Instructor's Guides. We offer the repurchase discount with the understanding that the new Instructor's Guide is for the purpose of replacing the previous edition(s) for the benefit of the original purchaser only. The system will automatically apply the 50% repurchase discount to a replacement IG on qualifying purchases. 50% discount cannot be combined with any other discounts. See repurchase discount details here.
**While Sonlight curriculum packages do come with all the books you need, the books are not always included in the unit studies. The product page will indicate if the books are included or not. Some unit studies are are digital PDFs that require Adobe Reader to open.
Choose your curriculum now