This homeschool curriculum guide will take you from overwhelm to confidence, helping you identify the best homeschool curriculum for your family.
We all want the very best homeschool curriculum for our children. Best case scenario: We pick a program and know with absolute certainty it will work in terms of both fun and rigor.
But reality usually isn't that simple, especially for a nervous newbie. It's kind of like choosing the best kind of ice cream for a party.
Some people love plain vanilla. Others want their vanilla with toppings. Still, others prefer flavored ice cream: chocolate or strawberry. And we can't forget the fancy options like rocky road, tin roof sundae, or jamoca almond fudge. Not everyone likes pistachio or mint. Some people can't eat dairy. Other people might be allergic to chocolate or nuts. Some want a lower-calorie snack, such as frozen yogurt or sugar-free ice cream.
There's no possible way one type of ice cream will please every person in a large crowd. Likewise, there's no single curriculum for homeschooling that can work for every child.
How Do I Find Out What Type of Homeschool Curriculum Will Work for My Child?
How do you discover what homeschool curriculum suits your child? How do you choose a homeschool curriculum? First research. And then a lot of trial and error. Arm yourself with information from a wide swath of sources when considering how to pick a homeschool curriculum:
Then start weeding through all the possible choices, looking for the features that appeal to you to find the best curriculum for homeschooling.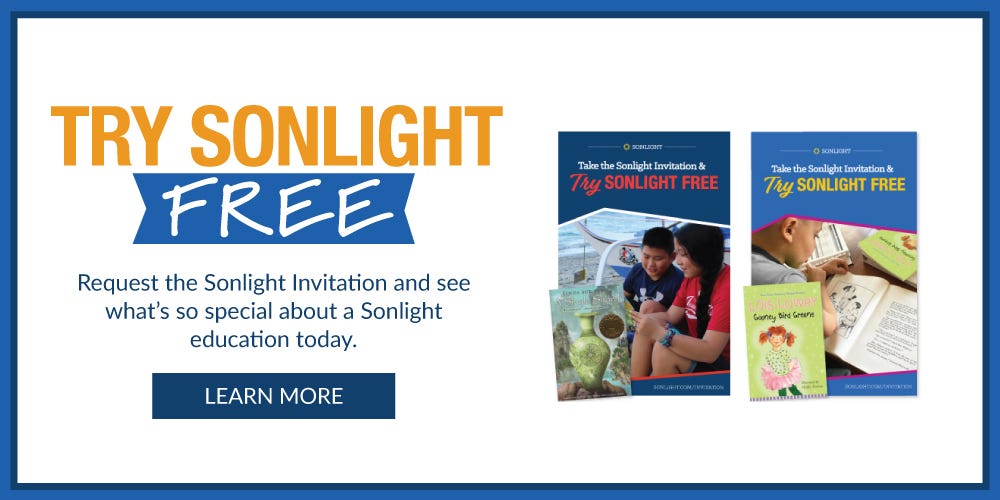 What Does a Good Homeschool Curriculum Look Like?
A board of education may evaluate a curriculum quite differently from a homeschool mom or dad, but some things are universal: Any good curriculum is thorough, accurate, and challenging enough to motivate (but not frustrate) children.
A good homeschool curriculum is one that resonates with both parent and child and works in an at-home setting. Ideally it provides the parent the support they need to confidently teach without an education degree or teaching certification.
What makes a strong homeschool curriculum?
Appealing curriculum features for the teaching parent match this list:
Covers topics you or your student will want to learn about
Teaches in a way that is interesting or will hold your child's attention
Falls in line with your belief system
Matches your educational philosophy
Makes sense to you when you read about it
Piques your curiosity to learn more about how it works
What are unappealing homeschool curriculum features?
Rule out any curriculum that ticks two or more of these cons for you:
Seems complicated or hard to understand
Sounds like too much work or too time-consuming
Uses an avenue of learning that you don't prefer
Sounds like things you have tried in the past that haven't worked
Fills you with a sense of dread or uneasiness
But you're not the only person to consider! Does your spouse support this curriculum choice? And do your children enjoy it?
What Is the Best Homeschool Curriculum?
The best homeschool curriculum is one that suits your teaching style and your children's preferences. The best homeschooling curriculum is one that you all can stick with for the long haul without getting weary or bored.
What Is an Ideal Homeschool Curriculum?
And while every curriculum may have pros and cons for your particular situation, the ideal homeschool curriculum for you will be mostly pros. For your perfect fit curriculum, any cons are smaller matters that you can easily tweak, omit, or otherwise resolve without a lot of energy or thought.
What Is the Most Used Curriculum?
It can be reassuring to use a curriculum that's used by thousands of families and is a proven winner! The most used curriculum choices are those that have been in existence the longest and are still top rated homeschool curriculum 20, 30, and even 40 years later!
Examples of most used curriculum:
Sonlight | With over 30 years of serving families, Sonlight is a trustworthy curriculum choice for all your subjects: reading, math, history, geography, science, and Bible.
Math-U-See | Demme Learning's math curriculum is another reliable choice with over 30 years of history serving homeschool families.
RightStart Math | This revolutionary, hands-on approach to math has been around since 2001.
Saxon Math | John Saxon's incremental way of teaching mathematics was created in the 1980s and has been used both in schools and at home.
Handwriting Without Tears | This handwriting program was devised in the 1970s and has taught thousands of children how to write in both print and cursive—without crying!
Getty-Dubay Italic Handwriting Program | Two educators collaborated in 1979 to create Getty-Dubay Italic.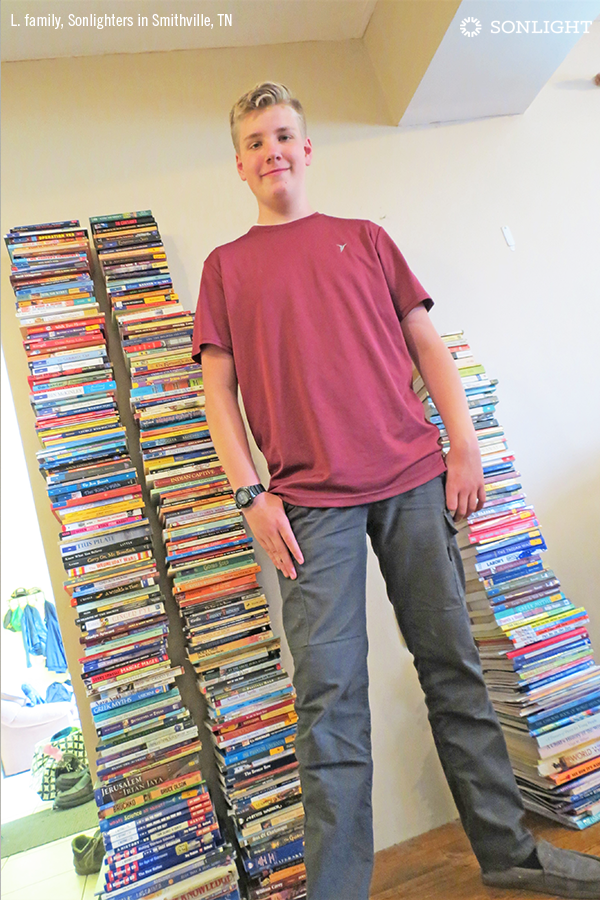 Isaac (now in 10th grade) has been using Sonlight since first grade. Isaac is 6 feet tall, and we thought it would be fun to see how many 6-foot stacks of books we could make—over 2 and a half stacks and over 400 books! Isaac is an avid reader and has read many of these books more than once. Thank you, Sonlight, for the thought-provoking literature." -Zachary L. of Smithville, TN
What Do I Do Next? How Do I Choose the Right Homeschool Curriculum?
Once you've narrowed down your list to a few possible options, try going through them again. See if one program exerts some sort of pull on you. If you are an intuitive person, you will often just know that a particular curriculum is good and right.
If nothing jumps out, find one that sounds like it would be fun to teach or that your child would enjoy learning from. Pray over your choices or get input from your spouse or the students themselves. Go online and ask questions from a curriculum-specific group to get ideas and opinions from other users.
What If I Like More Than One Program?
If you end up with a mix of different programs in your pile of keepers, know that it's okay to mix and match. You might enjoy one program for language arts and a different program for history. You might love science from one vendor, or really like everything except math from another.
Sonlight, for example, allows you to customize packages that include precisely what you want, while offering you more than one option for handwriting, math, and more. This flexibility allows you to do much of your shopping in one place.
If you like more than one program for the same subject, you might consider trying one this year and the other the next. Or do more research. Email the curriculum provider with questions, talk to an advisor, and ask what kind of guarantee and return policy is available.
It's time to love your homeschool experience.
You can teach your kids at home! A well-planned curriculum makes it so easy, and you can trust that you are giving your kids all the academics they need. We guarantee you'll love homeschooling with Sonlight. Learn how to SWITCH to Sonlight today and let our literature-based, Christian curriculum be the best thing to happen to your child's education.
What Is a Homeschool Curriculum?
A curriculum is simply a planned course of study. When a curriculum is designed for homeschoolers, it is especially crafted to meet the needs of a parent who is teaching one or more children at home. Homeschool curriculum assumes that a parent does not have an education degree or any teaching experience. Lessons are planned for a parent to implement with one child or with a small sibling group (instead of a group of 20+ children).
What Are the Main Subjects for Homeschooling?
Homeschooling curriculum covers the same topics as a public school curriculum:
The elective subjects for homeschooling include
What If I Don't Know How to Teach a Subject?
There are many programs that will walk you through how to teach. For example, Math-U-See will teach high school math for you, and All About Spelling is scripted so you know exactly what to say. Other programs will provide extra notes for the teachers or online support or help lines.
You can learn alongside your child, hire a tutor, or use a program that will teach for you. You aren't required to be an expert in every subject. Or even any subject.
Homeschool Questions? We Have Answers.
You're not homeschooling alone. Sonlight Advisors are here for you every step of the way. Sonlight Advisors are real homeschool parents who have been there, done that. And they're available to support you every step of your Sonlight journey—from choosing your curriculum, to cheering you on all year long.
What If I Don't Like a Subject?
You can outsource subjects you don't like to a spouse, relative, a community class, or even to your child for independent learning. You aren't required to love every subject you teach. For example, I really don't like teaching poetry. But with a poetry tea-time and a bit of acting, we can make poetry interesting and fun.
If you act like you don't like a subject and let your children see your attitude, chances are good they will pick up on and mimic your mood. Don't pass your academic fears or distastes to your child. Remain upbeat about every subject. Who knows? Your child may turn out to adore the subject that always gave you terrors.
You can also reframe how you think about a subject. One Sonlight mom shares
I used to be apprehensive about teaching science. I remember how hard science was for me in high school with a teacher who didn't stop to explain what we were supposed to be doing. She just expected us to know. When I separated my own bad experience with science from what I wanted my children to learn, I was able to view the subject differently.

I wanted to teach my children with the sense of wonder I felt the first time my (atheist) college professor explained that a human nerve cell, if blown up to the size of a baseball, would have dendrites that would fill up the entire room we were sitting in, and the axon terminals would be far outside the building plaza we were in. I wanted my children to have that same sense of awe at God's masterful creation.

So now when I teach science, I teach from that wonder-infused perspective, and it's more interesting for all of us.
What If My Children Or I Am Bad in a Subject?
Most of the time, when a person thinks they are bad in a subject, it's because they weren't taught it in a way they could fully comprehend. Sometimes, the teacher goes too fast and doesn't take the time to make sure a child is really fully grasping the topic. Other times, there's an underlying disability or problem that's causing the child to struggle to learn.
As a homeschooling parent who chooses their children's curriculum, you have the freedom to adjust your methods and find a program that will teach in a way that works for your kids. Keep looking until you find a program that makes sense for you.
What If My Child Doesn't Do Well with the Curriculum I Chose?
I'm reminded of a quote I heard a long time ago, "You don't teach the curriculum; you teach the child." If a child is struggling with a curriculum, it might mean that the curriculum doesn't work for your child or that you need to adjust something to make it work. It doesn't mean your child is a failure or that you are a failure as a teacher.
What If I Chose the Wrong Curriculum for My Child?
Children aren't created with permanent marker. Most of the time, even large mistakes, can be easily corrected or adjusted with little fallout. Don't be so afraid of making mistakes that you are paralyzed. Once you narrow down your choices, most anything you opt for is likely to work fairly well.
And in the case that you've made the best choice you can, and you still find it's just not working, you're free to change things up. Maybe cross off half of the math problems, only require every other writing assignment, or do dictation via typing rather than with pencil on paper.
If you do find the curriculum is the absolute wrong fit, a few companies will refund part of your money. Sonlight has a generous return policy and a 100% satisfaction guarantee.
While there are benefits to sticking with a curriculum, it's okay to switch to something else when there are more cons than pros. One thing you don't want to do is to keep pushing a program that isn't working. Pushing harder doesn't make the glass slipper fit better if you aren't Cinderella.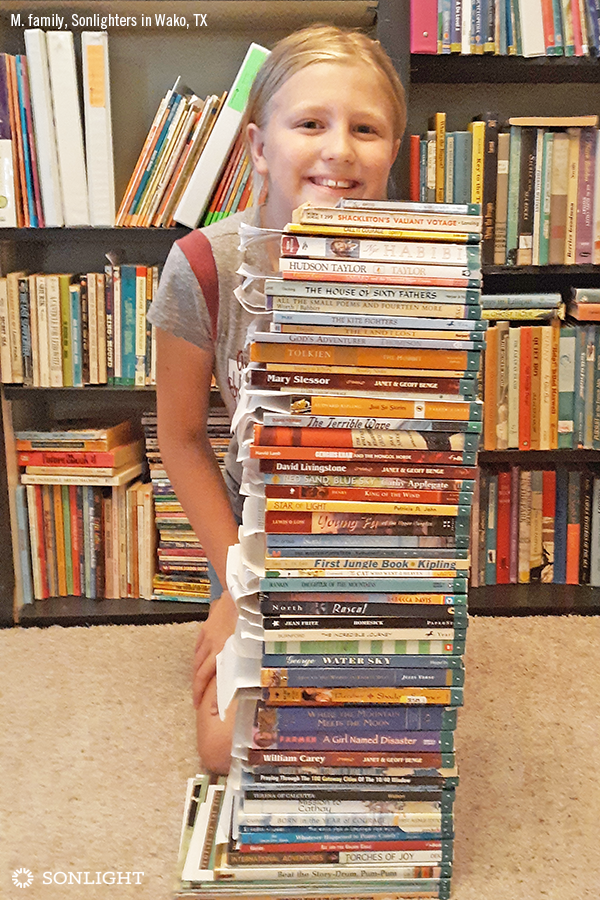 "I asked my daughter to pick a few of her favorite books for a Sonlight photo and she said she couldn't because she loved them all. So we took a stack shot instead." - Rebecca M. of Waco, TX
Do I Have to Buy a Curriculum to Homeschool?
No, you don't have to buy a curriculum to homeschool just like you don't have to buy groceries to eat a meal.
If you wanted a meal without spending money, you could forage for wild fruits and vegetables and trap or hunt game. But of course, that no-cost meal is much harder to come by than the one you made after shopping at the supermarket! You would have to expend lots of time and energy to make your zero-dollar meal a reality. And if you had no experience with finding edible plants or didn't already have the specialized equipment required to fish or trap, you may end up empty handed after a full day of foraging!
Buying a curriculum makes homeschooling much more doable just like buying groceries makes meal preparation realistic.
Even parents who enjoy DIYing their lesson plans and book selections still love the assurance of a curriculum as a starting point. And some states or homeschool umbrella schools may require you to present proof of a specific curriculum because they want to know you aren't just winging it.
Can I Write My Own Homeschool Curriculum?
Sure! But keep in mind, it is a lot of work and takes a lot of time. You will probably feel more confident using a pre-planned program your first few years of homeschooling. Once you have your footing, then you can take a DIY approach.
Then again, plenty of parents realize the amazing time-saving factor of a well-planned curriculum and stay the course even when they have the know-how to create their own. Why would you go to all the trouble when there's something excellent already done for you? You can spend that extra time on your own hobbies, volunteering, going back to school yourself, or your side gig.
What If I Forget Something?
The good news is, children don't learn only from September to May. Add in the forgotten materials when you can whether that's in November, February, or April. Or cover them over the summer.
When I first started homeschooling, choosing a curriculum seemed daunting. Today, over 14 years later, there are even more excellent programs to choose from. No wonder choosing a curriculum feels like a chore!
But you don't have to make the perfect decision today. Over the last 14 years, we've tried many programs, and although we keep coming back to Sonlight as our base, we have found a lot of other great products we enjoy supplementing with. Our children are not locked into one system for life, and neither are yours. Choose what you think is best for now, and each year, keep adjusting to maintain your perfect fit.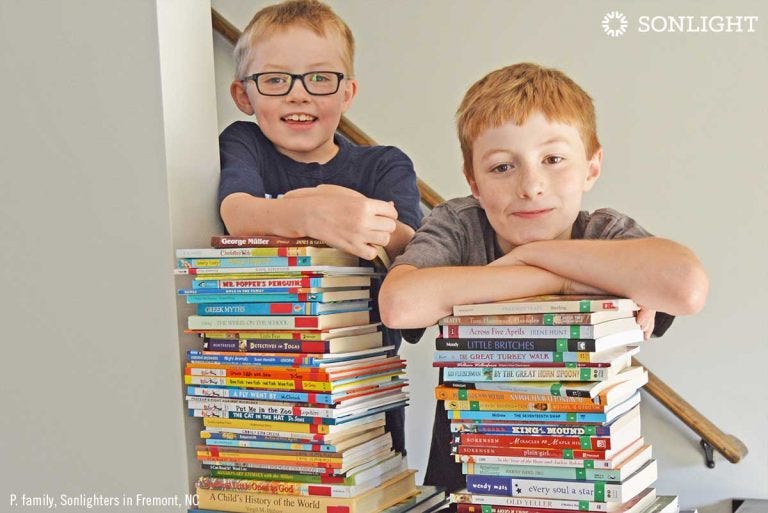 "Sonlight's Instructor's Guides, ready-made science kits, and everything in one box has made it so much easier than I ever imagined to teach my children. You can't go wrong when choosing to go with an All-Subjects Package from Sonlight!" -Becky P. of Fremont, NC
What Books Do You Need for Homeschooling?
Building a homeschool library happens over time. Start small and each year, your collection will grow to a cherished trove of books your children will return to again and again.
For homeschooling, you'll want books to cover all the academic bases: math, language arts, history, and science. Instead of using a single watered-down (yet dry!) textbook, we recommend Sonlight's literature-based approach which schedules multiple books to read each year. This content injection of something new brings zest to your day. And the books are truly delightful to read.
Request a Sonlight catalog to get a better idea of what a curriculum package includes and see all the books you need for homeschooling.
What Materials Do I Need for Homeschooling?
To homeschool, you'll need basic school supplies and to a lesser degree typical office supplies and common craft supplies.
You'll want a place to do schoolwork, but it can be as simple as your kitchen or dining room table! For storage of materials and curriculum, it's great to have a bookshelf, but you could use a china cabinet, storage totes, or rolling carts.
You'll need a willingness to invest in your kids and time to make homeschool lessons happen each day that you have scheduled.
Getting Started with Your Homeschool Curriculum
Once you've got your curriculum in hand, take some time to get familiar with it and scope out a plan for your school year.
Be prepared for minor learning pains. Anything new takes time to adjust to. You'll need to learn a new vocabulary or way of approaching a subject. At first, it can feel uncomfortable to be a newbie. But in just a couple of weeks, the new curriculum will feel natural, and you'll navigate it without trouble.
How Do I Start a Homeschool Curriculum?
Your curriculum will probably have a getting started guide. Don't skip it! Read it carefully, and reach out to the publisher if you have any questions at all. They've heard it all and can patiently resolve your confusion.
Assemble your materials and get a feel for how they are organized.
You may want to label your curriculum so it's easy to find on the shelf and stays distinct from any other programs.
When you're starting a homeschool curriculum with your children, you may want to let them take a look at the set-up, too. Give them a sneak peek of what's in store so they get excited about the new program.
If you're new to homeschooling, you may want to start off week 1 with just one or two subjects (like math and reading) and then slowly add an additional subject (like science or history) each week so no one is overwhelmed.
How to Organize a Homeschool Curriculum
Organize your curriculum so that the materials you'll be using daily are easily accessible and the materials you won't need for a few weeks are out of the way.
Some moms swear by three-tiered rolling carts. Others simply stack materials at the end of the kitchen table or countertop. Baskets, totes, and shelves will help you stay tidy so the chaos appears visually under control and things are findable for the next day of school.
You often won't know exactly how to organize your curriculum until you've used it for a few weeks. But slowly patterns will emerge and you'll be able to hone your system, erasing the spots of resistance until your homeschool is a well-oiled machine!
How to Plan a Homeschool Curriculum
With a basic understanding of your curriculum and your materials organized, now it's time to match the curriculum to your calendar and make your year-long plan.
Curriculum is typically structured in 32-36 week units, making this process painless. Just choose your first week of school on your homeschool planner, mark off any holidays or vacation time, and fill in the weeks of your curriculum. Now you have a projected end date for your school year!
If you get behind (or ahead) at any point, you can revisit your plan and make adjustments.
How Do You Know If a Homeschool Curriculum Is Successful and Effective?
You'll know your curriculum is successful and effective when you see your kids do these things:
The signs above are better indicators of a good curriculum than standardized test scores, so don't stress too much about pace. If your kids are making progress, however slow, you are doing it right and your curriculum is working. Compare your child to where they were 6 or 12 months ago, not to other children.
For more reading on the topic of assessing your homeschool curriculum's effectiveness, visit these articles:
What Are the Six Types of Homeschool Curriculum?
There are six main types of homeschool styles. These styles, of course, strongly affect both curriculum choices and teaching methods.
The Classical Approach
Charlotte Mason
Unit Studies
School at Home
Montessori
Eclectic Homeschooling
What Is the Best Homeschool Curriculum Model?
When you evaluate homeschool styles and curriculum models in light of what your family needs, you'll find pros and cons for each of them. But don't be afraid to abandon the school at home approach to truly embrace the freedom you have as a homeschooler! Experiment with different approaches and then mix and match what works for you to create your own unique, eclectic style.
One common regret among longtime and veteran homeschool moms is being too uptight with schedules, too rigid about what counts as school, and too worried about checking all the boxes. To remedy this potential regret, take a more unschooling approach from time to time to see if you and your children thrive with the looser style. Sit on the couch and read books. Do hands-on crafts and science experiments. The future-you will be glad you did!