Welcome to Sonlight!
You and your children are at the start of a wonderful journey. Prepare to spend your school days enjoying outstanding books and delightful stories. Get started in just three easy steps below.
#1—Watch This Welcome Video
We are grateful you are here! You're going to have an outstanding and rewarding year. On behalf of the whole Sonlight team, welcome to Sonlight.
#2—Download the Sonlight App
Download the Sonlight App for iOS or Android and navigate to the #sonlightboxday tile.

This is your roadmap to getting started successfully. We'll walk you through unpacking your box, assembling your Instructor's Guide (IG), organizing your homeschool materials, learning how to use the IG, and more!
#3—Open and Teach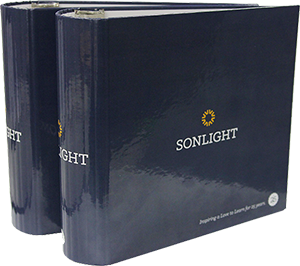 Open your big Sonlight binder to week 1. Do the assigned reading and complete the lessons. It really is that easy!
If you have any questions, need help, or advice—please contact us!
Our Homeschool Advisors are available to support you every step of the way.
Don't Forget to Celebrate Your #sonlightboxday
Document your children's excitement by sharing a photo on your favorite social media platform with hashtag #sonlightboxday or #sonlightstories and tag @sonlightcurriculum too!
Connect with Sonlight on your favorite social media platform.
Testimonials
Sonlight is the best decision I've made; it's what I envisioned homeschool to be, but even better." — Ashton B of Granbury, TX
We are so thankful for the ability to homeschool with Sonlight. We are so blessed to have Sonlight curriculum, Sonlight at the conventions, and all the advisors when we just need to double check something or need encouragement.— Shannon P of Melissa, TX
Be Inspired