Sonlight is a complete, literature-based, homeschool Christian curriculum offering every subject from Preschool through High School. Sonlighters enjoy a liberal arts education that produces critical thinkers who are ambassadors for Christ with a heart for the world. Sonlight's fully planned curriculum uses a variety of materials to deliver an engaging education that extends beyond textbooks and memorization.
A Sonlight education is built around great stories and the best materials available today. Your complete curriculum comes with thorough lesson plans and notes, so that you can enjoy successful homeschooling. We provide tools that have helped thousands of parents just like you raise children who love to learn, love God and have the academic preparation to do whatever Christ calls them to do.
Sonlight's literature-based curriculum brings learning to life!
Watch the video featuring real Sonlight customers to see if our Love to Learn, Love to Teach™ curriculum fits your family.
Sonlight Curriculum builds on five big ideas:
Literature-based

Literature-based learning is an educational philosophy based on children's natural curiosity and love for stories. Your brain processes a story in the same way it processes a real-life experience. This makes learning via literature almost effortless. Sonlight is the industry's leading literature-rich homeschool curriculum. Your homeschool year will thrive with this proven, highly effective approach.

Christ-centered

Sonlight helps you raise children who honor Christ in word and deed, as you discover God's love for all people.

Family-oriented

You know your children best, you love them most, and you are equipped to tailor their education to their unique needs. Sonlight helps you get the most from your time together as a family. We give you engaging activities, great books to read and discuss, and opportunities to develop open communication. Sonlight helps your children learn to trust you as a source of wisdom and direction. This method helps families connect, as they read, talk, and learn … together. Browse the catalog and you'll see pictures and stories from many families who tell us they've formed closer family bonds through homeschooling with Sonlight.

Global outlook

Sonlight spends more time than the average curriculum on the world outside the United States. We believe that in our increasingly connected world, children must understand that God does not value one people group over another. We want them to understand the contributions of different cultures and learn to look at situations from others' perspectives. We want children to learn about tough--even controversial--issues while they're in the safe and loving environment of their home. We want them to stand firm in their faith and engage in graceful dialogue with people of other faiths, backgrounds and cultures.

A huge goal within our global focus is that our children gain a heart for God's work throughout the world. Hence, you'll find many true, inspiring missionary stories in our curriculum. Your children will have opportunities to learn about and pray for people groups in every corner of the globe.

Academic Excellence


Learning with Sonlight is fun, but you don't have to sacrifice great academics to enjoy homeschooling! We equip parents to give their children a robust education that prepares them to excel in whatever God calls them to, be it college, the military, the mission field, the workforce and/or family life. Students who have grown up with Sonlight tend to "wow" adults with their understanding of history, literature, the Bible, science and more.

Over the years, Sonlight students who apply for our college scholarship program have scored consistently higher than the national average on college entrance exams. We know test scores don't paint the whole picture. But are these Sonlight students well-prepared for college and life? You bet.
With Sonlight, you will give your kids an extraordinary education. You will discuss real-life issues — like politics, moral relativism, evolution and creation — and help them develop deep-rooted beliefs. You will help them understand the big picture of history and the world around them. You will give them firm foundations in all the main academic subjects. And most importantly, with Sonlight's help, you will give them a lifelong love of learning.
After high school, your students will be ready to excel in college or the workforce. Sonlight graduates are now engineers, missionaries, musicians, doctors, pastors, elected officials, farmers, entrepreneurs, homeschool parents and more!
What's included?
Sonlight provides everything you need for school, including:
Complete lesson plans and daily schedules
All of your books and materials
Maps and timelines
Materials for the Science experiments

margin(except for common household items)

Activity Sheets
Discussion Questions
Scripture readings
Suggested hands-on activities
and more!
History / Bible / Literature Programs form the center
History / Bible / Literature Programs are the centerpiece of your Sonlight experience. Each program weaves together a year's worth of History and Geography, Bible and Literature.
Each program is crafted around gripping books, because books – quality books – can distill the wisdom of an entire life into the span of a few pages. A great story-based history book or series (such as The Story of the World) serves as the "spine" for each program. You gradually read this book throughout the whole year; it's your chronological guide, moving you logically through history. As you progress, you also read lots of biographies, historical fiction and novels that dig into the historical/cultural topics you're studying.
Since quality literature reaches kids of various ages, you can use one Sonlight program with multiple children. We don't assign a specific grade level to each program for this very reason. Your 3rd and 5th graders could both get great educations from Sonlight E this year!
Sonlight provides you with everything you need to homeschool with excellence.
Start with a History / Bible / Literature program and add additional subjects (Language Arts, Math, Science, Electives and more). Or, opt for an All-Subjects Package and get everything you need in one convenient package. You can also pick any individual items or subjects you need.
You can teach multiple children with one History / Bible / Literature or All-Subjects Package. Simply add on skill specific subjects for each child. Learn more about teaching multiple students here.
With Sonlight, your students will take three sweeps through history as you homeschool from Preschool through High School.
Take three sweeps through history
With Sonlight, you journey on a solid progression of learning from preschool to high school graduation. Check out the Scope and Sequence of our History / Bible / Literature, Language Arts and Science programs.
You'll take three sweeps through history during your Sonlight journey. Each year is specifically created for children in the target age ranges for that program. All the material--from the content we chose to cover (and the more gritty aspects of History we chose to skip over until later grades), to the Readers and Read-Alouds, to the suggested hands-on activities--it's all at just the level for your children.
The first years (Preschool through level A) are an introduction to learning and the world. In Sonlight B-E, take your first fascinating sweep through World and American History. In Sonlight F, take a year to explore the Eastern Hemisphere and help your children (ages 10-13) learn to research.
Then dive in and take another sweep at a deeper level through World and American History in Sonlight G-100. Finally, you do a modified sweep through select aspects of history with Sonlight 200-500 (including 2,000 years of Church History, 20th Century World History, Civics/American Government, and World History and Worldview Studies).
What will I do each day?
Get ready to stop planning lessons and start enjoying your homeschool! Each day, simply open your Instructor's Guide and see what's on the schedule. You will:
Read that day's Scripture together and work on the memory verse for the week.
Read the assigned History and Read-Aloud pages to your children (until your students reach high school) and talk about what you read using the suggested Discussion Questions.
Let your children read their assigned Readers, either to themselves or to you. Discuss what they read with the notes and questions provided.
Do any suggested map activities.
In the younger years, enjoy some optional hands-on activities.
In Language Arts, explore grammar, spelling, and writing, scheduled each day. These assignments often use passages from the Readers your children are already enjoying.
For Science, simply follow the lesson schedule in your Science Instructor's Guide. Read with your children and do simple hands-on experiments together. In the lower levels, your children complete Activity Sheets to reinforce learning.
Do a Math lesson.
Practice Handwriting as needed.
Then there's plenty of time for Piano, Foreign Language, Sports, Art, additional reading … whatever you like!
Many homeschool families finish school by early afternoon and have the rest of the day for free play, art, sports, and other activities.
Love to Learn. Love to Teach. Guaranteed.
In the end, Sonlight's "secret" comes down to this: we believe children respond more positively to great literature than to textbooks. And we believe that parents can be their children's best teachers.
We give you all of the tools you need to succeed. Guaranteed.
With Sonlight, kids love to learn and parents love to teach. That is a beautiful thing indeed. Read more about our money-back, Love to Learn Guarantee.™
Interested? What to Do Next.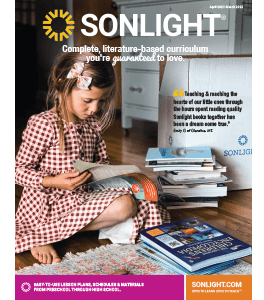 Request a catalog
Request the Sonlight catalog filled with all curriculum options, insightful articles about literature-rich education, and much more! We'd love to send you a catalog, at no cost to you and no obligation. Request yours today.
Find your homeschool curriculum now