Consumable Item


Included in these packages:
Want to better understand the Biblical progression? Use these 48 Timeline Figures to create a picture of the order of events through time. These figures are pre-printed on self-adhesive heavy card stock. Just cut them out, color and stick them in your Timeline Book.
Get the Biblical Timeline Figures & Timeline Book in one convenient bundle here.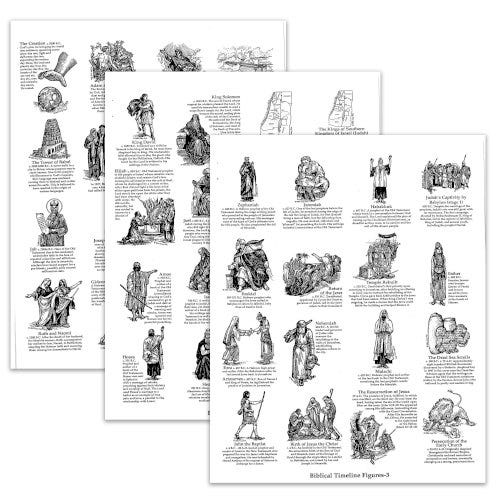 Figures included:
The Creation
Adam and Eve
Enoch
Noah and the Flood
The Tower of Babel
Abraham and Sarah
Isaac
Jacob and Esau
Jon
Joseph
Moses and the Exodus
Judges of Israel Begin
Ruth and Naomi
Gideon
Samson
Samuel
King David
King Solomon
The Kings of Northern Kingdom of Israel (Israel)
The Kings of Southern Kingdom of Israel (Judah)
Elijah
Joel
Obadiah
Jonah
Amos
Isaiah
Micah
Israel's Captivity
Hosea
Hezekiah
King Josiah
Daniel
Zephaniah
Jeremiah
Habakkuk
Judah's Captivity by Babylon (stage 1)
Ezekiel
Return of the Jews
Temple Rebuilt
Esther
Ezra (Artaxerxes)
Nehemiah
Malachi
The Dead Sea Scrolls
John the Baptist
Birth of Jesus the Christ
The Resurrection of Jesus
Persecution of the Early Church