A great hands-on Renaissance craft and history project for kids.
Make your study of history fun and memorable with these articulated puppets of famous people from the Renaissance. With Famous Figures of the Renaissance, your children will make ten jointed paper dolls from the Renaissance. Includes Johannes Gutenberg, Christopher Columbus, Martin Luther, Henry VIII, and more!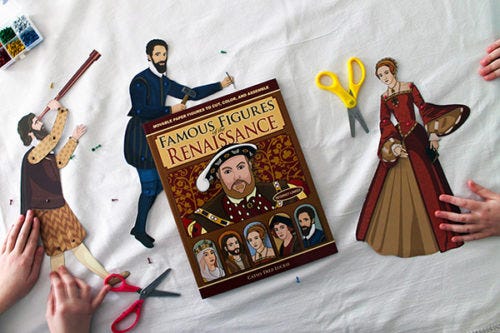 Includes ten historical figures:
Johannes Gutenberg
Christopher Columbus
Isabella I
Leonardo da Vinci
Michelangelo
Martin Luther
Henry VIII
Elizabeth I
William Shakespeare
Galileo Galilei
First, cut them out and put them together. Then use your imagination to make them come to life. Each of these easy to assemble figures comes in two versions: pre-colored, or blank and ready to color. Printed on sturdy paper, when assembled, these figures move their arms and legs! Includes historical information.
Famous Figures of the Renaissance will inspire your child with story. Act out the real stories of history. Travel through time with your articulated puppets. It is a perfect activity for eager learners who continually want more hands-on activities. Hours of fun and educational play for hands-on learners. Paint the Mona Lisa with Leonardo da Vinci. Explore the stars and planets with Galileo Galilei. Print the first Bible with Johannes Gutenberg. Learn while playing with paper dolls from Famous Figures of the Renaissance!
These jointed paper dolls also motivate and engage reluctant students. Furthermore, your child will build fine motor skills as they cut out the pieces and put them together. Additionally, you can create puppets with string or craft sticks. Even more, try producing a stop-motion animation film using magnets on the back of the figures.
Famous Figures of the Renaissance is a great addition to your study of world history. Provide hours of fun and educational play as the perfect complement to Sonlight levels C, B+C, G and W, or any history program you may be using.
Suitable for ages 8+