A fun, intuitive program that teaches your children to play the piano through a natural game ... even if you have no music experience!
A fun, intuitive program that teaches your children to play the piano!
Updates:
Better graphics provide a clearer and more enjoyable playing experience
Improved sound quality lets you enjoy the music you play even more

New

getting started DVD gets you up and running quickly and hassle free

New

Help Guide answers your questions and helps you navigate the program with ease

"How good is it? Our testers could play the songs they had learned on Piano Wizard on a real piano later that same day - without having to be nagged to do so!"
This new approach to learning music really works. Even if you and your kids have no musical experience, your children will learn to play the piano, read music, grasp the basics of music theory and unleash their musical creativity! All through a fun game that gets kids making music immediately and keeps them excited to learn more.
Compared to the cost and challenge of traditional piano lessons, Piano Wizard may be a great alternative for you, especially if you have multiple children.
Watch an Overview of the Piano Wizard Academy
This package gives you the lessons and software you need for success and includes valuable tips and help for you to become a great "music coach" for your kids.

Buck Wolf says, "While many computer programs teach music, Piano Wizard turns anything from Bach to Billy Joel into a video game."
Piano Wizard...
Is innovative and fun
Requires no previous music experience
Provides a gaming style learning environment
Intuitively teaches how to read real music
Builds rhythm, movement and tempo naturally
Provides constant check-points and attainable goals
Instills the fundamentals of making music: phrasing, posture, dynamics and technique!
Keeps interest with endless song options (kids can pick and play their favorites. You can easily load almost any song into the system for your kids to learn.)
Piano Wizard Includes:
If you already have a USB Keyboard for your computer, the Piano Wizard software is all you need to teach your children how to play the piano:
Award-Winning Piano Wizard software (a revolutionary 4-step game to get your kids playing and reading music naturally)
Piano Wizard Academy quickstart DVD (to help you get set up and started)
200 ready-to-play songs loaded into your software (plus the ability to import and learn thousands more of your favorite songs)
Stickers (washable and removable) to color-coordinate the keys of your keyboard with the computer game
50 short video lessons geared toward parents with tips to help you be your children's music coach:

These video lessons guide you through helping your child succeed in every phase of Piano Wizard
The creators of Piano Wizard filmed these videos to help parents (with or without music experience), non-musical educators and piano teachers
The videos teach you to be your children's "music coach"
Combined with the software, the videos contain the equivalent of a full year of college curriculum (but are created for kids and adults of all ages)

50 songs in sheet music (5 books of 10 each) that coordinate with the software and video lessons
Star stickers to help you celebrate every time your children learn a new song!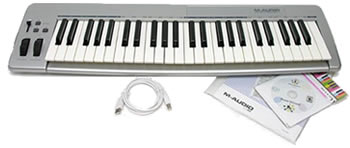 Plus:
A Bonus Christian Worship music CD that includes over 100 of the most beloved world renowned hymns and gospels, all easily import into the system to be learned and enjoyed.
($117.00 Value)
Over 50 Piece Fingerwork Fluency Song Pack that makes scales, arpeggios and drill work fun, fast and simple to learn. Each game object has the correct fingering clearly displayed right on it so there is no confusion or frustration and kids can master these quickly and easily.
($79.00 Value)
"Beattie Etudes" a unique collection of profound thoughts and quotes on music and the spirit. What is it worth to tie the music learning process to spiritual practice and growth?
The Piano Wizard Kid Safe Browser- Piano Wizard themed web browser designed to protect and educate your kids online.Your kids can only surf pre-screened, pre-approved kid-safe content and websites!
($9.97 Value) Protection and Education for your family.

"Your child can sit up to a keyboard today and play anything from Bach to Bon Jovi. They will not even know they are practicing because they are simply playing a game."
Money-back guarantee
We cover The Piano Wizard Academy with a 6-month guarantee. So try it out for yourself. If your family doesn't love it, simply return it within 6 months for a full refund of your purchase price.
More benefits of the Piano Wizard Academy:
Equivalent to 2 years children's curriculum
Geared toward parents, non-musical educators and piano teachers
Provides an easy-to-follow guide through every phase
Strong focus on concrete learning (by playing)
Support for parents to be a great "music coach"
Stats Prove:
New memory brain cells in children after only 4 months of music training
30-40% increase in math & spatial scores with only 2 years in piano
Studies (and many families' experience) show that musical activities help children develop aesthetic literacy. Playing music helps students develop perceptual, imaginative and visual abilities.
Through positive musical training (like they'll get with the Piano Wizard Academy) your kids can:
Gain a healthy sense of accomplishment
Develop enhanced self-reliance
Improve their performance on their schoolwork
Benefit from many cognitive development advantages

"Piano Wizard combines the fun of a video game with the fundamentals of piano lessons."
What Sonlight customers say:
"Well, we LOVE Piano Wizard!" writes Rose S of Denver, CO. "It's super easy to use. Hope's first recital will be tonight!" Here, Hope (9) and Owen (7) sing along as 5-year-old Emma takes her turn to shine.




"Our family loves the Piano Wizard Academy. Seriously. It was worth every penny I spent on it. If your kids like video games, they will love Piano Wizard and learn to play the piano."

—munchkinmom9, July 2010




"Again, I thank Sonlight for showing me this product. My husband and I are really enjoying the beaming look on my daughter's face as she masters each new song, gets a score of 90% or higher, gets a new star in her songbook, and begs to continue her music lesson!

"With 4 children (so far) that will use the program, spending $125 per child to get them started on their musical journey was well worth it. When we reach the next level (whether it takes each child 2 years, 1 year, or less), we'll evaluate where to go from there.

"I know this program gets us only so far, but at least now we're able to get STARTED."

—samantha_r_l, Dec. 2009




"All of our children enjoy playing the Piano Wizard game, even my nine-year-old son who was NOT at all interested in learning to play the piano. In addition to teaching how to hit the correct keys, Piano Wizard helps teach proper fingering, rhythm, note duration, and recognizing notes on the grand staff.

"The 'Academy' part of the Piano Wizard turns the game into a complete curriculum. If Piano Wizard were a Sonlight book list, Piano Wizard Academy is the Instructor's Guide. Each piece/song is considered a 'lesson.' For the first 50 lessons, there is a video DVD segment intended for the teacher. They show the instructors actually walking a child through the lesson.

"The Academy is filled with tips on how to teach your kids to play the piano and read music. It includes topics such as learning the notes on the grand staff, note values, dynamics, key signatures, music notation, and improvising. Each new term is explained. There is also basic music theory. The Academy teaches you, the (even non-musical) parent how to be the piano teacher.

"Once a child progresses beyond what I can teach them with Piano Wizard, we'll seek out another music teacher. In the meantime, it has sparked an interest in my children. My house is filled with music my children are playing, and I am singing along."

—Sherri in Arkansas, Jan. 2010




UPDATE from Sherri in Arkansas (above) after using Piano Wizard Academy for a few more weeks: "This has definitely been a good purchase for our family. We're back to more of a school routine. It isn't as new or exciting, but the kids are still doing it every day. Two of my kids are well into the third songbook, so they can play 20+ songs on the acoustic piano. The almost-five-year-old can play several songs on the game using both hands.

"I am pleased that we are finally incorporating piano and music into our home school. Like any subject, it does require some parental involvement, but they can progress without me involved at every step."

—Sherri in Arkansas, Jan. 2010




"We have been impressed with what we've seen so far. Our son is 7, and we have girls aged 4 and 2. We're getting kids asking frequently to play the game. ... We want our kids to have musical exposure, but we don't want to do something that bores and frustrates them. We tried a little bit of work with a respected traditional piano method, but didn't get very far, as we didn't feel it was feeding Isaac's interest in piano. Nothing scientific here, but it just wasn't 'connecting' for us.

"We don't have illusions that Piano Wizard by itself will make our children into the next Chopin- or Bach-playing virtuosos. ... Piano Wizard's main scope is 'training wheels' for beginning players. Our family's goals are somewhat modest for such young children. I would simply like to see them learn that playing the piano is fun, get oriented to the keyboard and musical staff, learn right-and left-hand differentiation, be able to express simple recognizable rhythms and melodies, etc. If we give our children this opportunity, my belief is that it will become obvious which ones, if any, are truly gifted or motivated and should be provided with more advanced instruction. Thanks, Sonlight, for the recommendation."

—CCMcC, Dec. 2009

"Piano Wizard is a successful adaptation of the gaming genre to serious music lessons. Piano Wizard is a revolutionary teaching platform that is changing the way kids learn piano."

"Does the program excite kids about music and keyboards, help them build essential musical skills, and reinforce that practicing can be fun? Absolutely."
Piano Wizard Academy is also great for kids with learning disabilities
Here is the review submitted by Jed's Mother May:
My son has been practicing the piano 90 minutes a day. He is 8 years old, mentally retarded, and for the longest time I've had trouble finding something he could do. He could hardly even understand enough to appreciate toddler TV programs. The Piano Wizard is my son's first project of his life. It is an intuitive piano teaching system. You see the color dot on the screen; you press the corresponded colored key on the musical keyboard. The music's speed can be controlled so much that you can have it coming literally at a snail's speed such that even people with the worst reflexes have the time to find the right key to push.

Who'd ever imagine that he could do this? And it takes me little time because once I get him going, he'll just practice until he gets good at it; I only have to supervise on occasion. Once you choose a speed, it will play again at the same speed until you change it, so it is really convenient.

In the end, this is easier than driving him to piano lessons even if you don't count the cost. When my relatives and friends watch my son play, they always exclaim, "Wow, you are doing so good with him!"

During the time my son's been playing the piano, his speech and understanding has also improved greatly. I don't know if the piano playing helped? But there is some evidence that music improves a child's intelligence. It's worth a try.

The Piano Wizard is an ingeniously designed system for somebody who wants to teach himself how to play. If even my son can do it, who can't? (As long as one possesses basic motor skills and hand eye coordination.)

I highly recommend it to anyone.

-May
System Requirements:
Macintosh Mac OS X versions 10.2.8 and above
Windows 98SE / ME / 2000 / XP / Vista / Windows 7 / Windows 8 / Windows 10
733+ MHz processor
32 MB video card
200 MB free hard drive space
Internet access to register, update game and download more songs