Learn to read! This Grade K Readers with Language Arts program is designed for kids who are ready to learn the alphabet.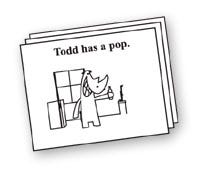 Perfect for children ready to learn the alphabet. Introduces each letter and the primary sound(s) it makes, and gets the creative juices flowing with simple writing activities (with you as your child's scribe).
This phonics program for kindergarten features the Sonlight-exclusive Fun Tales – a sequence of 27 booklets that help kids start reading as soon as possible. The first story uses only six simple sounds; the last uses all 26 letters.
The included Instructor's Guide (IG) gives you all the tools you need: schedule, lesson plans, Activity Sheets, teaching tips and more. Just follow the guide to teach reading, phonics, spelling, copywork and creative expression. Your guide also schedules the optional workbooks listed in the Recommended Items tab.
Use Sonlight's Reading Assessment to see if this is the right level of elementary phonics program for your child. Request a 3-Week Instructor's Guide sample.