Bring history to life with a hands-on lap book your children will love — a collection of crafts and creative projects that fold down into a kind of portfolio, and unfold to show their detailed magnificence.
The World History II - Lap Book Kit is a hands-on activity to help reinforce and document your students' World History studies.
The photos on this page don't do justice to the exquisite detail and delightful projects you'll find in this lap book. The templates were drawn by the talented Amy Pak, who also drew the Timeline Figures in Sonlight programs. Using this kit, your students will cut, color, write, tape, and glue their way to a deeper understanding of events in World History.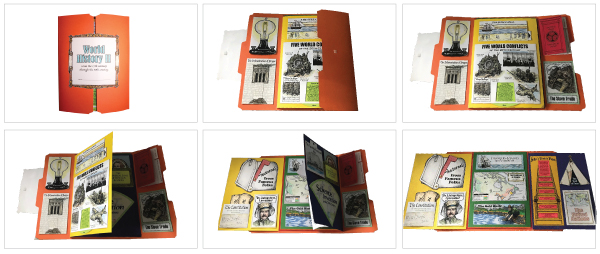 This World History II lap book is full of activities related to early civilizations, wars, and many other topics covered in Sonlight's Level H History / Bible / Literature program. The kit includes instructions and materials for 28 projects, covering the 17th Century though the 20th Century.
Sonlight World History II Lap Book materials include:
A 42-page clear and detailed instruction booklet, with many full-color photos that illustrate each project
Pre-made lap book folder
A wide range of paper in different colors (white, yellow, tan, blue, green, red, orange) and weights (i.e. cardstock, regular printer paper), according to the requirements of each project
All the pre-printed materials necessary to complete the lap book
Additional materials: double-sided tape, 2 glue sticks, 3 paper fasteners, a piece of Velcro, 1 bottle of glue, and glitter
You supply the colored pencils, craft knife, needle or pushpin, tape, scissors, stapler, and staples.
Each of the 28 projects is scheduled to correspond to the current Sonlight Level H History / Bible / Literature Instructor's Guide. With the help of the included instruction booklet, you can effectively use the Lap Book Kit as a hands-on supplement for any World History program.
Each World History II activity takes roughly one to two hours to complete. Children ages: 12-15
Projects Include:
Postcards from Famous Folks
The Three Great Unifiers of Japan
Strangers & Saints in Plymouth
The Slave Trade
The Defenestration of Prague
Louis XIV "The Sun King" of France
The Universal Laws of Newton and Locke
Emperor Chi'en-lungs Library
The U.S. Constitution
The French Revolution
Napoleon Rises to Power
The Luddites
South America After Independence from Europe
The Trail of Tears
The Gold Rush
David Livingston
The Dominion of Canada
Thomas Edison
The Suez Canal
The Scramble for Africa
The Russian Empire
The Spanish-American War
WWI Military Weaponry
The Great Depression & Route 66
Hitler's Climb to Power
The United Nations
Five World Conflicts
Science & Invention in the 20th Century
Consumable. Purchase one kit for each child completing a lap book.