Bring history to life with a hands-on lap book your children will love — a collection of crafts and creative projects that fold down into a kind of portfolio, and unfold to show their detailed magnificence.
The World History I - Lap Book Kit is a hands-on activity to help reinforce and document your students' World History studies.
The photos on this page don't do justice to the exquisite detail and delightful projects you'll find in this lap book. The templates were drawn by the talented Amy Pak, who also drew the Timeline Figures in Sonlight programs. Using this kit, your students will cut, color, write, tape, and glue their way to a deeper understanding of events in World History.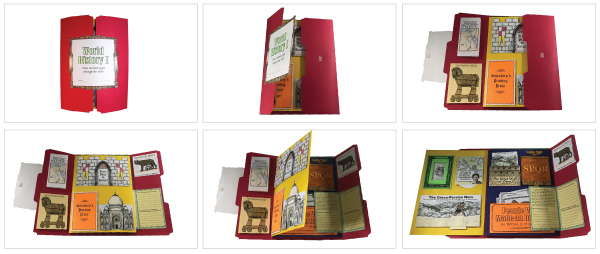 This World History I lap book is full of activities related to early civilizations, wars, and many other topics covered in Sonlight's Level G History / Bible / Literature program. The kit includes instructions and materials for 30 projects, covering Ancient Egypt through the 1600s.
Sonlight World History I Lap Book materials include:
A 50-page clear and detailed instruction booklet, with many full-color photos that illustrate each project
Pre-made lap book folder
A wide range of paper in different colors (white, yellow, tan, blue, green, red, orange) and weights (i.e. cardstock, regular printer paper, clear velum), according to the requirements of each project
All the pre-printed materials necessary to complete the lap book
Additional materials: double-sided tape, 2 glue sticks, 2 paper fasteners, ribbon, a piece of Velcro, 1 bottle of glue, glitter, a toothpick, a piece of corrugated cardboard
You supply the colored pencils, finely ground black pepper, needle or pushpin, tape, scissors, stapler, and staples.
Each of the 30 projects is scheduled as an optional activity in the current Sonlight Level G History / Bible / Literature Instructor's Guide. With the help of the included instruction booklet, you can effectively use the Lap Book Kit as a hands-on supplement for any World History program.
Each World History I activity takes roughly one to two hours to complete. Children ages: 11-14
Projects Include:
The Unification of Egypt
Egyptian Mummies
The Battle of Qadesh
Chinese Proverbs
Pyramid Facts
Stories of Greek Immortals
The Trojan Horse
Athens & Sparta
The Greco-Persian Wars
The Peloponnesian War
Romulus & Remus
The Punic Wars
The Great Wall of China
SPQR
Augustus and the Pax Romana
The Founding of Constantinople
Roman Architecture
The Structure of the Classes in Medieval Europe
Justinian's Code
The Rise of Islam
Japan
People Who Made an Impact in World History
The Bayeux Tapestry
From Page to Knight
The Magna Carta
The Black Death
Gutenberg's Printing Press
Ship's Log (Explorers)
If Henry VIII Had a Wallet...
Leonardo da Vinci
Consumable. Purchase one kit for each child completing a lap book.